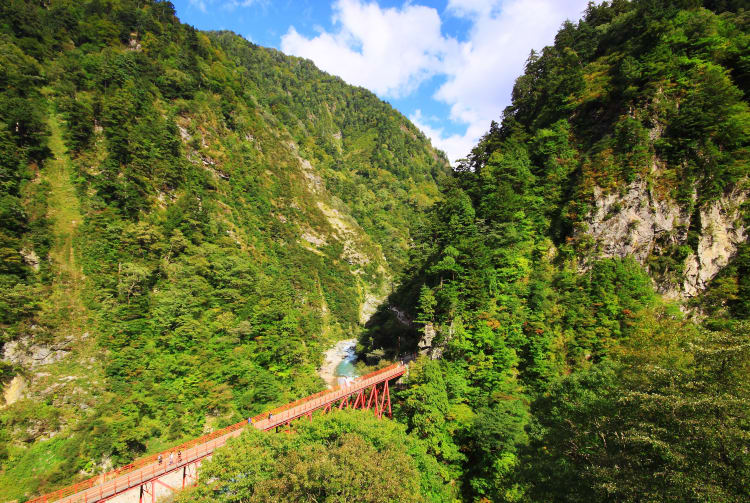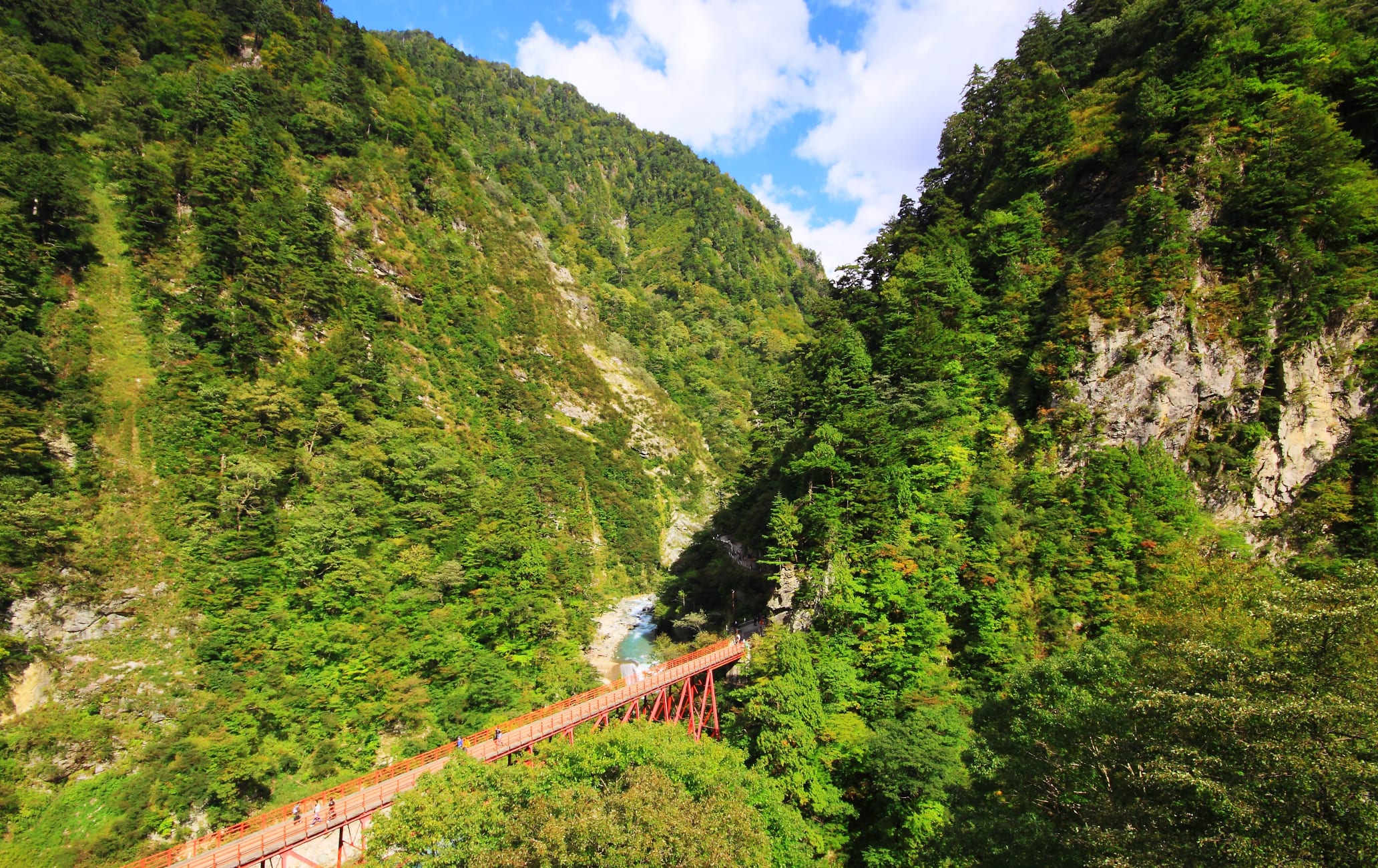 Topping off the Kurobe Gorge Railway
With panoramic views and outdoor activities aplenty, the area around Keyakidaira Station rewards you for making the journey to the end of the Kurobe Gorge Railway


. Don't Miss
Hiking to Sarutobi Gorge to view the river scenery below
Braving the Hitokui Rock en route to Okukane Bridge for panoramic views
Taking a dip at the unique Meiken hot spring How to Get There
Access Keyakidaira via the Kurobe Gorge Railway.
Start at Unazuki Station and take the Kurobe Gorge Railway to Keyakidaira Station.
From Tokyo, catch the Hokuriku Shinkansen to Kurobe Unazuki Onsen, about two and a half hours away. Then, take the Toyama Chiho Railway to Keyakidaira Station.
From Kyoto or Osaka, take the JR Thunderbird limited express to Kanazawa


, then transfer to the Hokuriku Shinkansen and to Kurobe Unazuki Onsen Station. A Mountainside Playground
Keyakidaira's main attraction, Sarutobi Gorge


, overlooks the point where two mighty rivers converge. From the station, follow the scenic riverside course through cool forest glades. Okukane Bridge and Hitokui Rock
You'll also want to visit Okukane Bridge and the famed Hitokui Iwa, or "Man Eating Rock". This icon looms menacingly over a section of the course, as if waiting to devour those passing through. Meiken hotspring
If you need a place to rest at the end of your Kurobe Gorge


exploration, check out Meiken hot spring. This inn offers outdoor pools set in the cliffside. Rest and relax in this fantastic area.
When to go
The railway runs from mid-April to the end of November, with autumn marking the peak of tourist season. Summer is also an ideal time to visit as higher altitudes provide an escape from the heat. Nature
Keyakidaira
Kurobe-shi,
Toyama-ken Nature
Sarutobi Gorge
Kurobe-shi,
Toyama-ken Nature
Tateyama Mountain Range
Toyama-ken Attraction
Kurobe Dam
Nakaniikawa-gun,
Toyama-ken Nature
Murodo
Nakaniikawa-gun,
Toyama-ken Nature
Kurobe Gorge
Kurobe-shi,
Toyama-ken