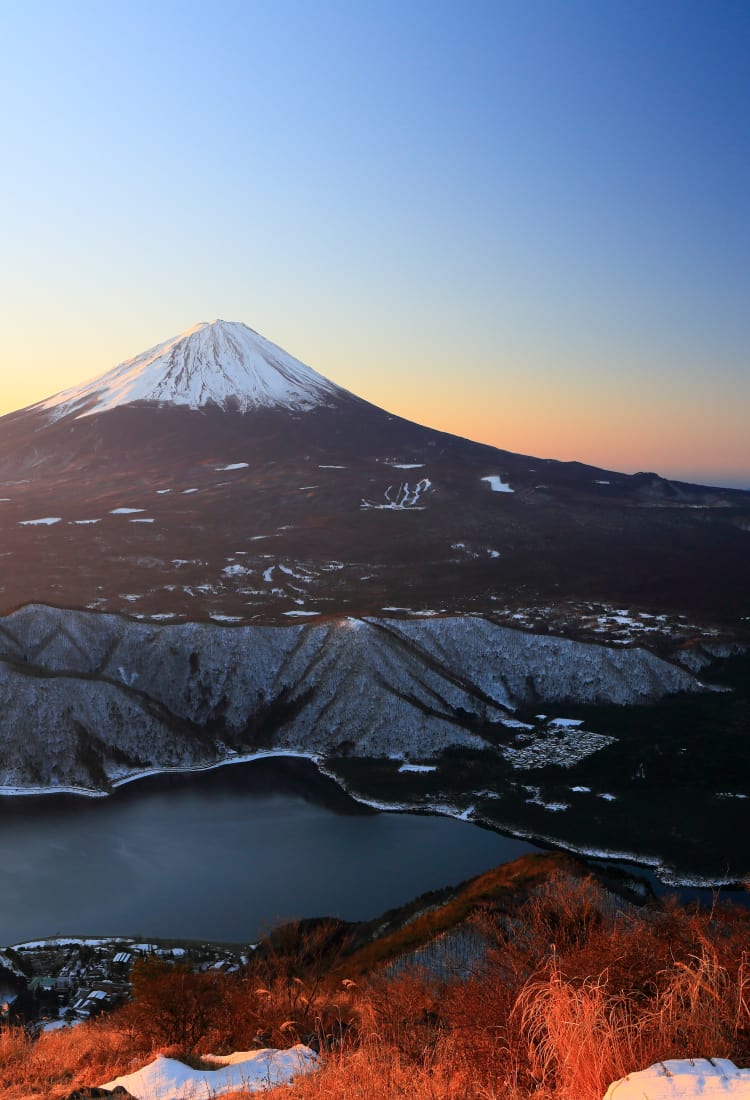 Fujisan—Sacred Place & Source of Artistic Inspiration (UNESCO)
Iconic and inspirational—Japan's most famous mountain
Standing over 3,500-meters tall, Mt. Fuji looms over Shizuoka and Yamanashi, where it is visible to fisherman out at sea and residents of distant Tokyo
This magnificent site has inspired artists and ascetics for nearly a thousand years. Spiritual traditions in the area continue to this day, with practitioners of Buddhism and Shinto congregating at the notable temples and shrines that dot the foot of the mountains. Nearby villages, such as Oshino, have been preserved as they were centuries ago, offering a view reminiscent of classical Japanese woodblock prints. Regardless of whether you intend to hike the mountain, the surrounding destinations will inspire and delight you.
Highlights
Viewing Fuji's Five Lakes, located at the northern base of the mountain
Exploring the Miho-no-Matsubara Pine Tree Grove, a coastal forest home to 30,000 trees
Going back in time at Oshino Hakkai—a set of eight ancient ponds serenely situated in a well-preserved village 25 attractions on all sides of the mountain
The UNESCO-designated World Cultural Heritage site comprises 25 separate areas, including Fuji Five Lakes


, Sengen-jinja Shrine, Oshino Hakkai


, and Miho-no-Matsubara Pine Tree Grove


. Many of these destinations offers breathtaking views of the peak. The World Heritage site also includes special pilgrim routes up the mountain, which have long been used by monks in search of spiritual fulfillment. A muse for artists and an icon for Japan
Mt. Fuji


is the ubiquitous symbol of Japan, both domestically and abroad. Much of its status can be attributed to the ukiyo-e woodblock prints of Katsushika Hokusai (1760-1849) and Utagawa Hiroshige (1797-1858). Their works transformed the mountain into a universally iconic image known throughout the world.
How to Get There
From Tokyo, access Mt. Fuji


and the surrounding area via the Tokaido Shinkansen, by bus, or local train. Buses departing from Tokyo Station take approximately two hours, while the regular train takes approximately three hours. Note that the various UNESCO-designated sites are scattered throughout the region, and will require additional travel.
* The information on this page may be subject to change due to COVID-19.