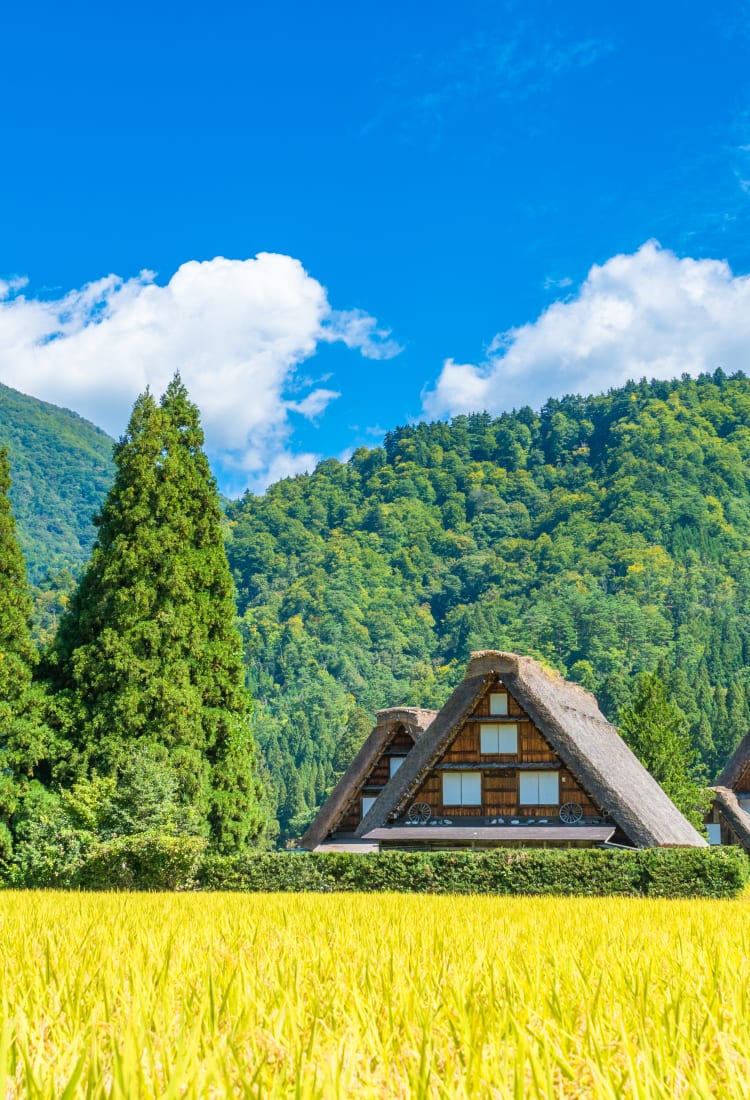 The Historic Villages of Shirakawa-go & Gokayama (UNESCO)
Traditional houses in picturesque villages
Explore the historic villages of Shirakawa-go and Gokayama
Gifu


and Toyama


prefectures house these historic villages with their immaculately preserved steep-roofed dwellings, taking you back to a different era of Japan.
Highlights
Wandering around the traditional villages set to a natural backdrop of seasonal color
Stepping inside some of the gassho-style houses
Viewing the village from above from the observatory in Ogimachi
Experience a Japanese fairytale
The remote mountain villages with their gassho-style houses in Shirakawa-go


and Gokayama


on the Hida Highlands were registered as UNESCO World Cultural Heritage sites in 1995. The scenery of the mountain villages with their traditional houses standing side-by-side is like a fairytale. Purposeful and practical architecture
Houses built in the gassho style are defined as having a roof in the shape of a triangle, like hands folded in prayer. In the multilayer structures, the third and fourth floors are particularly characteristic as they demonstrate the foresight of the farmers. With this type of architecture, farmers could raise silkworms even in the harsh winters. Silkworms would be kept up in these attics where the heat from the first floor rises. The roof has an impressive slope of 60 degrees to allow the heavy snow (sometimes as much as four meters) to slide off more easily. Views of the village
Head to the observatory at the site of Ogimachi Castle and view the whole of Shirakawa-go


Ogimachi village, a cluster of 59 houses, from above. This upland vantage point is perfect for a panoramic view of the gassho-style village in the verdure of spring, the tinted leaves of autumn or the snows of winter. You can enter Wada House and Nagase House in Ogimachi village to see how people lived long ago.
Tour the houses
When planning your trip to Gokayama


, consider visiting Ainokura Village


where 20 houses stand in front of a background of mountains, or Suganuma Village


with its nine houses. Designated as Important Cultural Assets, consider a trip to the three main houses of Murakami House—where the head of the family relates the history of Gokayama


to visitors as they sit around the open hearth—Haba House, that retains the most well-preserved gassho structure with very little renovation, and Iwase House—which is the largest gassho-style house in Gokayama


with five floors and an interior constructed of zelkova wood.
How to Get There
Access Shirakawa-go


: Direct buses run from Takayama Station (50 minutes) and Nagoya Station (3 hours). Advance reservations are required for these services. Alternatively, you can take the Kaetsuno bus from Takaoka Station to Shirakawago (130 minutes).
Access Gokayama


: Access Gokayama: The Kaetsunou bus from Takaoka Station stops at Gokayama (80 minutes). Get off at either the Suganuma or Gassho-no-Sato bus stop.from Toyama Airport by shuttle bus.
* The information on this page may be subject to change due to COVID-19.