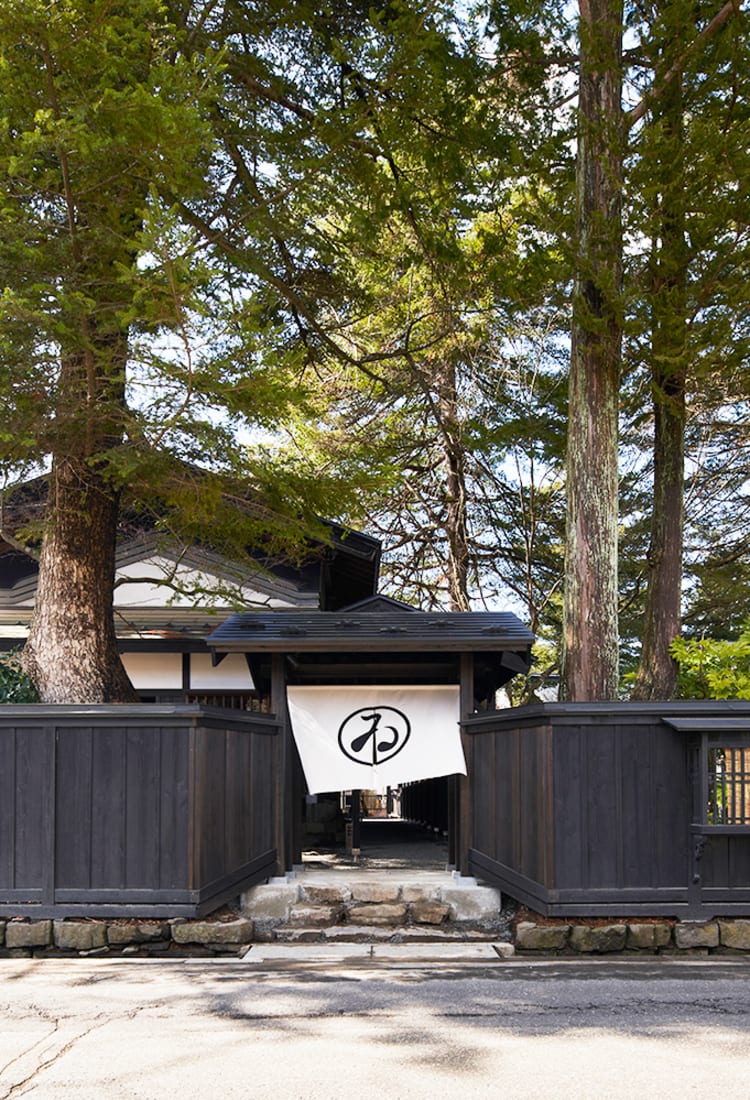 Traditional Town Stays
Wanoi Kakunodate
Connect with history in a traditional samurai district
Stay in a renovated, historical storehouse and explore the charms of a storied castle town
Tucked away in the mountains of Akita Prefecture about three hours north of Tokyo by bullet train, Kakunodate is a quaint former castle town that has remained remarkably unchanged since the Edo period (1603–1867). Three beautifully restored kura storehouses comprise the accommodations at Wanoi Kakunodate, a luxury hotel that aims to take its guests back in time, albeit with modern comforts. Immerse yourself in the history of the town while staying in your own self-contained, private residence.
Each restored kura storehouse is a private accommodation.
A town where time stands still
Kakunodate was established in 1620 by local lord Ashina Yoshikatsu (1575–1631). He developed the town around Kakunodate Castle and organized it into two areas, one for the warrior class and the other for merchants. It is sometimes called the "Little Kyoto of Tohoku," and a stroll or a rickshaw ride along the tree-lined streets of the samurai and merchant districts makes it easy to see why. 
Stroll the wide streets, lined with elegant samurai homes.
The samurai district was home to the samurai who served at Kakunodate Castle and their families. The traditional residences are on wide avenues lined with weeping cherry trees. Six of the residences are open to the public as museums and offer a glimpse into the private lives of wealthy samurai. The merchant district is humbler but no less historic, with centuries-old storehouses and shops. Highlights include the Meiji-era (1868–1912) red-brick Ando Jizo Brewery—which has produced miso and soy sauce in the same way for over 150 years—and the nearby Nishinomiya House, an expansive complex that was the home of a wealthy samurai family.
Kakunodate is famous for its weeping cherry trees in spring.
Come spring, the weeping cherry trees lining Kakunodate's streets burst into bloom. The delicate, pink blossoms contrast beautifully with the traditional townscape, which is one of the region's most popular cherry blossom viewing spots. There are many ways to enjoy the festive seasonal atmosphere—wear a kimono and explore the streets on foot or take a guided rickshaw tour of the town. While Kakunodate Castle no longer exists, the castle site offers a commanding view of the town and its surroundings. The view is especially striking when hundreds of cherry trees bloom along the banks of the nearby Hinokinai River. As the seasons change, Kakunodate takes on a different character. Summer sees vibrant, fresh greenery, autumn brings vivid hues of red and yellow foliage, and in winter, snow blankets the streets and dark wood buildings in quiet beauty.
Dress in a colorful kimono and explore the town.
Kakunodate offers many opportunities to learn about the lifestyle and legacy of Edo-period samurai and merchants. Experience that legacy firsthand with a stay in Wanoi's faithfully restored storehouses.
The luxury kura of Wanoi
Kura are traditional storehouses typically used for rice, and other valuable or perishable commodities. They are simple in design, with sturdy earthen walls and few windows. This creates an environment with stable temperatures year-round; as a result, they are surprisingly warm in winter, and refreshingly cool in summer. 
Wanoi Kakunodate opened in 2020 as a collaboration between JR East, the city of Semboku, and the local tourism board, to preserve the traditional beauty of some of the town's storehouses and give them new life as luxury villas. The name Wanoi means "Japanese way of life," and a stay offers authentic experiences and deeper insights into Japan's samurai-era past.
Relax by the traditional hearth in your self-contained accommodation.
There are three kura, each for the exclusive use of a single group at a time. The Nishinomiyake Bushigura, the Nishinomiyake Gakkogura, and the Tanmonogura accommodations are all located within an easy walk from Kakunodate Station and the town's main sights. Each has its own theme inspired by the history of the kura, beautifully realized through its decor. Two of the buildings, the Bushigura and Gakkogura, were built in the Taisho era (1912–1926) by descendants of the wealthy Nishinomiya samurai family.
Armor in the Bushigura accommodation reflects the samurai heritage of the former owners.
The Bushigura reflects the family's samurai heritage, adorned with impressive katana swords and suits of armor. The Gakkogura was a storehouse for iburi gakko—daikon that was smoked and pickled. Traditional tools hang on the walls, and the bathtub is designed in the style of a large cedarwood pickling barrel. The Tanmonogura is the oldest of the three kura, built in the late Edo period (1603–1867). It was originally a shop for tanmono fabric, used to make kimono. The accommodation is adorned with tools of the trade, and traditional textiles.
Each kura has modern comforts including Wi-Fi, along with traditional elements such as an ornamental irori hearth: the perfect place to enjoy tea or warm sake after a day of exploring. The irori is also the ideal spot to gather for Wanoi Kakunodate's signature bento-style breakfast, which uses locally sourced ingredients.
Start the day with a bento-style breakfast of local specialties.
Check-in is at Hotel Folkloro Kakunodate, right next to JR Kakunodate Station. All the kura accommodations are within walking distance of the station, and a private transfer to your accommodation can be arranged.
Explore the living history of samurai
Aoyagi Samurai Manor Museum is one of six well-preserved samurai residences open to the public, where you can further uncover the legacy of Kakunodate's samurai families. The Aoyagi family's influence and history stretches back over 400 years.
The entrance to the Aoyagi Samurai Museum.
The main residence on the estate has a thatched roof and is L-shaped, with three entrances that were used according to social status. The armory contains an authentic collection of katana, suits of armor, matchlocks, and other tools of war from as far back as the fifteenth century, as well as items used in the daily life of a samurai. The extensive grounds house art galleries, gardens, a teahouse, and a restaurant specializing in local Akita cuisine. Visitors can try on samurai armor and handle a katana at the manor.
Hands-on with centuries-old crafts
When not engaged in battle, samurai became skilled in non-martial practices such as arts and crafts. One of Kakunodate's signature crafts is kabazaiku, a type of woodwork developed in the eighteenth century that utilizes the bark of yamazakura cherry trees. The material is durable, resistant to both moisture and cold, and was often used to make containers for tea leaves, which had to be delicate and beautiful, but also able to withstand frequent use.
Watch artisans make decorative items from cherry bark, a signature craft of Kakunodate.
Visitors can learn about the traditional craft at the Kakunodate Kabazaiku Denshokan. Exhibitions at the museum detail the history and evolution of kabazaiku, as well as other traditional arts and crafts such as shiraiwa-yaki pottery, itayazaiku wickerwork, and shunkei lacquer. A highlight is the guided workshop where you can create your own kabazaiku ornament as a lasting reminder of the town's samurai traditions. An advance reservation is required for the workshop.
Enjoy a traditional tipple at a historic brewery
Akita is one of Japan's key rice producing areas, so a visit to the area would be incomplete without sampling some locally brewed sake, made with the renowned local rice. Hideyoshi-Suzuki Shuzo is a brewery near the samurai district that has been producing sake since 1689. The brewery opened as Suzuki Shuzo, adding "Hideyoshi" to the name in 1848, when the lord of Akita held a sake contest and declared their entry to be hidette yoshi, or "extremely good."
Learn about the process of making sake on a tour of the Hideyoshi-Suzuki Shuzo brewery.
© 2021 SUZUKI BREWING AND CO.
Free tours are available in English to learn about the brewing process. Along the way, visitors can view an extensive collection of art, armor, jewelry, and historical objects. The tour ends with a complimentary tasting of Hideyoshi's award-winning sake. The brewery is a Registered Tangible Cultural Property.
High quality sake starts with pure water and rice; ingredients which Akita has in abundance.
© 2021 SUZUKI BREWING AND CO.
Walk on Akita's wild side
Just beyond Kakunodate's traditional townscape, Lake Tazawa and Towada-Hachimantai National Park offer a wealth of outdoor activities and beautiful scenery.
Just 30 minutes by car from Kakunodate, Lake Tazawa is Japan's deepest lake, with a depth of 423 meters. The calm waters are ideal for enjoying canoeing or kayaking with a certified guide. Thrill seekers can also try rafting on the nearby Tama River.
 
Glide across the deep blue waters of Lake Tazawa.
The Mt. Akita-Komagatake area of Towada-Hachimantai National Park is about an hour's drive from Kakunodate. It is a must-visit destination for hikers—courses around the peaks in the area vary in difficulty and wind past flowering meadows and mountain ponds. Visitors can admire blooming alpine plants in spring and summer, and vibrant foliage in fall.
Enjoy the changing seasons on a hike through Towada-Hachimantai National Park. 
Soak in the scenery in a secluded hot spring town
There is perhaps no better way to wind down after a day of outdoor adventure than with a relaxing soak in a natural hot spring. Nyuto Onsen is a rustic hot-spring village at the foot of Mt. Nyuto, in Towada-Hachimantai National Park. For over 300 years this area has been used for toji hot-spring therapy and is said to have been frequented by the lords of Akita. 
There are several ryokan traditional inns around the village, each with their own source spring.  All of the facilities feature outdoor baths, and some have mixed-gender bathing options. Most inns are open to day visitors. Soak in the seasonal scenery while soothing your senses.
Relax after a day of exploration at one of the outdoor hot springs at Nyuto Onsen.
© Nyuto Onsen Association. All Rights Reserved
Measures against the spread of COVID-19
With three private, self-contained accommodations, Wanoi Kakunodate provides a safe, private atmosphere. 
 
All areas of the hotel are regularly disinfected and ventilated, alcohol disinfectants are placed in common areas, and breakfast is served in your room.
 
Please note that certain programs and events may have been canceled or temporarily suspended due to COVID-19. Please check the hotel's website or inquire in advance.