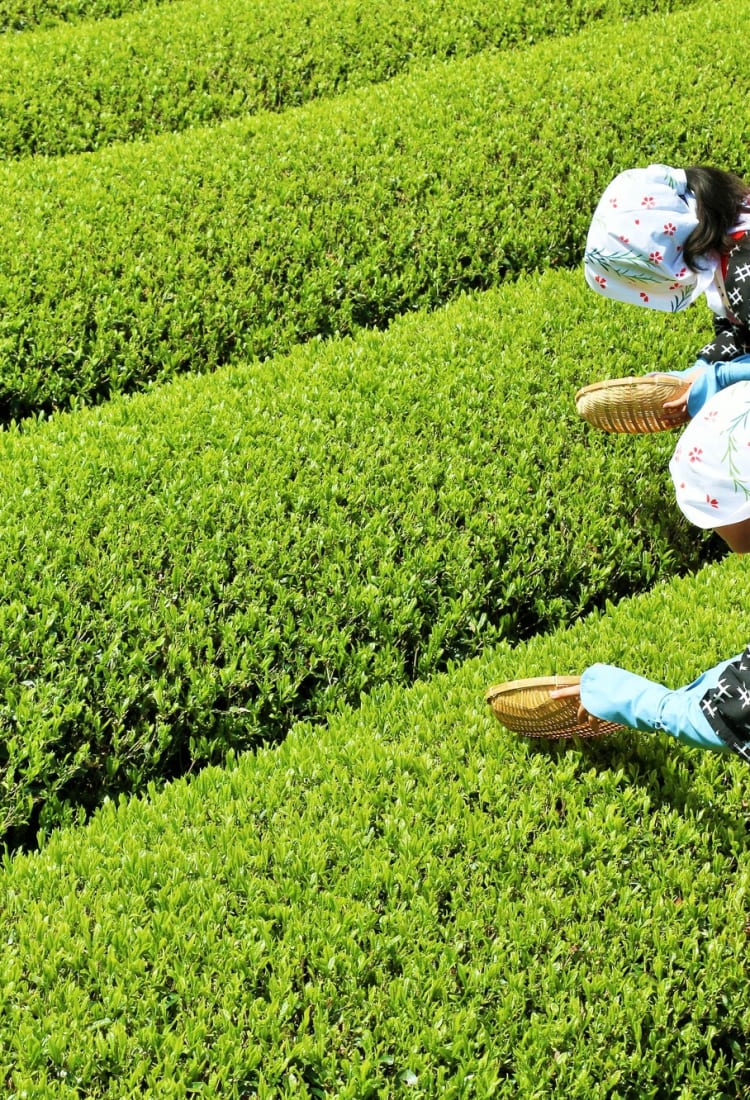 2023.10
Experience a Japanese Green Tea Homestay
Support Local Producers and Learn to Make the Perfect Cup
Green tea is one of Japan's most important agricultural exports and is famous worldwide, but do you know the process of making the perfect cup from fragrant tea leaves? Discover the rich history, expert brewing techniques and cultural significance of Japanese green tea on a green tea homestay. In this hands-on experience, you'll pick and prepare verdant tea leaves alongside local farmers, learning the important part this plant has to play in Japanese tradition while contributing to the ongoing prosperity of the country's small producers.

Unraveling the vibrant history of green tea

While tea drinking in Japan is often a ceremonial act steeped in tradition, it was also originally heralded as medicine. While the first tea arrived in Japan in the ninth century, it was in the 1200s that the drink really took off after the Buddhist priest Eisai brought a particularly well-received variety of tea plants from China.
 
As well as bringing a unique variety of tea, Eisai introduced Zen Buddhism to Japan, another welcome import from neighboring China. Along with his Zen teachings, Eisai spread news of the health benefits of drinking green tea, and soon the nation was enamored by this unique brew.
 

Green tea is not only delicious, but it's also packed with a number of health benefits.
 
Later, Japan's samurai adopted the drink, with some legends claiming they drank it ritualistically before or after battle. From the samurai, the popularity of green tea soon spread to Japan's upper class, but it wasn't until the 1500s that Japan's world-famous tea ceremony was established.
 
Over the centuries, the popularity of green tea rose and fell. However, today, there is a renewed excitement for matcha, a unique Japanese green tea powder that has taken the wellness world by storm.
 

Matcha is used in tea ceremony and can be enjoyed in many forms.

Green tea tourism: Sip, explore and immerse yourself in nature's brew

One of the most enticing things about green tea production in Japan is the stunning location of the tea plantations themselves. Straddling verdant hillsides and covering the slopes of lush valleys, a visit to a green tea farm gives visitors an authentic taste of life in rural Japan in a breathtaking setting.
 
Tourism that helps support age-old traditions is an important pursuit in Japan. A trip to see and get involved with the daily activities at a green tea farm is a memorable experience that also helps local growers to continue producing some of the most sought-after tea in the world.
 
On a green tea homestay, you'll have the opportunity to experience many different aspects of tea production first-hand and spend time with the growers themselves. As well as immersing yourself in idyllic landscapes, you'll learn how to pick and dry the delicate tea leaves, prepare the perfect brew and live off the land on a tea farm. 
 

Get involved with picking and preparation of green tea leaves.

Help out on the fields with a memorable green tea homestay experience

There are many places in Japan where visitors can experience a green tea homestay. Some locations to mention are Wazuka in Kyoto Prefecture and Shizuoka Prefecture.
 
Wazuka Town has been a center for tea production in Kyoto for more than 800 years, and the tumbling green terraces define the landscape in the area. In fact, the area was the first to be awarded the Landscape Property of Kyoto Prefecture distinction. There are several options for green tea homestays in Wazuka, which can include meals and experiences ranging from tea picking, preparation and factory tours. 
 

Stay a little longer on one of Japan's world-famous tea plantations.
Photo credit: Nukumori-en Yururi Farm Stay Inn
A visit to a green tea plantation allows you to immerse yourself in rural communities of tea farmers living and working in idyllic settings throughout Japan. Visitors can expect a wide-ranging experience that includes making friends with the locals, and picking and brewing their own tea. 
 
In beautiful Kogochi Village, Shizuoka Prefecture, visitors can experience a lovely green tea homestay in a traditional farmhouse. Your host will prepare unique Japanese dishes alongside guests before performing a traditional Japanese tea ceremony, an art focused on impermanence and enjoying each quiet moment. Other activities include tea picking and a lesson in hand rolling the leaves, a traditional production technique.
 

Learn how to brew the perfect pot of green tea.
Photo credit: Nukumori-en Yururi Farm Stay Inn

Other regions for green tea homestays
 
As well as the specific plantations picked out above, other regions in Japan should be on the agenda of any tea-loving tourist. Mie Prefecture is located in the Tokai region on the main island of Honshu. This stunning area buffeted by ocean and mountains is where you'll find one of Japan's most celebrated teas, Kabuse Sencha, a unique brew shaded for several weeks before harvest to retain its unique taste.
 
Fukuoka Prefecture is located in Kyushu and is well known as the go-to destination for gyokuro tea. In fact, around half of Japan's gyokuro, a delightfully sweet and umami-rich tea, is grown here.  
 

Surprisingly, gyokuro tea is grown in the shade rather than full sun.
 
On the southern tip of Kyushu, you'll find Kagoshima Prefecture. The tea produced here has a distinctive flavor that many attribute to the area's growing conditions: consistent salty ocean breezes and soil packed with volcanic ash. 
 
While Yamaguchi Prefecture, located in southwestern Honshu, is best known for its serene beaches and turquoise waters, those in the know also come here to taste the tea. One plantation here is responsible for almost 90% of the area's tea production which is said to grow exceptionally well thanks to the fog that rolls in from a nearby lake.
 

Explore all around Japan on a tea-fueled adventure.

Beyond green leaves: Forging personal connections in local communities

It's not often that travelers have the opportunity to become immersed in communities they visit. A green tea homestay is a unique experience that gives visitors a chance to learn the traditional ways tea is picked, processed and enjoyed, allowing them to interact with the people who make a living through tea farming. 
 

Homestays are a great way to learn about Japanese culture firsthand.
 
Hear stories about tea farmers' daily lives, enjoy meals together and in many cases, sleep under the same roof, receiving unrivaled insight into the importance green tea plays in Japanese society. You'll leave with more than memories, and return home with a strong connection to a wonderful new world. Immerse yourself in green tea and forge lifelong connections with Japanese people who live by it.
 

Make more than memories by forging connections with local communities on a homestay.