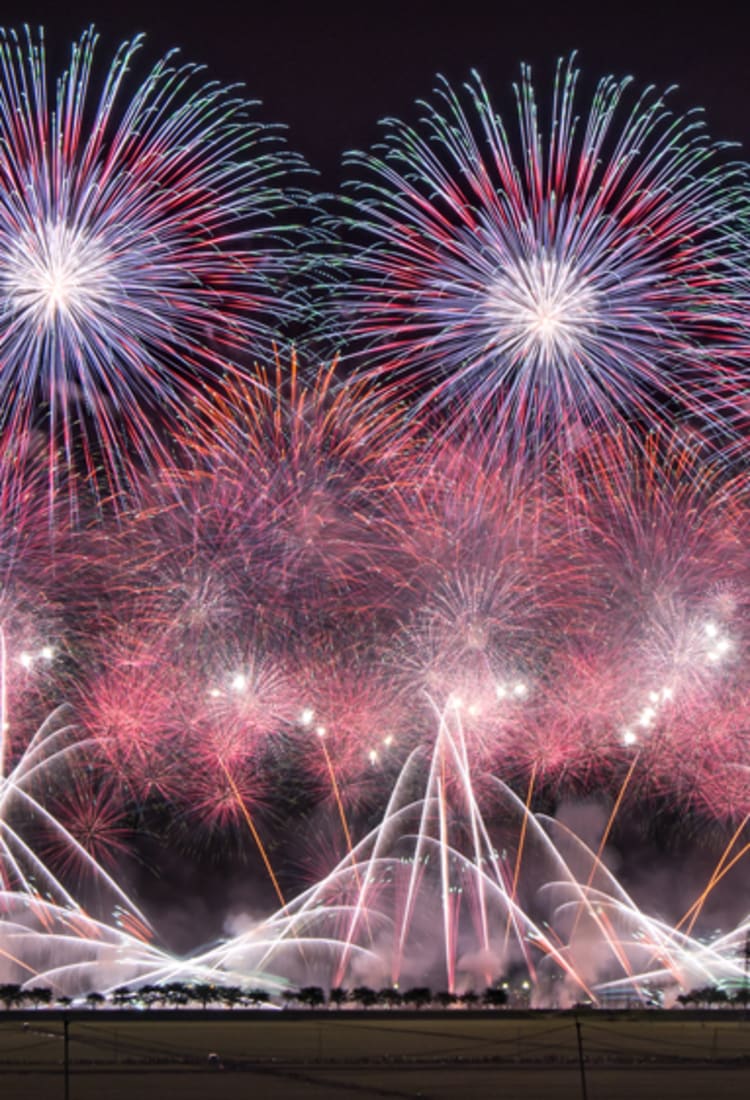 2020.08
An Artistic Display of Lights in the Night Sky—A History of Japan's "Spherical Fireworks"
Traditional techniques meet modern innovation
Imagine a magnificent chrysanthemum unfold with a rumble, in dazzling colors against the night sky.
Fireworks displays have been a part of Japanese culture for three centuries. Annual displays, often held in summer, are a focal point of the cultural calendar and attract spectators in huge numbers. The popularity of the displays has turned firework making into an art, so much so that firework makers are often referred to as "artisans." Japan's firework artisans specialize in making "spherical fireworks," fireworks packed in ball-like shells that explode in perfectly-formed spheres. This type of firework has been around for centuries, since the country's earliest displays, but the bursts keep getting bigger and better as existing techniques are refined and new methods are introduced.
We wanted to learn more about the country's displays and its history of fireworks, so we spoke to Tadanobu Komatsu, fifth-generation firework artisan and head of Komatsu Fireworks, a fireworks company that has been around since 1885. Komatsu works as a pyrotechnician at more than 130 displays across the Tohoku and Kanto regions each year.
Tadanobu Komatsu is the fifth-generation head of Komatsu Fireworks, a fireworks manufacturer and pyrotechnics company that supplies and supports fireworks festivals throughout Tohoku and much of Japan
Japan's first fireworks were launched in prayer
---
The first fireworks were launched in Japan in 1733. Cholera had swept through the city of Edo (modern-day Tokyo) in 1732, claiming some 900,000 lives. 
Komatsu explains, "The situation weighed heavily on shogun Tokugawa Yoshimune (1684–1751), so he ordered the launch of twenty fireworks over the Ryogoku River to remember the people that had lost their lives to the disease and pray for an end to the pandemic. To this day, Japanese fireworks displays are symbols of hope and contain elements of prayer."
The first fireworks launched in 1733 began a tradition that would become the annual Sumidagawa Fireworks Festival
After Tokugawa Yoshimune launched the first fireworks, shrines across the country began using fireworks as offerings to the gods. Fireworks became ingrained in Japanese culture, and at some point they developed as a form of entertainment, and became the fun festivals we hold today.
Skill and precision in every shell
"Many people enjoy seeing large numbers of fireworks set off in unison, but Japanese fireworks are designed to be enjoyed individually." Komatsu goes on to say that the key to a spherical firework's beauty is its shape. "When it explodes, it doesn't matter how big it is, it's got to form a perfect sphere. And it's extremely difficult to produce this effect. What's more, with layering techniques, it is possible to produce a firework that changes color up to ten times when it explodes. Japanese artisans master these techniques, leveraging their precision and skill to create dramatic effects. Japanese fireworks combine beauty, innovation, and originality. We want people to appreciate each individual firework for its unique effect."
Komatsu tells us that Japanese techniques can create bursts with up to six overlapping rings
Fireworks showcase Japanese craftsmanship
---
Japanese firework shells come in fourteen different sizes, ranging from just six centimeters (2.4 inches) in diameter to the yonshaku-dama, said to be the world's largest at 120 centimeters (47 inches). After being launched, a Japanese firework will explode to nearly a thousand times the size of its shell. We asked Komatsu to give us an overview of the different types of Japanese fireworks and explain how they are made. 
The main types of fireworks
The types of fireworks you see in overhead displays can be roughly grouped into three categories. The first is the quintessential warimono. "These fireworks explode in simple spheres, commonly designed to look like a chrysanthemum or peony flower. These sometimes fizzle out slowly and droop to give the appearance of a wilting flower."
Warimono showcase Japanese firework-manufacturing techniques
The second type of fireworks are katamono. "These are playful," says Komatsu. "They can take all kinds of shapes—stars, hearts, animals, UFOs, animated characters, and many more."
A katamono firework exploding in the sky
The third type of fireworks are kowarimono. "This kind shoots up and explodes like the other types, however, there is a delay before they burst. And when they do, they explode in a profusion of countless tiny bursts, like flowers. Kowarimono are sometimes also called senringiku (thousand-chrysanthemum) fireworks."
Kowarimono fireworks explode into multiple bursts that look like small flowers
"More recently," explains Komatsu, "there's been a trend towards more elaborate fireworks. Happo-zaki (eighty-thousand blooms) and jikansa-hakko (staged-blast) fireworks build on traditional warimono fireworks. They explode in contrasting colors and variations on the traditional spherical shape."
Happo-zaki fireworks create colorful contrasts in the night sky
Jikansa-hakko (staged-blast) fireworks change color in stages before disappearing. "They explode in multiple colors," explains Komatsu, "before fading out from bottom to top. They're incredibly entertaining, and sometimes resemble Christmas lights."
How fireworks are made
"Fireworks in America and European countries tend to be cylindrical, but Japanese fireworks are spherical. To make a spherical firework, there are four main steps, and each takes at least three weeks to complete."
Mixing the explosives
Different substances in different combinations create different colors. "You need a strontium compound to make red, for example, but strontium by itself won't burn continuously, so you've got to mix in a variety of other substances, such as aluminum alloy to make it brighter. It takes five to nine different substances to make a single color," Komatsu explains.
Firework makers must be licensed to produce fireworks under the Explosives Control Act
Creating the "stars"
Once the explosives are mixed, the powders are molded into small balls. "Light is created when they burst, so they are sometimes called stars," explains Komatsu.
Stars are set out to dry once they are made
Making the bursting charges
The next step is to make the bursting charges, which are what make the stars burst open.
Blasting charges are incredibly dangerous, so they must be handled with extreme caution
Packing the firework
The stars and the blasting charges are packed in a round shell called a tamagawa. The tamagawa is then wrapped in several layers of heavy paste-soaked paper and set out to air-dry and harden.
Packing the stars and the bursting charges into the shell (tamagawa)
"How you pack the shell determines the effect of the firework—the pattern of the burst, the way the colors change, and so on. There are certain packing variations that are standard in the fireworks industry, but fireworks artisans also invent new ways of arranging the stars and charges to put their own stamp on traditional effects. It's a lot like the way chefs refine recipes. Of course, you can't just put fireworks on a plate!" 
"We occasionally do test launches, but in most cases it's not necessary. Most artisans can vary the way they pack a firework with precision, to create an exact intended result. When we don't do test launches, we don't get to see the effect of a firework until the display, which is always exciting." 
"Japan's artisans and the elaborate fireworks they create, are examples of the creativity inherent in Japanese craftsmanship," explains Komatsu.
 
Japan's many fireworks festivals
---
More than a thousand fireworks festivals are held every year in Japan, and many of them take place during the summer months. Displays vary from festival to festival, and each is unique. Major events draw huge crowds and include fireworks set to music, urban displays, and pyrotechnic competitions.
The Nagaoka Fireworks Festival in Niigata Prefecture is one of Japan's largest. It is different from other festivals in that the display is set to music. The musical element and picturesque location along the Shinano River draw nearly a million spectators each year. 
Fireworks along the banks of the Shinano River at the Nagaoka Fireworks Festival
Note: The Nagaoka Fireworks Festival has been canceled this year due to the COVID-19 pandemic
The Sumidagawa River runs through Tokyo and is where Japan's first fireworks festival continues to take place. It has been held every year since it began. The Sumidagawa Fireworks Festival is one of Tokyo's biggest, and hundreds of thousands of spectators flock to the river to see fireworks explode above high-rise buildings including Tokyo Skytree—the 634-meter (2,080 feet) 
tall broadcasting and observation tower.
Around 20,000 fireworks are launched at the Sumidagawa Fireworks Festival
Note: The Sumidagawa Fireworks Festival has been canceled this year due to the COVID-19 pandemic.
The festival takes place on the last Saturday of July and draws around 900,000 spectators.
Komatsu says, "These days, a typical display lasts about ninety minutes. It might seem long, but the shows are well-planned and captivating. The variety of fireworks and the sense of drama and tension that builds towards the finale keep spectators entertained. The show closes with the launch of the evening's largest and most dramatic fireworks. Enjoying the performance arc is an important part of it." He adds, "The best view of a firework is from a 45-degree angle. You should also avoid being too close, or you'll miss the subtle details of the display. Ideally, you should find a spot about 200 meters (656 feet) from the launch site."
The Omagari Fireworks Festival—a competitive display of Japan's fireworks artistry
The Omagari Fireworks Festival in Daisen, Akita Prefecture, doubles as the National Fireworks Competition. At the event, firework artisans from all over the country display their creativity and vie for the industry's highest honor, the Prime Minister's Award. The event began in 1910 and continues to be an industry-defining event.
Firework artisans show their creations at the Omagari Fireworks Festival.
Note: The Omagari Fireworks Festival has been canceled this year due to the COVID-19 pandemic.
"Fireworks artisans compete in four different categories," explains Komatsu. "In one category held during the day, entrants are judged on displays of smoke rather than light. In the warimono category, competitors display traditional warimono fireworks. The open fireworks category is a test of innovation. And, in the final category, participants must set of a specified number of fireworks to a designated soundtrack, within a given time limit. For the event's grand finale, local firework manufacturers join forces to produce a large display of around 2,500 fireworks." 
The intense competition pits Japan's elite fireworks artisans against one another, and this fierce battle of skill and artistry has driven innovation within Japan's fireworks industry.
The grand finale of the National Fireworks Competition is a huge undertaking that takes a year to prepare
"Japan's fireworks continue to evolve with artisans building on 300 years of history. If you can, time your visit to Japan to coincide with one of these fantastic displays," concludes Komatsu.