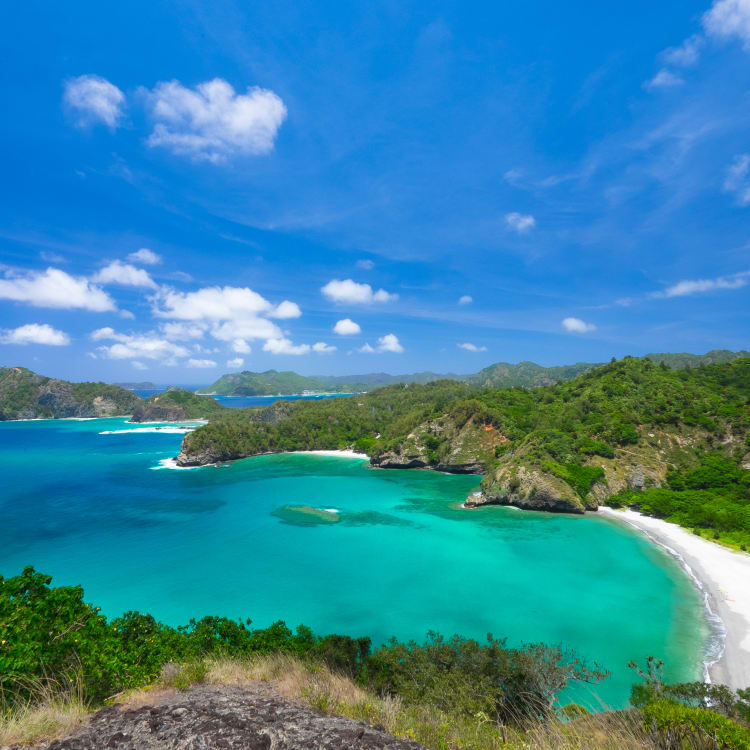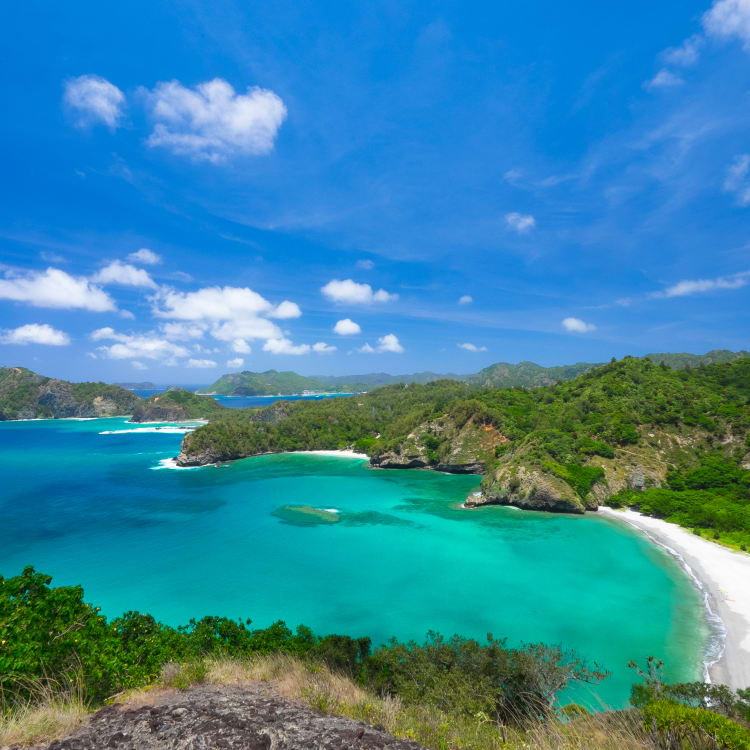 Going to Islands
Japan might look like it's just four big islands, but on closer inspection, you'll find many smaller ones dotted around.
Access to these islands is made relatively easy by a good network of ferries and flights.
Okinawa and surrounding islands
The subtropical islands of Okinawa combine white sands and turquoise-blue waters with a fascinating culture—quite different from that of the Japanese mainland. Located 1,500 kilometers south of Tokyo, access is generally by plane to the main island's capital of Naha


. There are regular flights to Naha from the major mainland airports on Japan's main carriers, All Nippon Airways and Japan Airlines, as well as some budget airlines. Flights to Ishigaki Island


and Miyakojima Island


are now an option.
If you want to explore further than the main island, you can access the outlying islands


from the transport hub of Naha


by both plane and ferry.
If you are flexible with time ferries to Naha


from Kagoshima prefecture


are available.
Izu Archipelago
The Izu archipelago islands


are easily accessed from Tokyo's Takeshiba Pier. Officially part of the Tokyo domain, the rural getaways are ideal if you want to experience the quieter side of the metropolis for a couple of days. The most common way to get to the islands is to travel by ship


. Both slow passenger ships, and high-speed ferries are available depending on your flexibility, and propeller planes


also fly there.
Ogasawara Islands
The Ogasawara islands


are a cluster of 30 islands located around 1,000 kilometers from Tokyo. The World Heritage designated archipelago is ideal if you are a nature lover looking to explore the diverse and fascinating ecosystems of the islands. Access to the Ogasawara Islands


is only by boat and is made as part of a fixed six-day schedule.
Other islands
Japan's many other islands are just as easily accessed. From the natural beauty and festivals of Sado Island


in Niigata Prefecture


, the abandoned military forts of Tomogashima Island


in Wakayama Prefecture


, the smoky volcanic island of Sakurajima


in Kagoshima Prefecture


and many more. Make sure to fit in some island adventures during your Japanese trip.
The Japan Passengerboat Association lists a variety of routes to Japan's isolated islands with information on fare price and travel time in English. You can check the boarding points and detailed information of courses through this site


.
Did this information help you?
out of found this information helpful.