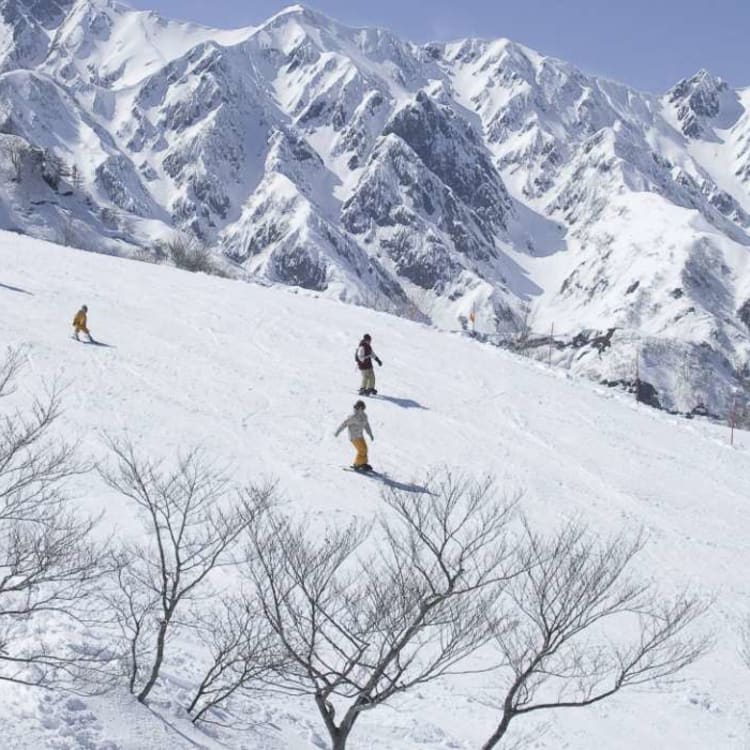 Recommended Route
Hokuriku-Shinetsu (Nagano)
winter
A Wonderland of Pristine Powder Snow in Nagano
Make unforgettable memories in the wonderland of snow activities: Nagano . Comprised of 80 ski resorts including Shiga Kogen , Hakuba , and Nozawa Onsen , Nagano boasts the highest number of ski areas in Japan. From Tokyo Station , Nagano Station is only a 90-minute bullet-train ride away, and from there the Shiga Kogen Ski Field is just a bus ride away. The ski resorts combined make up an area with enough terrain to spend several days skiing and snowboarding. Take the first steps in the pristine, white powder snow on your way to a trip full of stunning nature and rich history in Nagano .


Day 1
Ski the Slopes
On your first day in Nagano , take a trip for some snow activities to the Shiga Kogen Ski resort, the largest and second-highest elevated ski resort in Japan. With 19 ski areas and an 80 km trail, Shiga Kogen boasts areas where you can enjoy skiing, snowboarding, and backcountry tours in nature. After a full day of skiing, relax by soaking in the hot springs and enjoying a delicious meal before preparing for the next day!
Day 2
Bathing Snow Monkeys
For the second day of your visit, take a tour to Jigokudani Yaen-koen , located by the Shiga Kogen ski resort . During the winter, wild monkeys come down from the mountains to soak in the hot springs. The bathing monkeys, popularly referred to as the "snow monkeys," have become an iconic sight. After observing the relaxation behaviors of the wild monkeys, take a stroll through the streets for some onsen hunting in Shibu Onsen .


Day 3
Snow Hut Delicacies
Your third day takes you to the Iiyama Kamakura Village , which is about a 40-minute drive from Shibu Onsen . Every year between late January and late February, you can dine and chat with locals in kamakura snow huts. Noroshi Nabe—a hot pot dish full of local vegetables, mushrooms and pork—is a perfect local delicacy to savor in a snow hut while getting a first-hand look at how the locals have learned to live in the severe yet beautiful snow of their environment.
Day 4
Fat Bike Down the Woods
Skiing and snowboarding are great, but next we will be trying a new way of enjoying the snow. Located near the Iiyama Kamakura Village , the Togari Onsen Snow Resort boasts Japan's only "snow-bike park." Get on the lift with your fat bike and enjoy the exhilarating ride down an 800-meter course specially designed for snow biking. The wide tires of fat bikes let you slide down steep slopes and through the woods with ease.
Day 5
A Pilgrimage of Tranquility
After an exciting day in the snow, travel to Togakushi , a traditional center for Shugendo, a form of mountain worship. The majestic, snow-covered Okusha Shrine in Togakushi-jinja Shrine strikes an otherworldly figure at the end of a path lined with tall 400-year-old cedar trees. Walk along a tranquil route connecting five shrines, and you will see why this place drew so many pilgrims in the ancient times.
Day 6
Meditation in Zen
For your last day, visit Zenkoji Temple —Nagano's most famous temple, where the statue believed to be the first Buddhist image to have been brought to Japan is enshrined. Here, you can experience some of the authentic Buddhist practices like zazen meditation and sutra copying. At one of the 39 shukubo, or temple lodgings, near Zenkoji, you can see the monks' lifestyle and try the vegetarian temple food known as shojin ryori. Get a glimpse of the ancient tradition of Buddhism and find a sense of peace and enlightenment.

Just as each season in Nagano has its own remarkable beauty, the superb sceneries of winter will steal your heart. With unparalleled ski fields, a plethora of snow activities, gorgeous snowy landscapes, and a historical culture of worship, Nagano awaits you with unforgettable discoveries and experiences.
The contents of this page are meant as an example to use in creating your travel plans and do not represent a package tour. Lodgings, travel, guides, and all other accommodations must be arranged for by the traveler.