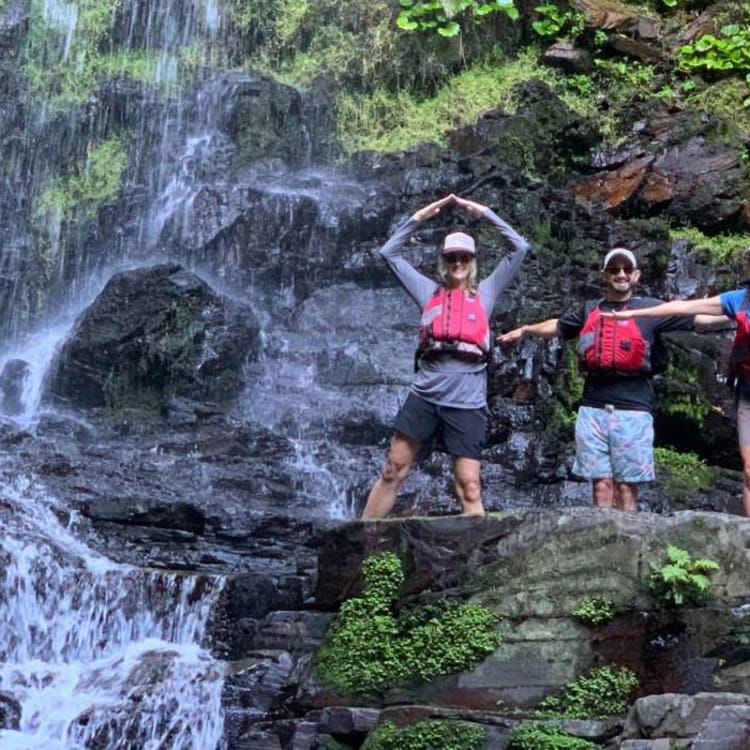 Recommended Route
Okinawa (Main Island)
Venture into the Vivid Colors, Unique Culture, and Fascinating Past of Okinawa
Okinawa, also known as Churashima (beautiful islands) to locals, is a world of its own waiting for you to explore it! Reachable by just a two-and-a-half hour flight from Haneda to Naha Airport, the southernmost prefecture is a collection of sub-tropical islands that is home to ancient culture, fascinating history, and incredible cuisine, making it the perfect place for you to spend your next holiday. Life in Okinawa combines the richest elements of relaxing island culture with exquisite marine biospheres. We have prepared a fascinating adventure itinerary for you that perfectly combines activity, culture, and nature so that you can be assured that your time here provides authentic experiences and lasting memories.


Day 1
Settling In
Our tour kicks off in Naha City, Okinawa's vibrant and modern capital city of 300,000 residents. Wander into a local eatery to sample Okinawan cuisine or mingle with the locals to acclimate yourself to the island's relaxed atmosphere. Once you have gotten your fill, head back to your hotel and rest up to prepare yourself for your journey on the beautiful islands.
Day 2
Up Close with Ryukyuan Culture
Take it easy for your first morning on the island and let the ocean breeze and the beautiful sounds of the birds chirping ease you into your new time zone. Enjoy the delicious fresh fruit and pastries. Once you're finished devouring the tasty breakfast, your guide will prepare you for your excursion to Shurijo Castle, the treasured gem of Naha city and ancient edifice of power in the Ryukyu Kingdom (1429-1879). After a brief introduction to Ryukyu culture and history, it's time to express your creativity at the Shuri Ryusen textile studio. Professionals will help you create beautiful textiles with local plant-based dyes and nature-based designs that will be a splendid souvenir from your time in Churashima. Watch the sunset from a seaside cafe and reflect on the rich cultural insights gained from the day.
Day 3
A Glimpse into the Past
Take your breakfast in leisure this morning as you sample the vibrant Okinawan flavors of shekwasha, passion fruit, and mango grown just a short distance from your hotel! Finish eating, and you're off to  Sefa-Utaki , a UNESCO World Heritage Site and ancient site of Ryukyuan worship to experience the age-old traditions of the region.

In the afternoon, you will experience the profound depth of the impact of World War II as you visit the historic  Itokazu Abuchiragama Cave , where local schoolgirls were sheltered during the Battle of Okinawa. Quietly proceed to the Himeyuri Cenotaph and Cornerstone of Peace Memorial honoring the lost lives and symbolizing a commitment to peace in Okinawa. After a tasty sunset dinner on Umikaji Terrace, enjoy a peaceful and reflective soak in the Sengajima Onsen before bed.
Day 4
A Journey into the Scenery
Today we say farewell to our lovely hotel and head north to Cape Hedo, the northernmost point on Okinawa. Drive along the stunning coast and witness the tropical views Okinawa has to offer. Our focus today is an energizing hike to Daisekirinzan, a 200-million-year-old limestone forest with unique rock formations and a stunning view. Get your legs pumping and have your camera ready for the majestic views along the way. Have a nice dinner at a local treasure at the Yambaru Discovery Forest Restaurant, where you can sample the traditional Okinawan braised pork and freshly caught seafood from the pure blue waters of the Pacific.
Day 5
Into the Forest
In the morning, enjoy a simple breakfast while you feel the mountain breeze in the open-air terrace to prepare to explore more of Okinawa's wild forests. Today we continue our trek in the Yambaru Discovery Forest, trekking through the cool, dark forest to the river. On this river, we will float leisurely through Mangrove forests on our way to the Pacific Coast. Explore the banks of the river, where numerous species of birds, flowers, and mangrove crabs abound. After an incredible meal full of local ingredients and authentic home cuisine, enjoy a mildly strenuous after-dark hike to wind down the thrilling day.
Day 6
Out on the Water
Morning has us engaged in the marvels of the Fukujigawa Seaside Park because you can't come to Okinawa without enjoying the relaxing, mesmerizing turquoise-blue waters that define the islands. Swim, SUP, kayak, or relax with a cool drink in the shade on the fine and well-manicured sands. Take a break for lunch and enjoy the local shrimp and vegetable tempura with pineapple lemonade. Did you know that Okinawa is home to some of the most subtly delicious varieties of the dark elixir in Japan? Breathe deep the aromas of freshly roasted  Matayoshi Coffee and buy a pound to take home to spark your memories of lovely Churashima during a cold winter morning.
Day 7
Cycling Over the Ocean
Morning has us checking out from our hotel and visiting the  Ocean Expo Park . Immerse yourself in local marine life and the history of Fukugi Tree Road. Later, we continue our multi-sport adventure in Okinawa with a thrilling 40 km cycle ride through the beautiful Kouri and Yagaji Islands in the Northeastern part of the island. Pedal over this mostly flat terrain, taking in the relaxed seaside communities and colorful landscapes. Stop in for a cup of energizing local green tea or a tart glass of Shekwasa citrus punch. We relax this evening with a leisurely tour of the Tsukayama Brewery, home of  Orion Beer . Have a cold mug to celebrate a great day of riding and prep for a memorable evening meal of noodles and barbecue.
Day 8
Into the Deep
Today we explore the marine marvels of Okinawa that highlight the unique geography and geology of the islands. After a refreshing sunrise stroll or a leisurely sleep-in, we say goodbye to our hotel and head to the mystery that is the  caves of Cape Maeda . After a brief orientation to the naturally-formed caves, you can choose from either a snorkeling or diving experience. Experienced divers can explore the caves with a local guide, and those who prefer to snorkel will be free to explore the coast, filled with tropical fish, sea cucumbers, clams, and iridescent starfish on their own, or join a guided tour to enter the caves. Once in the caves, you will marvel at the pure blue light reflected off the crushed coral white sands on the cave bottom. Relax in the evening with drinks overlooking the ocean and the savory delight of Okinawa pineapple and pork barbecue, roasted to perfection over an open pit flame.
Day 9
Pedalling Further
Our cycling exploration continues today as we leave the hotel after an early and refreshing breakfast. Our 76 km route follows the stunning Mid-Sea Road. This route, with a pleasant sea breeze and fresh ocean air to keep you cool, will take you around the sleepy Hamahiga Island. On your way through, stop by a local vegetable market or sample a local creme brulee made from red yams. Then it is on to the Katsuren Castle Ruins, where you can explore the remains of the 15th Century fortress of Lord Amawari and indulge in the majestic beach and ocean views. Relax in the evening in your hotel pool, or take a soak in the onsen to soothe your legs after a long day of riding.
Day 10
Engaging Mind and Body
Today we will explore the incredible ecosystem of the lush  Okinawan mangrove forest . Exercise your upper body as you kayak through the winding network of canals and learn about the diverse biosphere where various creatures thrive. After a light lunch, you will head to Murasaki Mura, where you get to learn about the art of  Karate at the International Karate Study Center. Exercise both mind and body as you learn about this world-renowned martial art. If you are still on the hunt for a wonderful gift from your time in Okinawa, look no further than  Yachimun no Sato ! Explore the creative world of Japanese pottery and clay work at this Okinawa treasure trove of local design before returning back to your hotel.
Day 11
The Local Delights
Wrap up your tour of Churashima with a delightful day of Okinawan culture and cuisine. Start the morning with a stop at the famous Itoman Farmers/Fish center, a local market that retails everything from fresh seafood to locally-made produce and delicious Okinawan meals! Once you've finished filling up your stomach, head over to the Traditional Arts and Crafts Center to witness the vibrantly colored crafts made by local artisans and weavers. End the day with an engaging Ryukyu cooking class where you will create Okinawa soba or local favorite chanpuru, an Okinawan stir fry dish. Wind down with a relaxing walk along Kokusai-dori and enjoy your final hours on the islands.
Day 12
Returning to Land
Today we say our farewells to this beautiful island. May you return to your homes with warm hearts and comforting memories of the incredible local delicacies, the Ryukyu culture, and the abundant nature of Churashima.
The contents of this page are meant as an example to use in creating your travel plans and do not represent a package tour. Lodgings, travel, guides, and all other accommodations must be arranged for by the traveler.