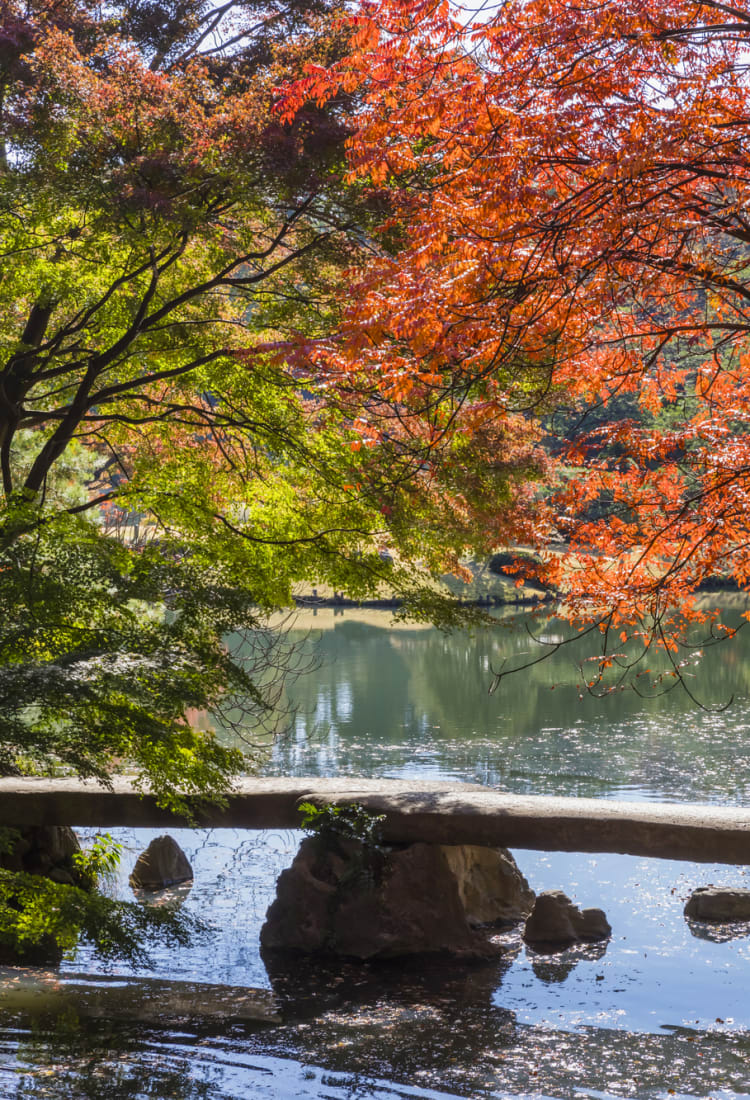 2020.11
Engage in Cultural Experiences to Discover Japan's Unique Sense of Aesthetic Beauty
Explore Japanese concepts of beauty through online experiences 
Aesthetic beauty in Japanese culture is focused on the depth and richness of tranquility, human sensitivities, and imperfections. One core concept to Japanese aesthetics is "wabi-sabi." This is the notion that beauty and enjoyment can be found within the deterioration of worldly things. Discover this singular sense of beauty through a range of virtual experiences. Allow expert instructors knowledgeable about ikebana flower arranging, Japanese gardens, and meditation guide you through sessions online before the time is right for you to experience them firsthand.
Discover the appeal of flower arrangement and Japanese gardens from a Japanese culture expert
---
Art forms such as ikebana flower arrangement and traditional-style gardens do not exist solely for the sake of beauty. They reflect traditional Japanese culture and a sense of spirituality. Wabunka Experiences is a company that provides a background to these arts in English. Through practical instruction and explanations, online tour participants can gain more insight into these art forms. (Note that classes also take place on-site, including Tsukiji Hongwanji Temple and Kanda-jinja Shrine in Tokyo.)
What is Ikebana?
"Ikebana" (literally "living flowers") is a traditional Japanese art in which practitioners arrange flowering plants in a receptacle. The art runs deeper than simply placing flowers in a vase. There are deep elements of etiquette and spiritual training involved in ikebana.
Buddhism arrived in Japan in the sixth century, and the Buddhist custom of offering flowers to Buddha spread throughout the country. Over time, the form and presentation of these floral offerings developed. In the 15th century, the concept of ikebana was established. This new art form went far beyond the conventional floral arrangements laid on Buddhist altars. 
Ikebana is ultimately the act of admiring flowers, but various beauty aesthetics lie within different arrangements. Those emphasizing flamboyance are labeled an aesthetic of addition. However, arrangements in which seasonal flowers are carefully selected are said to be an aesthetic of subtraction. 
 "Rikka" (right)  is the most traditional style of ikebana. The form expresses natural landscapes. Photo credit: Wabunka Experiences
Discover the essence of ikebana through a secret document scroll
Ikenobo is an original ikebana flower arrangement school, and Wabunka Experiences can connect you directly with the school through their Online Ikebana Experience. Classes are run by Makiko, at 10-year Ikenobo school veteran and sightseeing guide for Bunkyo City. 
Makiko is an expert in traditional culture, including tea ceremony and Japanese cuisine. Photo credit: Wabunka Experiences
The one-hour class is divided into two sections. The first involves a lecture with slides; the second involves hands-on practice with pre-prepared materials. During the lecture, you will learn the origins, techniques, and spiritual nature behind ikebana while interpreting the contents of "Ikenobo Seno Kuden" ("Ikenobo Seno's Book on Flower Arrangement"; also called "Omaki"), a document that describes the secrets of flower arrangement. The text is the most important and closely guarded of the "Kadensho" (The Book of Ikebana; a written document of the secret techniques and mysteries of ikebana) handed down to Ikenobo school practitioners.
 "Ikenobo Seno's Book on Flower Arrangement" (Omaki), the secret document scroll containing Ikenobo's principles (pictured on the left).  Photo credit: Wabunka Experiences
Makiko explains, "Ikebana is an endeavor that artificially reconstructs a spectacle of nature. Originally, it used flowers that were growing in a particular spot in a particular season. Equal enjoyment of the seasons as a successive flow of spring, summer, autumn, and winter is an essential element of 'Wa,' the Japanese cultural concept of harmony. During autumn, the lack of flowers or greenery shifts the focus to the plants' leaves and stems, and beauty can be found even in withered and insect-eaten leaves." Makiko elaborates on these concepts, along with the notions of intention and behavior with regards to life and living, during the lesson. 
A Rikka ikebana arrangement that expresses autumnal landscapes using chrysanthemums, azaleas and Japanese gentian. Photo credit: Wabunka Experiences
During the second half of the class, Makiko will explain the tools, procedures, and fundamental aspects of ikebana before giving a demonstration. Participants then have the necessary knowledge to begin arranging flowers themselves. Although authentic ikebana requires specialized equipment such as flower vases and a kenzan, a spiked device to hold stems in place, everyday objects such as mugs and scissors will suffice for the online class. Participants will be notified in advance of all necessary equipment and are free to choose their own flowers. Makiko will offer customized instructions based on the flowers you choose.
Autumn expressed in an ornate receptacle using chrysanthemum, Japanese gentian and Thunberg's meadowsweet.  Photo credit: Wabunka Experiences
The number of stems and subsequent placement differs depending on the style of flower arrangement. While participants follow set rules that define direction, length, and flower placement, they may find they are, at first, unable to achieve the arrangement they intend. However, the instructor is on hand to offer advice, and even through a screen, will be able to make suggestions to transform your arrangement. This element highlights the depth of ikebana, where even the slightest tweaks and alterations can lead to significant changes in impression.
Participants decide the role of each flower based on the number of stems that will be used in the arrangement. Photo credit: Wabunka Experiences
Virtually experience a Japanese garden inspired by waka poems
Rikugien Gardens—also called the garden of miracles—is a beautiful garden in Tokyo.
Rikugien Gardens is a historical garden in Bunkyo City, Tokyo. It was constructed by feudal lord Yanagisawa Yoshiyasu (1658–1714). The pond and hill took seven years to build, and the gardens are one of only 36 Special Places of Scenic Beauty in Japan—a national designation given to sites in order to protect Japan's cultural heritage.
The garden extends out beyond the bamboo gate in the inner courtyard of Rikugien Gardens.
Wabunka Experiences offers an Online Japanese Garden Tour, in which participants from around the world can learn about the history of Japanese gardens while viewing photos and videos of Rikugien Gardens. The tour is led by the Online Ikebana Experience guide, Makiko, who is deeply knowledgeable about cultural history, folklore studies, and history. During the tour, Makiko explains the connection between Rikugien Gardens and waka, a form of traditional Japanese poetry. 
Observe the garden's varied landscape by "virtually" strolling around Kaiyu-shiki Tsukiyama Sensui Teien (circuit-style garden).
There are 88 spots around the gardens that hold associations with waka poetry. These "88 scenes of Rikugien" were inspired by the landscapes portrayed in waka poems found in the "Man'yoshu," the oldest existing anthology of Japanese poems, and "Kokin Wakashu" ("A Collection of Ancient and Modern Japanese Poetry"). During the virtual experience, Makiko will tell you which waka has been incorporated into which landscape. Participants will also have the opportunity to read some waka poems aloud.
Makiko explains about some of the garden's important scenic spots and how they relate to waka poetry. Photo credit: Wabunka Experiences
Online experiences provide an opportunity to explore and learn about Japan while global travel is severely restricted. However, when borders reopen and the world is free to travel again, join Wabunka Experiences on one of their physical walking tours that includes a guided stroll around Rikugien Gardens. 
Rikugien Gardens in the fall. Around 560 trees break into fall colors in late-November.
Inner peace and introspection through an online meditation session
---
Meditation helps reduce stress and improve concentration. Photo credit: Kuniatsu
Practitioners of Buddhism have embraced meditation since ancient times. The practice originated in India before arriving in Japan as an element of the Zen sect of Buddhism. Meditation is garnering global attention for its positive effects, including heightened concentration, a reduction in stress, and a boost in happiness. The virtual meditation program by Airbnb "Meditation with a Japanese Monk" offers you the opportunity to experience meditation. 
Easy-to-understand lessons in English make meditation accessible
Participants from over 50 different countries across every continent have taken part in this popular program. Photo credit: Airbnb
The sessions are run by Kuniatsu, a monk of 20 years who is based in the Kansai (western Japan) area. Kuniatsu served 12 years at Shitennoji Temple in Osaka but is now unaffiliated with any temple or institution. Kuniatsu runs face-to-face meditation sessions from places such as Osaka Castle and the woods of Fushimi Inari Taisha Shrine in Kyoto, as well as online lessons from his home.
A session with Kuniatsu lasts around one hour and can be taken in English. Classes begin with self-introductions before Kuniatsu explains the concepts of meditation using easy-to-understand language and gestures. Kuniatsu reminds participants to breathe rhythmically with a particular focus on exhaling. He says that you can achieve a state close to a "runners high" by constantly repeating the same words during a meditation session.
Be guided to a meditative state through mantra and breathing
Before holding his virtual lessons, Kuniatsu held face-to-face sessions in places such as Osaka Castle. Photo credit: Kuniatsu
After the initial explanation, participants put what they have learned into practice. The art of meditation requires a stable body position and keeping your eyes partially closed. You will find that your eyelids naturally close when your mind begins to empty while chanting a mantra. After 20 minutes of mantra chanting, the session transitions into breathing-focused meditation. Participants can reach a meditative state through focused breathing, an emptying of the mind, and a relaxed state. 
Kuniatsu says, "People have 60,000 thoughts a day, but 90 percent are negative. These thoughts induce anxiety and worry. Meditation can reduce the time spent on negative thoughts and free you from fears." Discover the positive effects that meditation can have on your mind and body by joining Kuniatsu in an online session.
The breathing method learned during the lesson can be applied to everyday life when you feel nervous or stressed. Photo credit: Kuniatsu
Wabunka Experiences 
The company offers authentic Japanese cultural experiences aimed at an international audience. Classes can be taken both virtually and in person. Lessons are taught by world-renowned masters of traditional Japanese art and culture. The bespoke programs can accommodate requests for group numbers, times, and locations. The Online Ikebana Experience requires 1–2 hours and accommodates English (arrangements can be made for interpreting). The Online Japanese Garden Tour requires 60–75 minutes and accommodates English (arrangements can be made for interpreting). The in-person "Japanese Garden Tour" requires 90-120 minutes and accommodates English (arrangements can be made for interpreting). Tours are offered to groups of two or more persons. Reservations are required and can be made through the website.
Online reservations.
Rikugien Gardens
6-16-3 Honkomagome, Bunkyo City, Tokyo