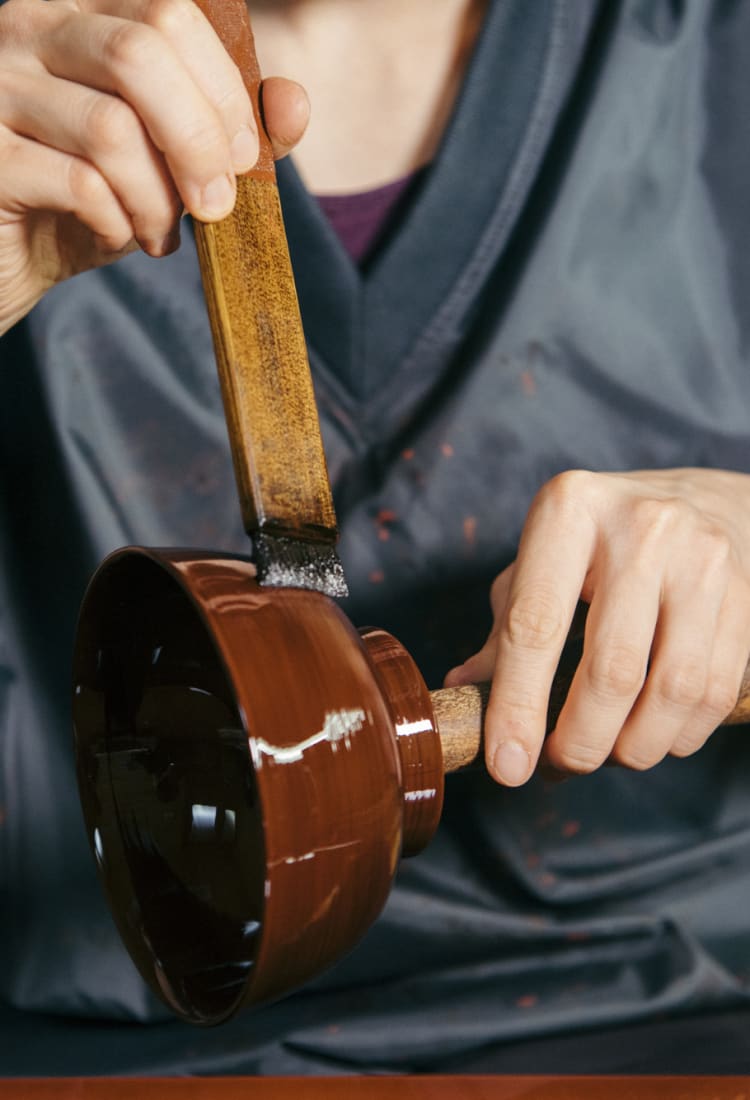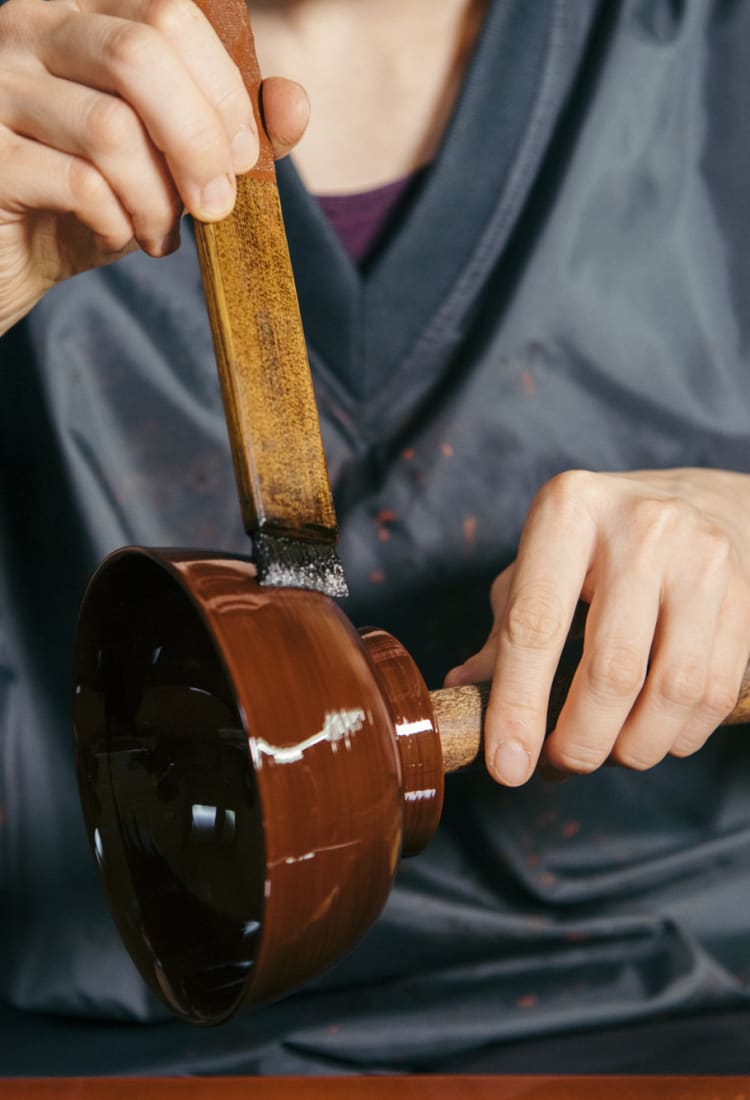 2021.03
Joboji Urushi: The Precious Substance Behind Japan's Beautiful Lacquerware
Lacquer: From Japan to the world
The use of natural lacquer, known as urushi, has a 9,000-year history in Japan. Lacquered artifacts dating back to the prehistoric Jomon period (10,000–300 BCE) have been found at various archeological sites throughout Japan. Urushi's durability and beauty make it the finish of choice for a wide range of objects, from iconic Buddha statues and other works of art, to buildings and everyday objects like dishes and bowls.
Japanese lacquerware has garnered fame overseas. It was prized by Europeans who visited Japan during the Age of Discovery (from the 15th to mid-17th century) and by aristocrats and royalty, including Marie Antoinette, who amassed a famous collection of Japanese lacquerware items. 
The raw material for lacquer is a special tree sap which is collected by hand from the Japanese lacquer tree. Most of Japan's lacquer comes from the forests of Joboji, in the city of Ninohe, Iwate Prefecture. The appeal of Joboji lacquer, as well as the traditional tapping and lacquering techniques developed in this area of rural Iwate, survive to this day.
Explore Iwate, Japan's top lacquer producer 
Iwate is one of six prefectures in the Tohoku region, the northeastern part of Japan's main island of Honshu. This vast and remote area is rich in natural beauty, from Mt. Iwate and the majestic Kitakami Mountains to the jagged Kitayamazaki Cliffs along the Sanriku Coast. Iwate is renowned for its fine crafts, including lacquerware and Nanbu tekki (Nanbu ironware). Visitors can see examples of Iwate's craft heritage in the carefully preserved structures of Chusonji Temple, a UNESCO World Heritage site in the town of Hiraizumi. 
Mt. Iwate, also known as Nanbu Fuji (Southern Fuji) (left). A Nanbu tekki cast iron teapot made by a metal artisan (right)
These days, 70 percent of Japan's lacquer comes from Joboji. The forests of Joboji are a 20-minute drive from Ninohe Station in northwestern Iwate Prefecture, around 2 hours and 40 minutes from Tokyo on the Tohoku Shinkansen. Lacquer production and lacquerware developed in the area over a thousand years ago. The traditional techniques of Joboji lacquer have been passed down through generations of artisans, and it remains a crucial material for restoring and preserving National Treasures and Important Cultural Properties. Several World Heritage shrines and temples in Japan are finished with Joboji lacquer, including the golden Konjikido of Chusonji Temple in Hiraizumi, Kinkakuji (the Golden Pavilion) in Kyoto, and the Shrines and Temples of Nikko in Tochigi Prefecture.
Joboji lacquer is an important component of the ongoing restoration of Nikko Toshogu Shrine, due to be completed in 2024.
The Konjikido of Chusonji Temple was the first structure to be designated a National Treasure of Japan, in 1951. The temple was founded in 850, and it is said that the buildings on its grounds were constructed in the beginning of the 12th century by the Fujiwaras, an influential family that controlled the region. Chusonji Temple is a 5-minute bus ride from Hiraizumi Station on the JR Tohoku Main Line.
Structures at Chusonji Temple, surrounded by cherry blossoms.
The Konjikido is the only structure at Chusonji Temple to survive in its original form. The ancestral mausoleum covered in dazzling gold leaf is a physical manifestation of the Pure Land of Amida Nyorai (the Buddha of Infinite Light). The mausoleum is decorated with Joboji lacquer using techniques such as makie (a lacquer finish with gold and silver powder), and raden (a lacquer finish with mother-of-pearl inlay). The Konjikido underwent a six-year restoration starting in 1962, and retains its awe-inspiring form thanks to Joboji lacquer and the skills of local artisans.
The Konjikido of Chusonji Temple. Joboji lacquer was used as an adhesive as well as for decoration. Photo credit: Chusonji Temple
 "Drops of Blood": The painstaking process to extract precious lacquer
Items finished with Joboji lacquer are known as Joboji-nuri (nuri means coating). The term is said to have originated more than 1,200 years ago with the dishes and bowls used in daily meals by Buddhist monks in the area, who used Joboji lacquer to coat their own tableware. Given that the area was home to an abundance of Japanese lacquer trees, it was only a matter of time before lacquering skills spread into the lay community.
A lacquer auction around 1935. Photo credit: Ninohe City
After Japan emerged from isolation in the Meiji era (1868–1912), demand for lacquerware increased throughout Japan and around the world. Artisans from Fukui Prefecture 800 kilometers (500 mi) to the south, brought techniques for extracting more sap from lacquer trees. Iwate became known throughout the world as Japan's top producer of lacquer.
Joboji lacquerware requires the specialized skills of urushi-gaki (lacquer tappers) who extract the sap from lacquer trees, and nushi (lacquerers), who apply the lacquer to dishes and bowls.
Joboji lacquer tappers have special skills that were registered as UNESCO Intangible Cultural Heritage in December 2020. This is how the lacquer tapping process works.
 
Very few individuals can both extract their own lacquer and apply it to dishes and bowls. Photo credit: Ninohe City
Entering the forest and scoring
In early June, lacquer tappers enter the forest to determine the number of trees from which to extract sap. They then clear the weeds from around the selected trees to improve the flow of the air around the tree and to create a working space. In mid-June, the tappers make small cuts in the tree trunks, roughly 20 centimeters (7.9 in) above the roots, and then make similar cuts at intervals of 30–40 centimeters (11.8–15.7 in) above the first cuts.
 
The process of scoring the trees produces more sap. Photo credit: Ninohe City
Extraction
Four days after the initial scoring, the tappers make longer cuts above the original cuts. The tree secrets sap to heal itself. As the lacquer oozes out of these cuts, the tappers use a spatula to scrape it into a special container for tapping. Hatsuhen (early extraction) refers to lacquer extracted from June to mid-July, while sakarihen (heavy extraction) and suehen (late extraction) refer to lacquer extracted from mid-July to late August and September to mid-October, respectively. The same tree yields sap with different softness, elasticity, and coloring depending on when it is extracted.
Hatsuhen (early extraction). The lacquer has different names and different properties, according to when it is extracted. Photo credit: Ninohe City
Rear surface extraction, and stopping the flow
After suehen (late extraction), the tappers make cuts in the unscored rear surface of each trunk to extract more sap. When they have extracted enough sap, they make a cut around the entire trunk to completely cut off the flow of sap.
Rear surface extraction. (left) Tappers even extract sap from the tree's branches. (right) Both photo credit: Ninohe City
 
Lacquer trees are cultivated over a period of 15–20 years, before being tapped for every last drop of sap over a five-month period, and then cut down: an approach known as koroshi-gaki (tapping to death). Each tree yields only around 200 grams (7 oz) of lacquer, which is why Joboji lacquer is so precious and is sometimes referred to as "drops of blood." 
A lacquer tapper carefully selects a tree and makes a series of cuts to tap the sap. Photo credit: Ninohe City
It takes many years of care and cultivation, before Joboji lacquer can be extracted from a lacquer tree. Companies and organizations in Iwate are working together to plant more lacquer trees, so that the lacquer forests and the traditional craft techniques in Ninohe can continue to thrive.
Joboji lacquerware: Adding a subtle sheen to daily life
Joboji lacquer has distinct qualities that make it different from lacquer from other areas in Japan.  Yumi Misumi is an artisan who produces lacquerware for Tekiseisha, a Ninohe lacquerware studio specializing in Joboji lacquer.
Yumi Misumi (left), a lacquerer for 11 years is involved in event planning and branding aimed at promoting Joboji lacquer.
Yumi Misumi explains the key qualities of Joboji lacquer: "First of all, Japanese lacquer contains more of the active component, urushiol, and has a fruitier aroma than lacquer from overseas," says Yumi. "Joboji lacquer is hardier and lasts longer than other Japanese lacquer because it is more elastic and dries to a harder finish. That is why it is used to restore important structures."
Gleaming, jet-black Joboji lacquer being filtered. Photo credit: Ninohe City
 "Tekiseisha strives to produce lacquerware that has a place in everyday life, that people aren't hesitant to use on a daily basis," says Yumi. "As a local company, we insist on strong, durable lacquerware finished with 100% locally-sourced lacquer."
Lacquerware from Tekiseisha is layered with multiple coats, in a traditional process known as nuri-kasane. The first step is wood hardening, in which the unfinished wood is soaked in crude Joboji lacquer. Next, an undercoat of a proprietary mix of refined lacquer and bengara (red oxide) is applied.
Applying the undercoat. Photo credit: Ninohe City
After undercoating, the surface is polished with water resistant paper or a whetstone to make it smooth so that subsequent coats will adhere well. Next, six cycles of coating and polishing create a multi-layered second coat.
Applying the second coat. Photo credit: Ninohe City
Finally, a topcoat of refined lacquer is applied in a special room to prevent dust or dirt from adhering to the finished surface.
Applying the topcoat. Very few studios use precious Joboji lacquer for all coats. Photo credit: Ninohe City
The process takes an average of three months from the initial wood hardening stage. The result is a piece of Joboji lacquerware that has been carefully coated and recoated by hand, to produce an item that reveals a subtle beauty in its smooth, matte texture.
"We never use Joboji lacquer to create a lustrous finish," Yumi says. "The joy lies in appreciating the matte texture, and then in the gleam that comes from the natural wear of using the dishes and bowls every day. It is as though you create your own lacquerware, which grows more beautiful with age."
Joboji lacquerware adds an appealing texture to daily items.
A hands-on experience of Joboji lacquer and local cuisine
Just 20 minutes by bus from Ninohe Station, Tekiseisha allows visitors to observe the lacquering process through large glass windows. See Joboji lacquerware artisans as they work with precision and skill.
Artisans filtering lacquer. The city of Ninohe is committed to training new generations of lacquer tappers.
Tekiseisha also offers lacquer polishing workshops. Participants learn how Joboji lacquer is tapped and applied before polishing a small lacquer tablet themselves by hand.
The experience lasts around 40 minutes, and participants get to keep their tablet, which can be used as a key fob, phone strap, or bookmark.
Joboji lacquerware created by local artisans is exhibited and made available for purchase in the Tekiseisha showroom. Although each artist works with the same materials, they use different techniques and designs to create highly distinct pieces. The pieces showcase the natural appeal of wood and the distinctive luster of Joboji lacquer.
Take a piece of lacquerware in your hands to feel its textural subtleties.
After a leisurely visit to Tekiseisha, take a 5-minute walk to the Joboji Museum of History and Folklore. The museum has a wealth of exhibits on Japanese lacquer and displays tools used by lacquer tappers and antique lacquerware. The museum houses 3,832 pieces of lacquerware designated as Tangible Cultural Properties with exceptional historical value. With so many invaluable pieces, the museum is the ideal place to learn the history and culture of Joboji lacquer.
Japan's largest exhibition on lacquer.
To try local cuisine served in lacquerware bowls, visit Gen restaurant inside the Hiraizumi Rest House, near the main entrance to Chusonji Temple. The restaurant has a splendid view of the pathway to the temple and serves regional dishes prepared with local ingredients from Iwate Prefecture. The Hiraizumi Mochi Gozen is a selection of six different types of mochi, including ginger, sweet bean paste, and zunda (mashed edamame), and is an ideal way to experience the ancient local culture of eating mochi in this fertile rice-producing area—in lacquerware bowls.
The Hiraizumi Mochi Gozen, an assortment of mochi dishes. Other popular choices include Iwate's famous Maesawa beef, or soba noodles.
Main photo credit: Ninohe City 
Information
Related Links
Hiraizumi Tourism Association