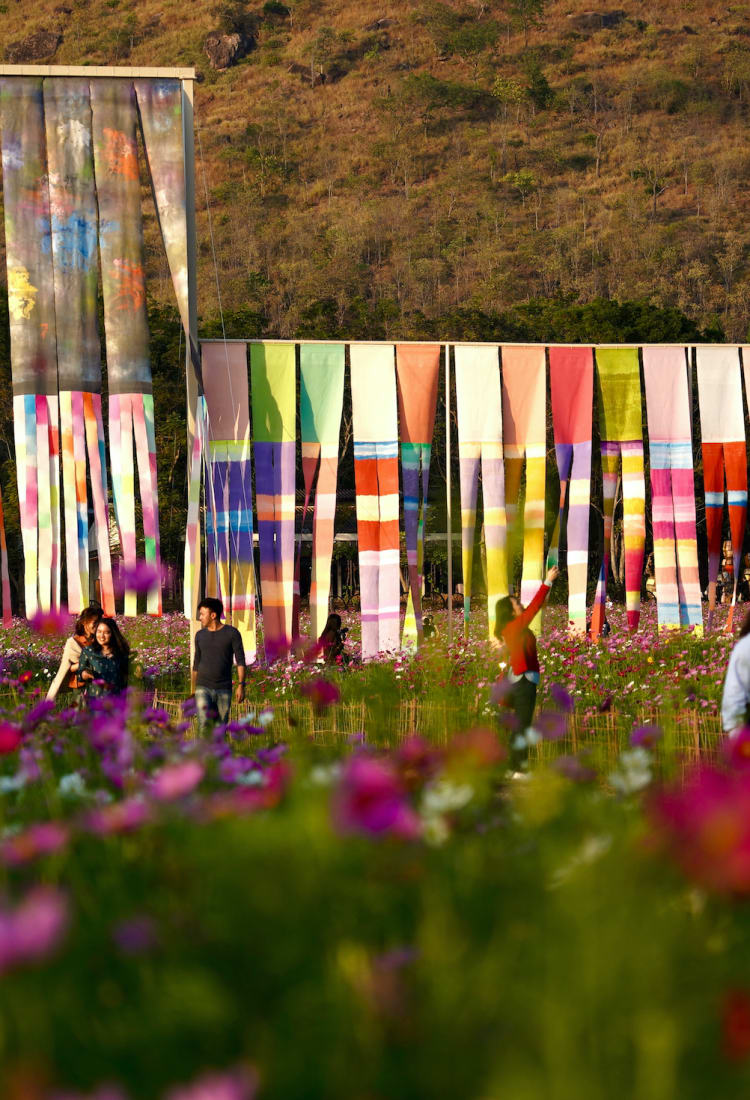 2022.06
Cultural Meeting Spaces: The Unique Appeal of Japan's Contemporary Art Festivals
Cutting-edge art provides an opportunity to engage with culture on a new level
Photo credit: Mit Jai Inn / Jim Thompson Foundation (Exhibition reference image for Aichi Triennale 2022)
People's Wall, 2019
Courtesy of the artist and Jim Thompson Foundation
For such a geographically small country, the enormity of the art scene in Japan is almost unbelievable. In every region, Japan is using contemporary art in all shapes and forms to revere its own history and push people to explore new ideas for a globally sustainable future.

Art festivals in Japan have evolved beyond the confines of museum walls, spreading into public spaces as well as outdoor ones. They use art to challenge the way we think and invite everyone to discover what art means to them. Importantly, they bring together international and local artists to contemplate issues that affect the whole world.
Pushing boundaries: The Aichi Triennale redefines the contemporary art festival 
A noh mask by Chikage Imai – the mask is said to only come alive when the performer wears it and breathes life into it. 
Photo credit: Imai Chikage ©Junichi Takahashi / Martin Boverhof (Exhibition reference image for Aichi Triennale 2022)
Aichi Prefecture is known for car and robot manufacturing, but it also has a strong artistic culture–one that the Aichi Triennale seeks to pass onto future generations. Beginning in 2010 and held every three years since, the Aichi Triennale is one of the largest contemporary art festivals in Japan.
Each Aichi Triennale has a central theme. In the past, there have been themes such as Arts and Cities, Awakening − Where Are We Standing ? − Earth, Memory and Resurrection, Homo Farber: A Rainbow Caravan, and Taming Y/Our Passion. So, what's the theme for 2022? —STILL ALIVE. As doors begin to reopen post pandemic and we reestablish our daily lives, it's easy to see the relevancy of this theme today. But it also has a connection to the past. It was inspired by a series of text works by Aichi-born artist On Kawara called "I Am Still Alive." Kawara sent out 900 telegrams to various people with messages of his continued existence.
One of the 900 telegram messages On Kawara sent out as part of his I Am Still Alive series. 
Photo credit: On Kawara (Telegram to Sol LeWitt, February 5, 1970; From I Am Still Alive, 1970‒2000)
LeWitt Collection, Chester, Connecticut, USA © One Million Years Foundation
(Exhibition reference image for Aichi Triennale 2022)
Within Nagoya, works by selected artists and groups can be found indoors in cultural buildings such as the Aichi Arts Center and outdoors in historically significant areas such as Arimatsu, an Edo-era style town famous for its 400-year-old tradition of Arimatsu Narumi Shibori (tie-dyeing). In these locations, you'll find a mixture of paintings, sculptures, structures, performance art pieces, learning programs, and more to provoke you into considering contemporary art.
Beyond Nagoya: Experience culture in Ichinomiya and Tokoname
However, just as the Aichi Triennale doesn't restrict its view of what contemporary art is, it also doesn't restrict the festival to just one part of the city. To get the whole experience, you must venture out a little bit further, namely to Ichinomiya and Tokoname.
Kaylene Whiskey is an indigenous artist from Australia whose art celebrating heroic women and sisterhood will be showcased in the Aichi Triennale 2022. 
Photo credit: Aichi Triennale / Kaylene Whiskey (Seven Sisters Song, 2021) (Exhibition reference image for Aichi Triennale 2022)
Collection of National Gallery of Victoria
Courtesy of the artist, Iwantja Arts and Roslyn Oxley9 Gallery
Ichinomiya sits in northwest Aichi and translates to "first shrine," referring to Masumida Shrine. During the Edo Period (1603–1867), it was known for its cotton fabrics and over time it manufactured silk-cotton fabrics before then moving onto wool. It's thanks to this that it gained the name "city of textiles." Exhibitions take place at the former bank Orinasu Ichinomiya, the former Ichinomiya Nursing School, the Sumi Memorial Hall and other venues.
Tokoname, on the other hand, lies on the west coast of Aichi's Chita peninsula. It is one of Japan's six ancient kiln sites, and has been connected with ceramics production since the Heian period (794–1185). You can still see the Toei Kiln, Japan's largest climbing kiln, which was constructed in the year 887. To check out exhibits for Aichi Triennale 2022 and take in the Tokoname pottery history, make your way to the Takita Family residence, the INAX museum.
Glenda Leon's work focuses on the act of listening, which she considers to be essential for the process of evolution. 
Photo credit: Glenda León (Música concreta (Concrete Music), 2015) (Exhibition reference image for Aichi Triennale 2022)
Installation view in Centro de Desarrollo de las Artes Visuales (CDAV)
XII Bienal de La Habana, 2015
Courtesy of Estudio Glenda León
Ichinomiya and Tokoname, in particular, have played important roles in Aichi Prefecture's rich tradition of culture and manufacturing, having successfully combined the two in textile and ceramic production. Now, they continue the tradition by providing contemporary art with inspiration and historical venues.
Biwako Biennale: View stunning art along the shores of Japan's largest lake 
Ann Eringstam's "In search of wonderland" is about searching for one's identity in mysterious surroundings.
Photo credit: Biwako Biennale / Ann Eringstam
The Biwako Biennale is an international art festival that takes place along the shores of Japan's largest freshwater lake, Lake Biwa, in Shiga Prefecture. In 2001, the first Biwako Biennale was held in Otsu on the shores of Lake Biwa and its surrounds. Then, later in 2003, it moved its base to Omihachiman where it continues to be held.
Omihachiman is an area rich with traditional Japanese buildings. Some of the festival's buildings include vacant townhouses from the Edo (1603–1867) and Meiji (1868–1912) periods, a former brewery, as well as a former soy sauce brewery. You can even see art installations in the 140-year-old bathhouse, Yama no Yu. The biennale lets you see modern art in traditional settings, connecting the present with the past.
The magical "Kichi-shou" by Yuji Nishijima was created by winding copper wire into a coil and weaving it into multiple layers. 
Photo credit: Biwako Biennale / Yuji Nishijima
The UBE Biennale International Sculpture Competition in Yamaguchi Prefecture
Hundreds of sculptures are dotted around Ube to enrich the minds of those who visit. Ant Castle (top right, red) has been there since 1962. 
Photo credit: UBE Biennale
Beginning in 1961, the UBE Biennale International Sculpture Competition is the longest running outdoor sculpture competition in the world. It's held in the little-known city of Ube in Yamaguchi Prefecture. There, in the great green expanses of Tokiwa Park and around the city, you're likely to find massive sculptures made by artists from around the world.
With the goal of making an improved post-war cityscape and combining art and nature, once every two years experts screen sculpture proposals and select a certain number to be built. Some even become permanent exhibitions in the city.
Photo credit: UBE Biennale / MUKAI Ryokichi , Ant Castle, 1962
Ube locals have grown up with Ryokichi Mukai's Ant Castle (1962) since 1961. It is a favorite, having remained for over four decades while other sculptures come and go.
Expect to see some enormous sculptures, as the maximum dimension is 900 centimeters (about 30 feet) while the maximum weight is 10 tons (20,000 pounds). As long as the sculpture can withstand the weather and the occasional earthquake, sculptors have their choice of materials when designing their works. This is important because in this type of art, the materials can play a key role in conveying the idea of the work. 
Photo credit: UBE Biennale / MIYAKE Shiko, The Birth of Life, 2019
The hundreds of sculptures on display in the park and around the city make walking around exciting because there's always something new waiting around the corner.
More to explore: Other compelling art festivals in 2022 
So far, we've only talked about three of Japan's incredible contemporary art festivals. Head out to Niigata, and you'll find the Echigo-Tsumari Art Triennale. Here, the emphasis is on nature and agriculture, so many of the installations are out in the fields.
Ilya and Emilia Kabakov, "The Rice Fields", photo by ANZAÏ
Go up to Japan's northern island of Hokkaido to take part in the Sapporo International Art Festival (SIAF). In 2020, the third edition of SIAF was canceled, but the thoughts and ideas that went into it were turned into the "SIAF 2020 Matrix" website so that people could still be enriched by the beautiful artwork.
The "SIAF 2020 Matrix" website, courtesy of Sapporo International Art Festival Executive Committee
Presenting beautiful artwork and playing on words, the Saitama Triennale is an international art festival in Saitama that aimed to transform Saitama into an "art sight" in 2020.
"I can speak - From Imagining by the Window, to Standing atop the Cape", KUBO Hiroko, Statue of Hainuwele, 2020
Saitama Triennale 2020 / Photo credit: MARUO Ryuichi
The Reborn Art Festival is held about every two years in Ishinomaki City, Miyagi Prefecture, which was severely damaged by the tsunami that followed the 2011 Great East Japan Earthquake. With the aim to create a cycle that leads to regional reconstruction and promotion, the festival combines art, music and food in new ways to engage visitors.
White Deer (Oshika) by Kohei Nawa, Oginohama, Oshika Peninsula, Miyagi Prefecture.
Photo credit: Takehiro Goto (Courtesy of Reborn-Art Festival)
The Setouchi Triennale is a contemporary art festival aimed at revitalizing the islands of the Seto Inland Sea. In recent years, the islands have experienced depopulation, but the festival wants to show people the islands' charm and historical culture by drawing on the wisdom of the elders who keep the islands alive. With its history, the festival looks to invest in the islands' future. In particular, the Setouchi Triennale focuses on the restoration of the sea.
This mural on SAZANAMI HOUSE was created by Rikuji Makabe with pieces further added in workshops. 
Photo credit: KIOKU Keizo / Setouchi Triennale 
Contemporary art festivals in Japan continue to work towards a better global future. The global pandemic presented the festivals with a setback, but also showed that now more than ever we need to consider the direction our future is heading.
Business hours
Due to measures to prevent the spread of COVID-19, business hours may be subject to change; please check with the venues before visiting.
Information
Sapporo International Art Festival