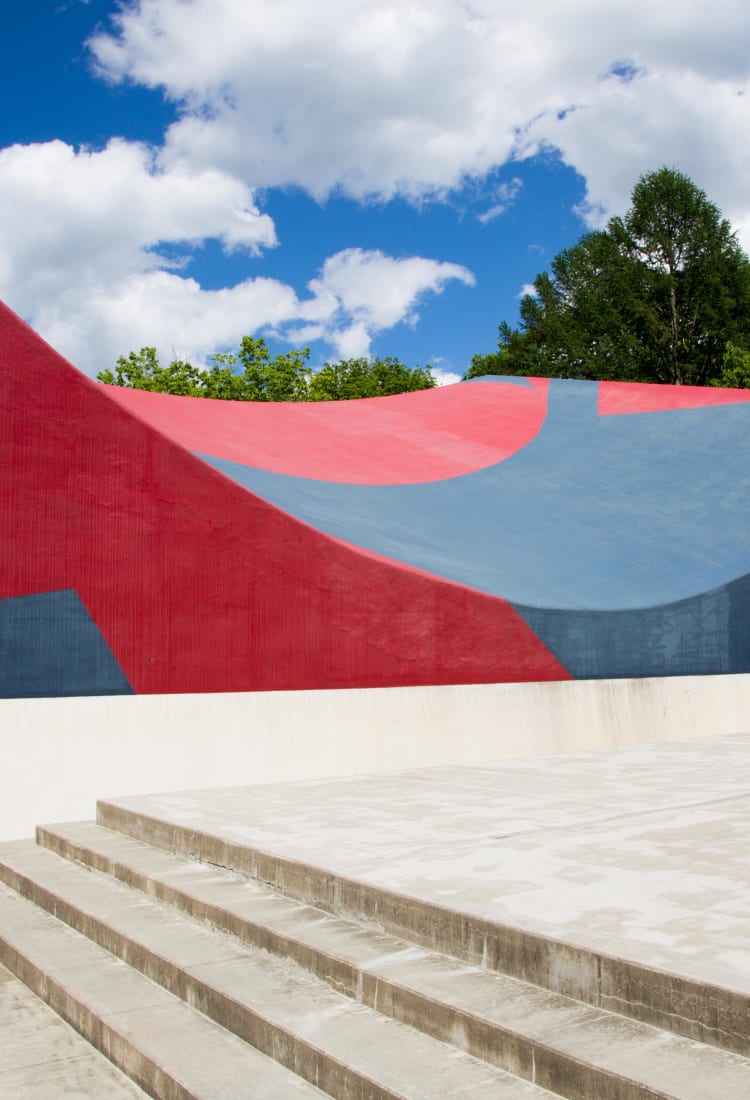 2022.12
Discover Art and Culture in the Highlands of Yamanashi
Step out into Hokuto, one of Japan's scenic art destinations
Photo credit: ©Keith Haring Foundation, courtesy of Nakamura Keith Haring Collection
Located at the foot of the Yatsugatake mountain range, Hokuto, Yamanashi, has emerged as an appealing destination for art lovers from all over Japan and abroad. The city is home to many museums, but we'll focus on a tour of three unique centers of art situated on highland plateaus with stunning vistas.

We'll begin at the Nakamura Keith Haring Collection, the world's only museum exclusively exhibiting the work of pop art icon Keith Haring. Next, let's explore the Kiyoharu Art Colony, an unconventional space featuring buildings designed by world-famous architects, followed by the Hirayama Ikuo Silk Road Museum, a treasure trove of ancient artifacts and traditional Japanese-style paintings. In conclusion, we'll explore a few hiking trails and highland parks where visitors can experience breathtaking views of the surrounding mountain scenery.

Natural beauty and adventure are two more reasons to visit Hokuto

Encounter fine art and sake while enjoying the outdoors

Hokuto is known for sprawling green pastures set against a spectacular backdrop of the Yatsugatake range and Mt. Fuji. People flock to the city all year round to enjoy its hiking trails, golf courses, ski resorts and hot springs.
 
While blessed with natural beauty, Hokuto also draws visitors for its vibrant art scene and culture. From local archeological discoveries and prehistoric pottery to Buddhist art and contemporary photography, the city's diverse local museums and galleries offer something for everyone.

Hokuto is also home to many sake, whiskey, wine and beer producers. Sake breweries, especially, have been making the most of the water's purity and locally grown rice to produce fine sake throughout the region. 
 

 Japanese sake brewing flourishes in regions with quality water sources.

Immerse yourself in urban pop art at the Nakamura Keith Haring Collection

Keith Haring rose to fame in New York City's art scene in the 1980s. Coming from a vibrant graffiti subculture, Haring created captivating images ranging from chalk drawings in subways to large murals in public spaces. While straightforward and playful, his works dealt with social issues of the day, including gay rights, AIDS and opposition to apartheid.

The museum's founder, Dr. Kazuo Nakamura, began collecting Haring's work in 1987 when he purchased Three Lithographs (People Ladder), which he admired for its comic strip-like "simplicity." Opened in 2007, the museum now boasts more than 300 artworks spanning every stage of the artist's career since the 80s, along with sculptures, furniture and photographs.

Keith Haring's work brings urban pop art to rural Yamanashi.
Photo credit: ©Keith Haring Foundation, courtesy of Nakamura Keith Haring Collection

Award-winning architect Atsushi Kitagawara designed the museum buildings based on the pieces on display. Organized around different themes including the Room of Darkness, Freedom Gallery and Room of Hope, exhibition spaces that contrast light and shadows convey the conflict and harmony that characterizes much of Haring's work.

Art-inspired goods are available in the stylish museum shop, inspired by Pop Shop, a store originally founded by Haring in New York (1986–2005) that also had a brief run in Tokyo (1988). Visitors can also relax outside in the courtyard, a modern and colorful space immersed in the surrounding forest. 

Works on display in the Room of Hope
Photo credit: ©Keith Haring Foundation, courtesy of Nakamura Keith Haring Collection

The museum is situated in the Kobuchizawa Art & Wellness complex, where visitors can also enjoy golf, tennis and horseback riding while staying at a boutique hotel with private open-air hot spring baths or a quaint country-style inn. 

Explore a visionary museum playground at the Kiyoharu Art Colony 

Opened in 1983, the Kiyoharu Art Colony is a highly original space harmonizing modern art and architecture with nature. Offering stunning views of the Yatsugatake mountains, its grounds are dotted with modern sculptures and cherry trees originally planted in 1925, making it a popular spot for viewing blossoms. 

Tearoom Tetsu surrounded by cherry blossoms
Photo credit: Kiyoharu Art Colony

Upon entering, visitors will immediately notice La Ruche, a sixteen-sided brick building modeled after a wine rotunda designed by Gustave Eiffel for the 1900 Paris Exposition. Many rooms in the building are open for artists to use it as residences or ateliers. A sculpture of Gustave Eiffel stands nearby, next to a section of the Eiffel Tower staircase brought to the colony in 1989 to celebrate the tower's 100th anniversary.

The main gallery building, the Kiyoharushirakaba Museum, was designed by Yoshio Taniguchi, known internationally for redesigning the Museum of Modern Art in New York. His use of natural lighting and space creates an open and tranquil atmosphere for enjoying the works on display, including bronze sculptures by Auguste Rodin.  
 

Museum of the Light
Photo credit: Kiyoharu Art Colony

A path from the museum leads to a chapel dedicated to the French artist Georges Rouault, followed by the Museum of the Light, a structure entirely lit by a skylight tapered to the shape of the landscape. In the distance stands a charming tree house, Tearoom Tetsu, built on an 80-year-old cypress tree about four meters above the ground. The colony also hosts ateliers, ceramic studios and a library.

Journey to an exotic world at the Hirayama Ikuo Silk Road Museum

Situated on a green highland with a panoramic view of Mount Fuji and the Yatsugatake range, the Hirayama Ikuo Silk Road Museum houses a unique treasure trove of artworks tied to the Silk Road together with an impressive collection of Nihonga, a traditional style of Japanese painting, by Hirayama Ikuo.

Photo credit: Hirayama Ikuo Silk Road Museum 
Together with his wife, Hirayama traveled to places along the Silk Road around 150 times, collecting sculpture, jewelry, paintings and artifacts from the ancient and modern eras. The museum holds about 10,000 items originally from his collection, which he donated to support education and research on the Silk Road and its cultures.

Sculptures from the Silk Road
Photo credit: Hirayama Ikuo Silk Road Museum
Hirayama's passion for the Silk Road is evident in his own work as a Nihonga artist. The museum exhibits many of his vividly colored paintings of scenes of the Silk Road, such as traders journeying on camelback against dreamlike backdrops of deserts and ancient ruins. Also on display are Hirayama's sprawling Nihonga paintings of Japanese landscapes and towns. 

An expansive landscape painting on display
Photo credit: Hirayama Ikuo Silk Road Museum

Explore the natural beauty of Hokuto's highlands

Hokuto is encircled by the Yatsugatake range to the north, Mt. Kai-Komagatake to the west and Mt. Kayagadake and Mt. Mizugaki to the east. Hikers can enjoy panoramic views of the entire region from hiking trails of varying levels of difficulty. For example, the trail from Kuroto-one to Mt. Kai-Komagatake, a 2,967-meter peak, is 17.1 kilometers (10.6 miles) round trip, generally requiring 14.5 hours across two days.



 
For a more leisurely walk, Shingen Bomichi is a pleasant, wooded path extending 8.5 kilometers (5.3 miles). Visitors will encounter stone statues of Kannon, the Buddhist goddess of Mercy, made during Japan's Edo period (1603–1868). The path is especially popular in the autumn months when leaves turn deep yellow and red. 

More seasonal colors come alive in the area's green pastures when dazzling pink cherry blossoms appear in the spring and bright yellow sunflowers bloom in the summer. Among Hokuto's many sprawling parks, Heidi's Village is a charming spot for strolling through fields of sunflowers, tulips and roses. Hokuto is a wonderful destination for experiencing the natural beauty and culture of Japan in every season.

Flowers in full bloom at Heidi's Village
Photo credit: Heidi's Village
Business hours

Due to measures to prevent the spread of COVID-19, business hours may be subject to change; please check with the venues before visiting.
Information
Nakamura Keith Haring Collection
Hirayama Ikuo Silk Road Museum
Kobuchizawa Art & Wellness