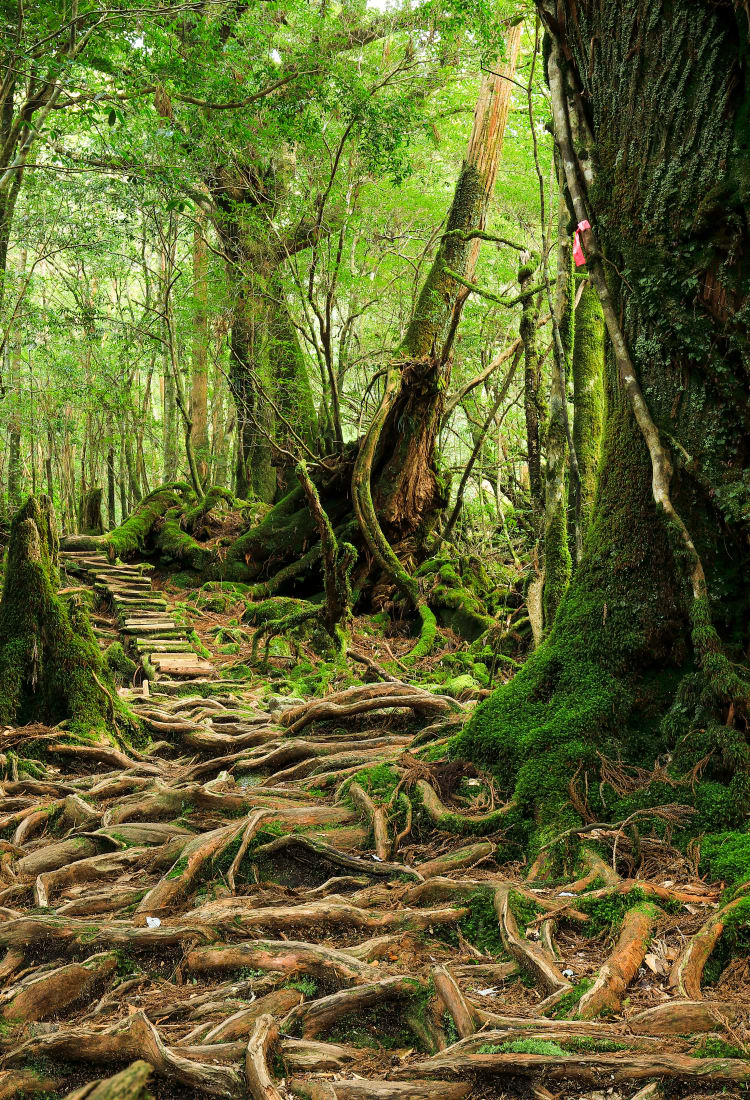 Yakushima Island (UNESCO)
A remote island covered by ancient forest
Yakushima is a natural getaway, home to some very old and stunning nature
Located 60 kilometers out to sea from Japan's southern prefecture of Kagoshima


, visit Yakushima


to walk in ancient forests, hike up mountains, wander along beaches and experience a wildly changing climate. Don't forget your umbrella—it rains a lot.
Highlights
Exploring the island's waterfalls, forests, and beaches
Spotting wildlife unique to the area
Wandering in a forest of ancient cedar trees Explore the Alps on the ocean
Yakushima


is a round-shaped island south of the Osumi Peninsula in the southern part of Kagoshima Prefecture


. One-fifth of the island is registered as a World Natural Heritage site. There are as many as 8 mountain peaks over 1,800 meters high, including the highest mountain in Kyushu


, Miyanoura-dake, standing at 1,936 meters. This is what gives the island its nickname—the Alps of the ocean. Yakushima's diverse climate
The bedrock of the island is granite, and it is said that a ridge thrown up by movement in the earth's crust is what formed the island. One of the main features of this area is that the differences in temperature and climates of the island are the largest on earth. You can see plants from both subtropical zones and cold temperate zones on the island, and it rains so much that local people say it rains 35 days a month. From coral reefs to alpine plants
Look out for many rare animals and plants due to the abundance of water and the changes in temperature at different altitudes. You can find coral reefs and alpine plants, and animals unique to Yakushima


including the Yaku monkey and Yaku deer. Seriously old trees
Yaku sugi cedar trees are the symbol of Yakushima


, and this title is reserved for cedar trees over 1,000 years old. You will notice that yaku sugi growing in areas covered by clouds and mist sometimes extend roots from their leaves and stalks and twist themselves into strange shapes. One particular cedar discovered in 1966 and situated at an altitude of 1,350 meters is assumed to be the largest and the oldest in the world. It is called the Jomon Sugi. There are various theories as to its age, ranging from 2,170 to 7,200 years old. Sightseeing spots
There is plenty to explore on the island. Walk in the forest of yaku sugi at Shiratani Unsuikyo Ravine


, and bathe in a spa right next to the sea at Hirauchi Kaichu Onsen. Visit Ooko-no-taki—the tallest waterfall with the largest amount of water in Yakushima


—and Senpiro-no-taki where the water falls from around 60 meters on to a gigantic granite monolith.
Look out onto the deep blue ocean spreading out to the horizon at Yakushima Lighthouse and wander along the beautiful sandy beach at Sango-no-hama (coral shore)—a spot where you can find star-shaped sand. If you want to experience canoeing, forest bathing, or take a tour of the whole island with a veteran guide, make sure to reserve your place on a tour.
How to Get There
Access the island in around two hours and 35 minutes to either Abou Port or Miyanoura Port by jetfoil from the north pier of Kagoshima Honko. Alternatively, take the four-hour ferry to Miyanoura Port, or a 40-minute flight to Yakushima Airport from Kagoshima Airport.
* The information on this page may be subject to change due to COVID-19.