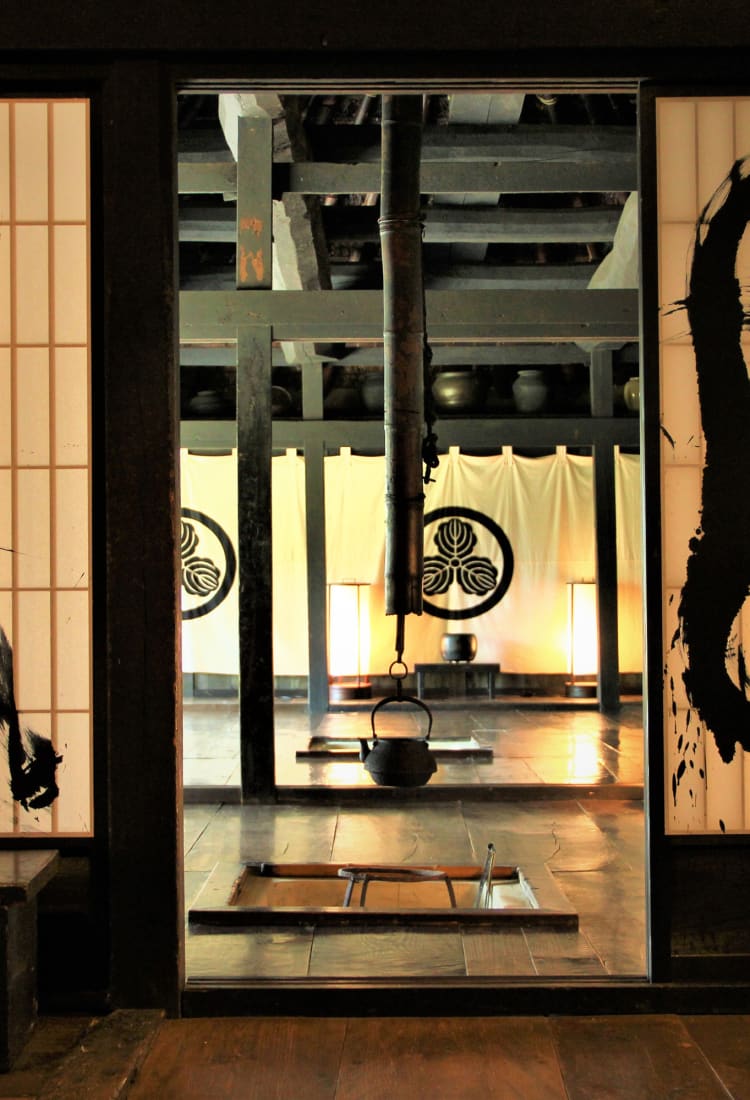 2021.02
How a Hidden Valley in Tokushima Has Become a Haven for Ecotourism
Experience the Japan of yesteryear in Iya, considered one of the most remote places in Japan
Iya is a remote hamlet deep in the mountainous Nishi-Awa region of Tokushima Prefecture, on the island of Shikoku. The area is surrounded by dense forests and the Shikoku Mountain Range. It is an ideal place for enjoying traditional Japanese landscapes and experiencing the benefits of ecotourism. Alex Kerr, a researcher of Eastern culture and the renowned writer of "Lost Japan", created the foundation for sustainable tourism in the area, by restoring traditional houses and working to revive the town of Iya. He talks about the attraction of "nostalgic, new" Iya and staying in a traditional Japanese home. 
Iya: An unspoiled earthly paradise, deep in the Shikoku mountains
---
Situated in the western part of Japan, Tokushima is one of the four prefectures in Shikoku, bordered by the Seto Inland Sea and the Pacific Ocean. Visitors are attracted to the area by its beautiful seaside and the mountains that cover 80% of the total land area. Tokushima has unique traditions, including aizome, the art of indigo dyeing, and the Awa Odori Festival, an annual spectacle of traditional dance that usually draws over a million visitors from across Japan and overseas.
Awa Odori is a traditional performing art from Tokushima that has continued for over 400 years. Photo credit: Awa Odori Dance executive committee
Iya Valley is in the Nishi-Awa region, about 75 minutes by train from Tokushima City. There are limited local buses around the area and access to the valley is along a single mountain road. Some parts of the valley are traversed by traditional suspension bridges, made from vines. This hidden hamlet is often called one of the "three most remote places in Japan", along with Shirakawa-go in Gifu Prefecture and Shiiba in Miyazaki Prefecture. Homes in the village have traditional thatched roofs, and much of the lifestyle, farming methods and customs have remained unchanged for around 300 years. 
Thatched roofs are highly durable and have excellent ventilation. Photo credit: Alex Kerr
Alex Kerr is a world-renowned writer and a researcher of East Asian literature and culture. He says his roots in Japan are in Iya and looks back on when he first visited the area more than 40 years ago.
Currently, Alex Kerr is based out of Kyoto and Thailand. Photo credit: Alex Kerr
 "In the summer of 1971, a friend I'd met while traveling from Hokkaido to Kyushu, brought me to Iya. We climbed a narrow, winding road into the valley that was extremely steep, like the Grand Canyon. I'll never forget the remarkable sight waiting for us when we arrived. The thatched-roof homes (kominka) dotting the mountain, the emerald-green river, and a waterfall that looked as if it had been painted with a brush…a wondrous world stretched out before us, like Chinese ink paintings of a thousand years ago. Today, the roads have been improved, but that beauty hasn't changed," he says.
The Iya community in 1973. Photo credit: Alex Kerr (left) Iya today has barely changed. (right)
"From that time on, I traveled regularly to Iya and through my research, learned that the origins of this community are unique. Generally, in Japan mountains are considered worlds belonging to deities. They have temples and shrines, and homes spread out at the foot of mountains rather than on the mountainside. However, Iya is a valley isolated from the outside world. Legend says that the noble Heike clan that had been powerful up until the twelfth century were defeated in battle and retreated here. Then, more people began living in Iya drawn by the natural spring waters that flowed from the mountainside, and a place like an earthly paradise was formed."
A home in Iya in 1973. Photo credit: Alex Kerr (left) The deep, V-shaped Iya Valley. (right)
Alex goes on to say that living in an old thatched-roof home in the valley, was a source of never-ending surprises.
"The local product of Iya was leaf tobacco. The tobacco leaves were hung from the roof beams to dry, so there was no ceiling. That means that even though the homes in Iya are small, they feel spacious. Inside the houses there are no tatami mats, a traditional feature in Japanese homes. Instead, there is a wooden floor. In the center of the floor, a square space is cut out and covered with sand to make a traditional sunken hearth, with a charcoal fire. Since the sunken hearth is used for cooking and to keep warm, it's kept lit throughout the year, and the thick pillars, roof beams, and underside of the thatched roof become black and shiny. With a local culture that is completely different to places like Kyoto, the houses have been shaped into living spaces that can only be found in Iya," says Alex.  
 
A traditional Japanese home in Iya that still retains a sunken hearth, a feature that has become rare in modern times.
 "There is no culture of rice production, because of the mountainous terrain. The people of Iya lived self-sufficient lives, eating yams and vegetables. Rice cultivation is a cooperative undertaking involving the whole village, and social behavior, rules, and systems develop based on that. But that culture doesn't exist in Iya. The people are very independent and don't rely on others. There's no prejudice, so they're friendly, and back when there weren't any foreigners there, I was very readily welcomed though I'm not Japanese."
Alex and residents of Iya in the 1970s. Photo credit: Alex Kerr
Renovating a 300-year-old Japanese home into an eco-friendly rental villa
Alex was captivated by his visit to Iya. In 1973, he bought an abandoned old home in the hamlet of Tsurui, in Higashi-Iya (now part of Miyoshi City) and named the home "Chiiori." He began to visit Iya regularly and stay for a long time, making repairs to the thatched roof and other parts of the home over a long period, while interacting with the local residents.
Chiiori two years after Alex bought it. (left) The renovated home as it stands today (right) Both photo credit: Alex Kerr
Later, starting with a traditional townhouse in Kyoto in 2005, he began renovating traditional homes throughout Japan in places including Nagasaki and Nara, to develop a tourism business based on staying in communities. He opened Chiiori as an accommodation in 2012. Guests have the entire house at their disposal, with only one group per stay. The house can accommodate up to nine people.
The living room at Chiiori has the original flooring from 300 years ago. Photo credit: Alex Kerr
"The key to my renovation of the old homes is to respect the history, climate and culture of the sites where they stand. On the other hand, modern conveniences such as updated bathrooms and air conditioning are incorporated to create comfort on a par with a luxury hotel. It's important to strike a balance between those two elements. One such building is Chiiori, a special traditional Japanese home where people can experience the lifestyle of the past."
Many people visit and enjoy staying at Chiiori, even though it is in the remote region of Iya, a place that even many Japanese people don't know.
Alex says that guests from Western countries say this is just the kind of place they were looking to stay at in Japan. Photo credit: Alex Kerr
According to Alex, the reason many seasoned travelers are charmed by the traditional villages of Iya is "the attraction of there being nothing."
"The common newly built homes, shops, business hotels, large signs, and huge commercial facilities that are all over Japan are nowhere to be found," he says. "Even if you search throughout Japan you won't find many such places. Here, you can comfortably enjoy a stay with rustic nature, just like in Tuscany, Italy and Provence, France. This is the ultimate in minimalism, and I feel that the natural artistry here is similar to that of Japan's cutting-edge contemporary art, which is why many Westerners in the museum and art industry visit Iya after visiting Kyoto or Naoshima in Kagawa Prefecture."
Where to experience authentic Japan
---
The Nishi-Awa area has been selected as a World Agricultural Heritage site because of its unique farming techniques and traditional events related to farming. The village of Ochiai has many farmhouses and lodging facilities where visitors can enjoy a hands-on farming experience. We asked Alex for his recommendations. 
Tougenkyo-Iya
This is a group of eight thatched-roof houses that Alex is associated with, located in the Ochiai community of Higashi-Iya. He recommends "Ten-ippou," a house near the top of the mountain, which affords a panoramic view of the valley and starry sky. According to Alex, "Similar to Chiiori, it has the charm of a traditional house, with modern comforts. We restored the sunken hearth and placed sofas and a low table, so that guests can enjoy a luxurious atmosphere that blends Japanese and Western styles." 
The stylish living room in Ten-ippou. Photo credit: Chiiori alliance
There are various optional hands-on activities available only to guests of Tougenkyo-Iya. "I'd really like guests to cook regional dishes for dinner together with some of the local women," says Alex. "Residents living nearby bring ingredients to the house, and the time spent cooking together is really fun. You can't experience that at an ordinary hotel." 
Guests can enjoy cooking even if they're not accomplished cooks. As of January 2021, the option is suspended due to COVID-19. Photo credit: Chiiori alliance
The soba-making experience is another favorite option. Due to the mountainous terrain in Iya, the people have cultivated soba (buckwheat) instead of rice, since long ago. The sweet, fragrant soba is one of Iya's signature agricultural products. In this hands-on experience, guests use authentic tools to make and then eat soba noodles.
Soba from Iya is very flavorful and fragrant. Photo credit: Chiiori alliance
Kominka Yado Koya
This is a farmhouse inn run by a husband and wife, in a home in Higashi-Iya that is over 100 years old. Guests can join in various farm activities according to the different season, including picking wild plants and planting vegetables in spring, tea-picking in early summer, and harvesting soba in fall. Other activities include the daily tasks of chopping wood, making rice in a cooking pot, and cooking in the sunken hearth. Alex recommends taking a long, unhurried stay to enjoy day-to-day life with the couple.
(*As of February 2021, the farmhouse is not accepting lodgers, due to COVID-19.)
Experience the local culture by living together.
Hotel Iyaonsen
Iya has been a valley of hidden hot springs since ancient times. Visitors can enjoy these natural hot springs near the bottom of the gorge, at Hotel Iyaonsen, which is open to day visitors. "After taking in the scenic views while traveling down the mountain in a cable car, the best experience is an open-air bath with a view of the river," says Alex. There are also plans that include meals made with local ingredients. 
Enjoy the view from the cable car. (left) The outdoor baths have views over the river. (right) Both photo credit: IYAONSEN
Information
Related Links
Nishi-Awa Tourism Association Sora-no-sato