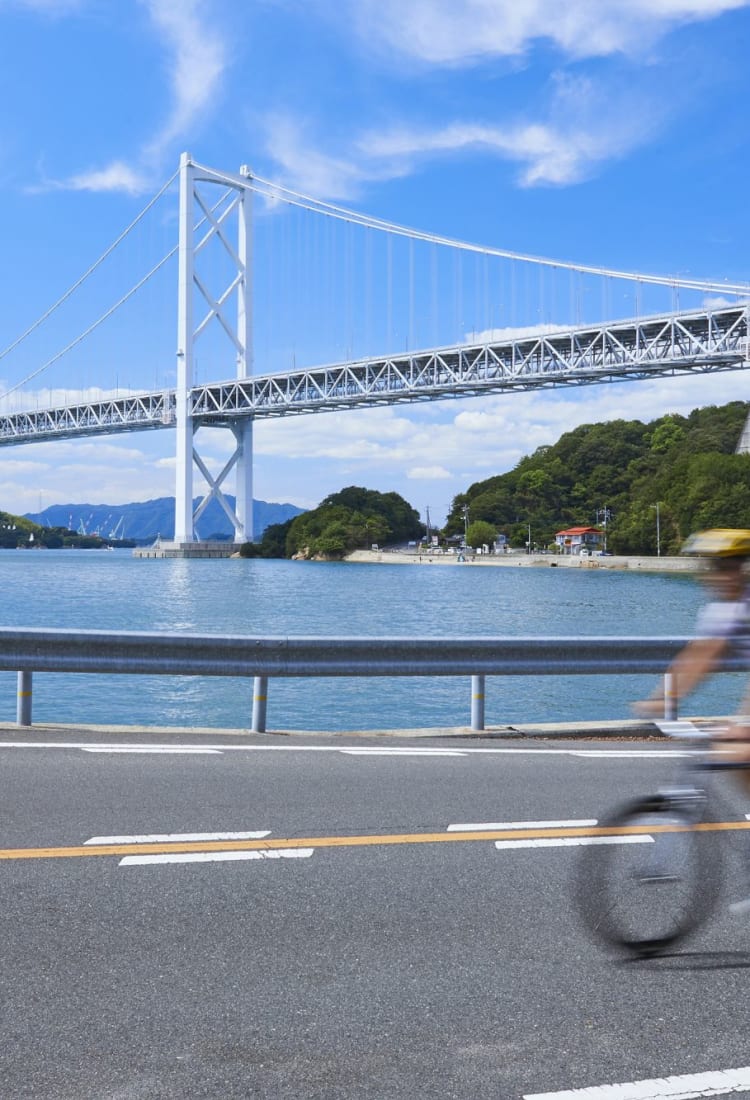 2021.09
The Best Destinations for Cycling and Bike Tours in Japan
As anyone who's done it can tell you, there are few better ways to see the Japanese countryside than by bicycle. With its well-maintained roads and constantly changing scenery, Japan has plenty to offer for cyclists of all levels. Traveling by bike lets you explore areas that are hard to reach by public transport, and feel a deeper sense of connection to the places you pass through.

There are numerous tour companies catering to international visitors, but it's also never been easier to plan your own itinerary. Along with three designated National Cycle Routes—Biwaichi, Shimanami Kaido and Tsukuba-Kasumigaura Ring-Ring Road—there are well-established courses all over the country, many with dedicated infrastructure for cyclists.

Whether you're looking for a family fun ride or a multi-day expedition, you won't be disappointed. Just be warned that there may be a few hills along the way—this is Japan, after all.
Go island-hopping across the Seto Inland Sea with the Shimanami Kaido (Hiroshima/Ehime)
There's a reason why the Shimanami Kaido is Japan's best-known cycling route: it's an absolute stunner. The 70-kilometer course follows a system of bridges and toll roads that link six islands in the Seto Inland Sea, connecting Onomichi in Hiroshima with Imabari in Ehime.
When the highway was constructed in the 1990s, the designers had the good sense to include a dedicated cycle lane. In addition to the dazzling sea views, you can also savor some impressive feats of engineering—not least the three-part Kurushima-Kaikyo Bridge, which stretches over a total of 4 kilometers.
Most visitors start from Onomichi, which is more accessible by public transport, though experienced riders will tell you that the route is even more enjoyable when tackled in the opposite direction. Bikes can be rented at either end, and it's also easy to have your luggage sent on ahead of you.
The main route, marked with a blue line on the road, is suitable for riders of all levels, and only the mountainous island of Oshima poses a challenge. The entire course can be comfortably completed in a day, though it's also possible to stay along the way. If you aren't in a hurry, it's worth taking time to enjoy some of the local attractions, from the kitsch replica temples of Ikuchijima to Okunoshima, popularly known as Rabbit Island. You can also learn about the Murakami Kaizoku, a clan of benevolent pirates who controlled the surrounding waters between the 14th and 16th centuries.
Dramatic bridges and tranquil waters are all part of the scenery on the Shimanami Kaido.
Do the complete 'Biwaichi' loop around Lake Biwa (Shiga)
Japan's biggest lake has a bicycle route so popular, there's even a word for it: "Biwaichi" ("going around Biwa"). The total course is 193 kilometers long, and while advanced riders can do a complete lap in a day, most visitors will probably want to give themselves a little longer. You might stop off to visit notable spots including Hikone Castle and the mountain temple of Enryakuji, not to mention the various post-station towns that were once used by people traveling to and from Kyoto. Except for the northern end of the lake, the route is mostly flat, and there are over 200 Cycle Support Stations along the way.
The sun sets over Lake Biwa in Shiga Prefecture.
Experience 'satoyama' landscapes while riding the Noto Peninsula (Ishikawa)
Jutting out into the Sea of Japan, the remote Noto Peninsula is tricky to get around by public transport, but ideal for cycling. There are numerous courses, from an easy seaside ride along the 33-kilometer Noto Kaihin Cycling Road from Uchinada to Hakui, to a 373-kilometer route around the whole peninsula that takes 30 hours to complete. Along the way, you can see numerous examples of traditional 'satoyama' and 'satoumi' scenery, where communities live in harmony with the landscape, including the stunning Senmaida Rice Fields. Also don't miss the Chirihama Nagisa Driveway, an 8-kilometer stretch of sand that's firm enough to ride (and drive) on.
Looking out to the Sea of Japan over the famed Senmaida Rice Fields.
Take your wheels for a sandy spin on the Chirihama Nagisa Driveway.
Get a full workout on the Tsukuba-Kasumigaura Ring-Ring Road (Ibaraki)
Ibaraki's Ring-Ring Road can be reached in about an hour by train from central Tokyo, but feels a world away. The course links a lakeside path around Lake Kasumigaura with a cycle road that follows the route of the former Tsukuba Railway, and it can be broken up into sections, according to how much time (and stamina) you have. Experienced cyclists can give their legs a workout by taking a detour on the 25-kilometer Mt. Tsukuba hill climb course, or try the complete 180-kilometer course, doing a full loop around the lake (starting and finishing at Tsuchiura Station) then heading upcountry to Iwase Station.
The Tsukuba-Kasumigaura Ring-Ring Road is great for beginners, but also offers challenges for experienced cyclists.
Discover historical sites and stunning nature in Aizu (Fukushima)
Already a popular spot for history and nature buffs, Aizu has been coming into its own as a cycling destination in recent years. Pick up a copy of the Aizu Cycling Map, which lists a range of options, from a beginner-friendly 54-kilometer ride that descends gently through the countryside between Aizu-Tajima and Aizu-Wakamatsu, to the 196-kilometer "King of Aizu" course, featuring some intense mountain climbs.
Some of the courses follow the Okawa-Kitakata Cycling Road, a well-maintained 49-kilometer bike path that runs along the Okawa river between Aizu-Wakamatsu and Kitakata. It's notable for having onsen hot-springs at both ends of the route—ideal for soothing achy limbs after a long day in the saddle.
There's plenty to smile about while riding the Okawa-Kitakata Cycling Road.
Photo credit: Aizuwakamatsu Tourism Bureau
 
The area is especially attractive during cherry blossom season, and you can take in views of the imposing Mt. Bandai and historical sites like Tsuruga Castle while you ride. Other highlights include the delightful Ouchi-juku post-town, with well-preserved thatched buildings that transport visitors back to the samurai era.
When you need to refuel, there are roadside restaurants along the way, offering local specialties such as negi-soba noodles—eaten with a leek instead of chopsticks—and 'sauce' katsudon (deep-fried pork cutlets dipped in a special sauce). And if you plan on cycling to your next destination, the Aizu-Bandai Skyline offers an exhilarating ride through dramatic volcanic landscapes, and can be done en route between Aizu-Wakamatsu and Fukushima City.
Challenge yourself to a full circuit around Awaji Island (Hyogo)
Linking Japan's largest island, Honshu, with Shikoku, Awaji Island is a popular weekend escape for residents of the western Kansai region. If you're in the mood for a challenge, try the "Awaichi": a complete 150-kilometer clockwise loop around the coast, starting and finishing at Iwaya Port. While the roads are mostly flat, things get pretty hilly at the southern end of the island, where you can stop off to see the famous whirlpools of the Naruto Strait. There are also shorter three- and four-hour courses suitable for beginners, or you could head inland to explore the rice terraces and hilltop temples.
Cerulean waters await along the coast of Awaji Island.
Take a family day trip to Mt. Yotei and back (Hokkaido)
Not content merely with being one of Japan's top ski resorts, Niseko is also an appealing summertime destination for outdoors enthusiasts. For a fun family day out, rent some bicycles and head off on a loop around the conical Mt. Yotei—popularly known as Yezo (Ezo) Fuji due to its resemblance to Japan's most famous peak. The scenic 55-kilometer course, starting and finishing at Kutchan Station, takes you through verdant fields and rolling hills. Stop off for ice cream at a local dairy farm, and finish the day by taking a dip in one of the area's many onsen hot-spring baths.
With its fall colors on full display, autumn is also a popular time to cycle around Mt. Yotei.
Soak up views of Mt. Fuji while cycling around Yamanakako (Yamanashi)
Speaking of Japan's most famous mountain, the best way to see Mt. Fuji by bicycle is at Yamanakako. The largest of the Fuji Five Lakes has a dedicated cycling course running around most of the shoreline, and featured in the road race for the recent Olympic Games. You'll only need about 90 minutes to do a full loop—or a little longer, if you keep stopping to take pictures.
Enjoy autumn leaves and a snow-capped Mt. Fuji while pedaling around Yamanako.
Before you set off
Bike rentals are readily available in Japan, and even taller riders shouldn't have too much trouble finding something the right size. If you're bringing your own, note that you'll need a bike bag when taking it on public transport. On multi-day trips, it's generally possible to send your luggage ahead of you using delivery services.
Make sure you familiarize yourself with Japan's road rules before you set off. Bicycles ride on the left, and should generally stick to the road. Depending on traffic conditions you may also be allowed to use the sidewalk, but make sure you give way to pedestrians when doing so.
Using a route planner on your smartphone is highly recommended, and you may also want to rent a pocket wi-fi to be on the safe side. On the National Cycle Routes, look out for designated support stations, where you can pump up your tires and borrow tools for simple repairs.
Business hours
Due to measures to prevent the spread of COVID-19, business hours may be subject to change; please check with the venues before visiting.
Information
Organization for Promotion of Tourism in Shikoku (Tourism Shikoku)
Tsukuba-Kasumigaura Ring-Ring Road