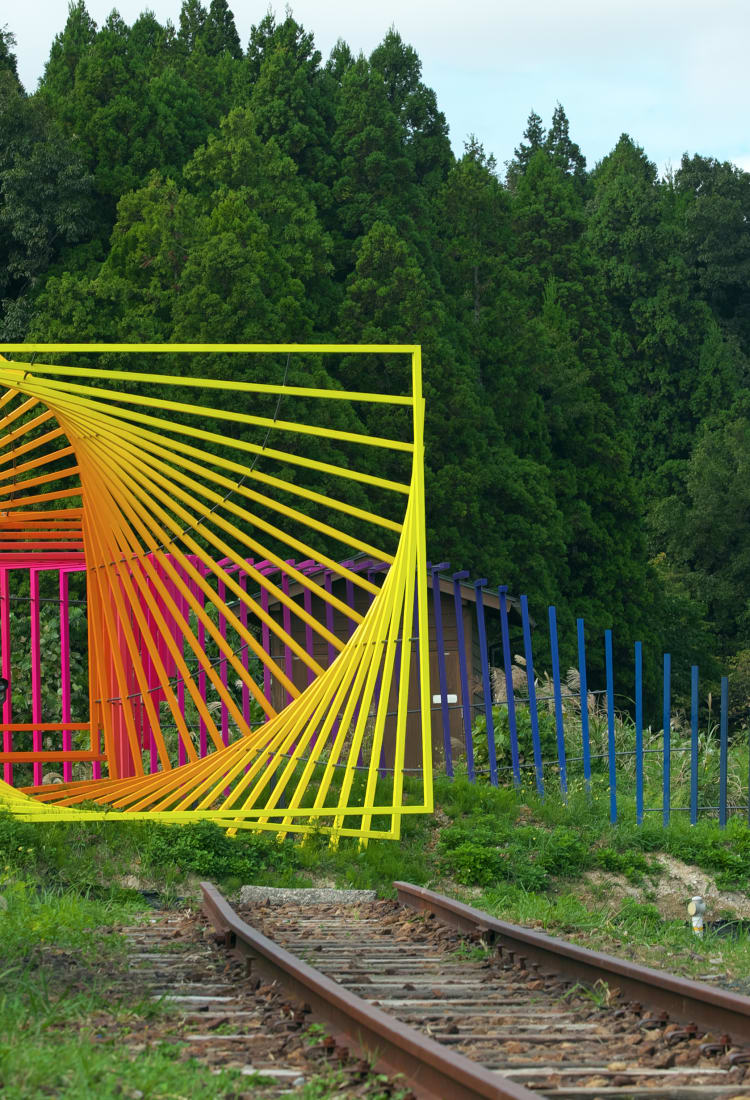 2023.01
Embrace Culture through Contemporary Art! Japan's Top Art Festivals in 2023
Let your imagination run wild at these highly anticipated fairs and festivals
Photo credit: Kichiro Okamura (Oku-Noto Triennale)
Post-pandemic, Japan is opening up to international visitors and welcoming them with a variety of art festivals to enjoy. No matter where you go in Japan, whether it's to western coastal prefectures like Ishikawa and Niigata or to the east, where Japan's biggest cities are located, you can discover an array of stunning artworks, performance pieces and interactive workshops.

Travelers are always looking for new discoveries, and art offers a chance to see aspects of life we'd never even hoped to imagine before. Endless advances in technology and a wealth of historical legacy mean that there are no limits to what artists can create. Some festivals, like the Niigata International Art Festival are just getting started, while others, like the Japan Media Arts Festival, have been running for 25 years.

Read on and mark your calendar with these large-scale art festivals spanning Japan in 2023.

Osaka Kansai International Art Festival: Social impact through art

Study: Osaka Kansai International Festival will be held in the Knowledge Capital Congrès Convention Center, considered the gateway from Osaka to the world.
Photo credit: Kohei Matsumura

Kicking off 2023 in February is an art festival in Osaka.  The Study: Osaka Kansai International Festival is an art fair where art galleries gather to exhibit and sell works. Its 2023 event is just its second congregation, but it already aims to grow to a size, scale and quality worthy of a top world art fair.
 
"Why is it called Study," you ask? Well, that's because it's an art festival that studies the relationships between art, people and society. The festival doesn't just restrict itself to fine art but extends even to the rawness of Art Brut.

See how artists interpret reality at Art Award IN THE CUBE

The artist must express their interpretation of the theme within a joroku-sized cube.
Photo credit: mirukusouko (Milk Warehouse) + The Coconuts (Art Award IN THE CUBE)

Travel to Gifu Prefecture to experience the philosophical approach of Art Award IN THE CUBE. This art competition has been running every three years since 2017, each with a different theme but under the same IN THE CUBE concept. Each artist has a joroku (4.8m) cube space, the same size as a standard statue of Buddha, in which to make their art. The theme for 2023 is "Where Reality Goes" to reflect the recent significant changes in the way we live our lives due to the pandemic and how they will continue to change.
 
Gifu's stunning nature helped inspire 1000-year traditions in ceramics, woodwork, washi (Japanese paper), swords and cormorant fishing. The aim of this art competition is to discover and foster new creative talent as well as provide opportunities both for artists and audiences to find inspiration in the moment.
 

The cubes are set up at the Museum of Fine Arts in Gifu.
Photo credit: Jun Kitagawa (Art Award IN THE CUBE)

Experience the relationship between nature, culture and art in Suzu City at Oku-Noto Triennale

You can find art pieces anywhere in Suzu City!
Photo credit: Kichiro Okamura (Oku-Noto Triennale)

The Oku-Noto Triennale in Ishikawa is all about Suzu City! In times when trade came across the Sea of Japan, the port in Suzu City, surrounded by sea on three sides, was an important one. With the shift in transport from sea to land, its location became less relevant, but it still holds great historical significance. What remains in Suzu was left behind by the times, and from the perspective of other regions, it's often said that Suzu is a place where the "forgotten Japan" can still be experienced. Artwork expressing the history, lifestyle and unique aspects of Suzu are placed across the city, highlighting the city's nature, history, climate and landscape.
 
Artworks can be installation art, performing art pieces or anything from cooking to fashion to handicrafts. During your art journey you're invited to enjoy the very basis of Japanese culture – you can savor traditional cuisine using ingredients from the abundant ocean and mountains, enjoy the dancing of kiriko, which are said to be divine deities from the sea, and observe Suzu pottery, Agehama salt farm, and noto tiles. 
 
Through the collaboration of locals and artists, the lifestyle in Suzu acts as a start of a new culture that will transcend history, borders, and genre. At Oku-Noto Triennale, you're experience an art festival where art and culture go hand in hand.
 
Suzu City holds many unique aspects that inspire art in amazing ways.
Photo credit: Kichiro Okamura (Oku-Noto Triennale)

Explore the theme of "We" at Saitama Triennale
Many of the pieces at Saitama Triennale allow the audience to interact with them.
Photo credit: Ryuichi Maruo (Saitama Triennale)

Just a short train ride from Tokyo, the Saitama Triennale encourages not only appreciation of art but participation in it. In past Saitama Triennales there were a range of experiences to explore such as dance, performance, art knowledge and expression lectures, and workshops on plastic arts for parents and children to enjoy. 

Saitama Triennale has three main goals: build and promote Saitama culture – a new culture born by blending avant-garde art, bonsai and other cultural aspects that have been handed down in the region since ancient times; cultivate talents that will support Saitama culture, and bring life to the city by utilizing Saitama culture. As you can see, it's all about Saitama culture!
 
The theme for Saitama Triennale 2023 is "We" and considers the relationships we have with one another individually and globally.

Yokohama Triennale: A port city turned exhibition site
With works like Nick Cave's Kinetic Spinner Forest, the Yokohama Triennale features work from local and international artists.
Photo credit: OTSUKA Keita. Courtesy of Organizing Committee for Yokohama Triennale

Located in the thriving port town of Yokohama, the Yokohama Triennale is a symbol of the city's wide range of cultural influences. Recently, the city has been reconsidering its concepts of port and festival to discover what kind of message could be delivered by a festival informed by the spirit of a port. The Triennale aims to contribute to the formation of a spiritually rich society that embraces diversity.
 
Yokohama Triennale 2023 marks the eighth time this event has been held since 2001 and the first time held in winter. It features both internationally renowned and up-and-coming artists to present the latest trends and expressions in contemporary art. It's an exhibition that focuses on the relationship between the world and Japan as well as society and individuals.
 
YIN Xiuzhen, One Sentence, 2011. Installation view for Yokohama Triennale 2011.
Courtesy ALEXANDER OCHS GALLERIES BERLIN | BEIJING
Photo credit: Keizo Kioku. Photo Courtesy of Organizing Committee for Yokohama Triennale

Sneak a peek at these upcoming animation and film festivals in Japan

Niigata has a long history in animation.
Photo credit: Niigata International Animation Film Festival

In an exciting year for film festivals, 2023 will see the first Niigata International Animation Film Festival take place from March 17–22. NIAFF, as it has come to be known, aims to be a hub that integrates animation culture and industry and to gain international value with academies and talent development programs. But why Niigata? Niigata has a long history with animation. Two animators from Niigata were involved in setting up Toei Animation Studios and produced the first full-length color animation Hakujaden.
 
The long-standing Tokyo International Film Festival, on the other hand, will be celebrating its 36th anniversary of the event. With Japan opening up after the pandemic, TIFF is happy to be welcoming international visitors to its venues with screenings of more than 150 films, with a Ukrainian documentary being recently added to the list. The Film Festival has gained much international attention over its many years making it a must-go event.
 

The Tokyo International Film Festival aspires to be one of the top film festivals in the world.
Photo credit: Tokyo International Film Festival
Highlighting the rich culture of Japan while also showcasing global talent, there is no shortage of art festivals to attend in 2023. Take your imagination on a journey at one of these festivals and come away with a new perspective.
 
Business hours

Due to measures to prevent the spread of COVID-19, business hours may be subject to change; please check with the venues before visiting.
Information
Osaka Kansai International Arts Festival
Art Award IN THE CUBE 2023
Oku-Noto Triennale (Japanese only)
Niigata International Animation Film Festival
Tokyo International Film Festival