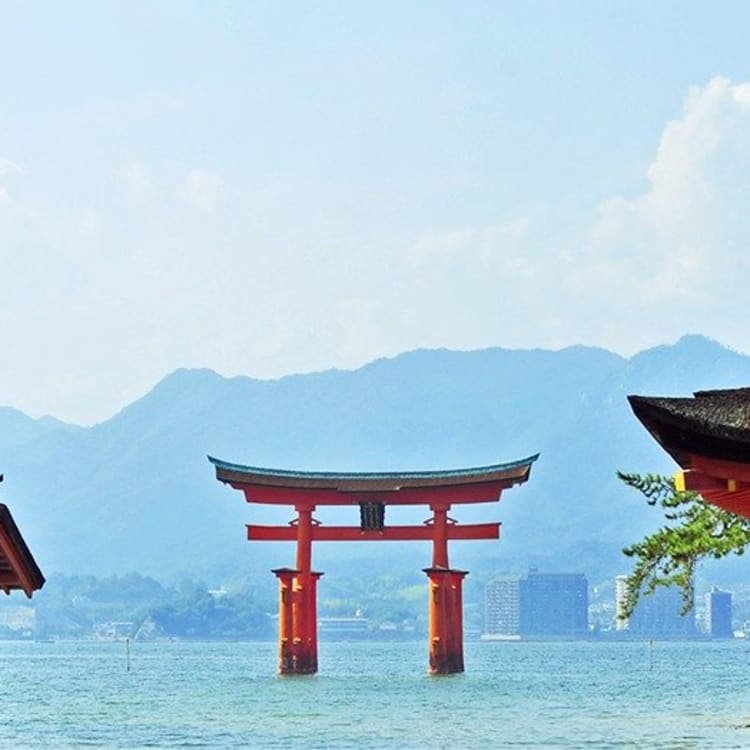 Deals
Search a variety of escorted and non-escorted, land-only or package independent tours, group tours and cruises to Japan by activity and budget.
Bookings can be made by contacting each travel agent directly. As prices, inclusions and terms and conditions may be subject to change, please check with the travel agent for the latest information.
Japan National Tourism Organization (JNTO) is not affiliated with any travel agent so any travel products booked are at your own discretion.
Tour operator
Tour
Price
note
link
tag
price range
agent
Departure dates
Price notes

Asia Vacation Group

10 DAY BEST OF JAPAN
$3,299

This exclusive 10-day tour will show you the very best of Japan including chaotic city life in Tokyo, breathtaking views at Mt. Fuji, and traditional architecture in Osaka.You will not want to come home when you visit the Ginza District, Lake Ashi, Osaka castle, and Nara Deer Park, to name a few! Don't just travel, experience comfortable and stress-free travel.

https://www.asiavacationgroup.com/best-japan-10-days/
p2501_5000
Adventure,Culture,Cruise,Food,Nature,Photography,,,,,,,,,
Asia Vacation Group

Price in AUD

Bunnik Tours

Japan Discovery
$9,995

Modern Japan retains much of its traditional charm, where ancient customs infuse daily life. Explore the true highlights of Japan on this fascinating adventure. Discover Tokyo, where ornate temples and glass skyscrapers reside effortlessly alongside each other. Be amazed at the beauty of Mt Fuji, experience an authentic ryokan guesthouse in Hakone, ride the bullet train to cultural Kyoto, and pay tribute in moving Hiroshima.

https://www.bunniktours.com.au/tours/asia/japan-discovery?utm_source=jnto&utm_medium=referral&utm_campaign=jnto-website-deals&utm_content=japan-discovery
p7001_
Cherry_Blossoms,Autumn_Leaves,Culture,Food,Ryokan_Stay,Nature,Arts_and_Crafts,Walking,,,,,,,
Bunnik Tours

Price in AUD - $9,995 per person, twin share

Bunnik Tours

Discover South Korea & Japan
$15,595

Experience the highlights of beautiful South Korea and mesmerising Japan. Modern day living meets tradition in South Korea and Japan where skyscrapers meet temples, and natural scenery is aplenty. While these two countries have many similarities, their cultures and traditions are very unique. Explore thriving cities, visit traditional villages, try your hand at culinary and cultural crafts and so much more.

https://www.bunniktours.com.au/tours/asia/discover-south-korea-and-japan?utm_source=jnto&utm_medium=referral&utm_campaign=jnto-website-deals&utm_content=discover-south-korea-and-japan
p7001_
Cherry_Blossoms,Autumn_Leaves,Culture,Food,Ryokan_Stay,Nature,Arts_and_Crafts,Walking,,,,,,,
Bunnik Tours

Price in AUD - $15,595 per person, twin share

Bunnik Tours

Colours of Northern Japan
$9,995

Discover the incredibly scenic, historic and diverse areas of northern Japan on this unique small group tour. From the bright neon lights and modernity of Tokyo and Sapporo to the impressive waterfalls and limestone caves along the Geibikei Gorge, the stunning Hirosaki Castle and the three delicious noodle types of Morioka, northern Japan is an absolute delight.

https://www.bunniktours.com.au/tours/asia/colours-of-northern-japan?utm_source=jnto&utm_medium=referral&utm_campaign=jnto-website-deals&utm_content=colours-of-northern-japan
p7001_
Festivals,Cherry_Blossoms,Autumn_Leaves,Culture,Food,Ryokan_Stay,Nature,Arts_and_Crafts,Walking,,,,,,
Bunnik Tours

11 Oct 23 - 26 Oct 23,
And more

Price in AUD - $9,995 per person, twin share

Bunnik Tours

Colours of Northern Japan - Kanto & Nebuta Festivals
$10,295

Discover the incredibly scenic, historic and diverse areas of northern Japan on this unique small group tour. From the bright neon lights and modernity of Tokyo and Sapporo to the impressive waterfalls and limestone caves along the Geibikei Gorge, the stunning Hirosaki Castle and the three delicious noodle types of Morioka, northern Japan is an absolute delight.

https://www.bunniktours.com.au/tours/asia/colours-of-northern-japan-kanto-and-nebuta-festivals?utm_source=jnto&utm_medium=referral&utm_campaign=jnto-website-deals&utm_content=colours-of-northern-japan-kanto-and-nebuta-festivals
p7001_
Festivals,Culture,Food,Ryokan_Stay,Nature,Arts_and_Crafts,Walking,,,,,,,,
Bunnik Tours

Price in AUD - $10,295 per person, twin share

Contiki

Japan Unrivalled 13 days
$5,365

Japan Unrivalled is the perfect mix of culture, iconic sights and chill out time. Travel with a Contiki Trip Manager & Local guide team for 13 nights, uncovering all the Japanese hot spots with some lesser known gems. Experience a Buddhist ceremony, tour the Tsukiji Fish Markets or chill out

https://www.contiki.com/au/en/destinations/asia/tours/japan-unrivalled-2056
p5001_7000
Culture,Escorted,Hot_Springs,Ryokan_Stay,Temple_Stay,Zen,,,,,,,,,
Contiki

Regular monthly departures (land only)

Price in AUD

InsideJapan Tours

Japan Unmasked
$5,054

Japan Unmasked is a tour with modest accommodation and minimal inclusions, giving you the freedom to choose where you spend your time and money - whether you see yourself slurping on a quick bowl of noodles or splurging on sushi.

https://www.insidejapantours.com/japan-small-group-tours/i-ju/japan-unmasked/
p5001_7000
Escorted,Culture,Ryokan_Stay,Zen,Temple_Stay,,,,,,,,,,
InsideJapan Tours

24th July 2023, 4th September 2023, 9th October 2023, 6th November 2023, 27th November 2023

Price in AUD - from $5,054 per person

InsideJapan Tours

Classic Japan
$8,360

Imagine basking in a hot spring bath at the foot of Mount Fuji, drinking sake with an apprentice geisha in Kyoto or seeing Tokyo from the water as you cruise down the Sumida River. This tour collects the best of Japan's classic cultural and natural locations. Discover some of the locations that have given Japan its reputation as a land of mysterious spirituality and exquisite aesthetics, as you ride cross-country on the world-famous bullet train and stay in some lovely traditional accommodations. Your journey will be gastronomic too - sample local specialities from melt-in-the-mouth Hida beef in the alpine regions to super-fresh sushi in Tokyo, quick bites from street vendors in Osaka and multi-course kaiseki feasts in Takayama.

https://www.insidejapantours.com/japan-small-group-tours/i-cj/classic-japan/
p7001_
Escorted,Adventure,Culture,Ryokan_Stay,Nature,Food,,,,,,,,,
InsideJapan Tours

29th July 2023, 23rd September 2023, 7th October 2023, 21st October 2023

Price in AUD - from $8,360 per person

Japan Explorer

World Heritage 15 day private escorted tour of Japan
$6,250

Travel by coach bus train and the shinkansen as you see the major World Heritage sights of Japan. Your private guide takes you to modern megacities and historical towns. Experience the ancient traditions and culture that Japan is famous for. You can customise this itinerary to suit your wishes.

https://www.japanexplorer.com.au/japan-holiday-packages/private-escorted-tour-of-japan/world-heritage-15-days/
p5001_7000
Adventure,Arts_and_Crafts,Autumn_Leaves,Cherry_Blossoms,Culture,Escorted,Food,Hot_Springs,Nature,Photography,Ryokan_Stay,Special_Interest,Temple_Stay,Walking,Zen
Japan Explorer

Any day you choose

Price in AUD

Japan Explorer

Dynamic Central Japan - 14 days
$2,468

Be captivated by the dynamic nature of Mt Tateyama as you venture across the scenic Kurobe Alpine Route. Visit the fascinating historic castle towns of Kanazawa, Hikone and Omi-Hachiman.

The Alpine Route is only open from Spring to Autumn.

http://www.japanexplorer.com.au/japan-holiday-packages/central-explorer/dynamic-and-fascinating-japan-14-days/
p1001_2500
Adventure,Autumn_Leaves,Culture,Food,Nature,Photography,Special_Interest,Special_Interest,Walking,,,,,,
Japan Explorer

Available all year round (Alpine route,† Kurobe Gorge Train not open during winter)

Price in AUD

Japan Explorer

Jewels of Japan 14 Days
$2,985

This package includes many of the must-see spectacles of Japan and is ideal for first visitors. The super modern city Tokyo, the rich culture and history of Kyoto and Hiroshima, the tradition and nature in Takayama, and the icon of Japan, Mt Fuji, all rolled into one!

http://www.japanexplorer.com.au/japan-holiday-packages/classic-explorer/jewels-of-japan-14-days/
p2501_5000
Culture,,,,,,,,,,,,,,
Japan Explorer

Departs Daily (land-only)

Price in AUD

Japan Holidays

Classic Autumn Tour 2023
$8,350

This tour takes you to the most famous places in Japan with a tour guide during the season when the leaves turn red and orange. The tour includes many elements that will make you fall in love with Japan, such as its magnificent nature, a ride on the high-speed Shinkansen bullet train, a comfortable bathing experience unique to Japan, and castles and shrines surrounded by the breathtakingly beautiful and colorful autumn leaves that can only be seen at this time of the year.

https://japanholidays.com.au/classic-autumn-tour/
p7001_
Autumn_Leaves,Culture,Escorted,Nature,Arts_and_Crafts,Special_Interest,Photography,Food,,,,,,,
Japan Holidays

18th-29th Nov 2023 (12 Days)

Price per person: starting from $8,350 Twin Share

Japan Holidays

Dynamic Tour of Kyushu 2023
$4,700

Experience Japan in a dynamic land a little off the typical tourist track. On this tour, you will stay in a historic ryokan, interact with locals who have passed on their traditions, and have the opportunity to soak in an onsen, an essential part of any trip to Japan. It is also famous for its active volcanoes and countryside, and its active calderas are sure to excite you. In addition, Kyushu is famous among the Japanese for its delicious food.

https://japanholidays.com.au/dynamic-tour-kyushu/
p2501_5000
Autumn_Leaves,Culture,Hot_Springs,Food,Escorted,Nature,Beaches,Ryokan_Stay,Photography,,,,,,
Japan Holidays

14th-20th Oct 2023 ( 7 Days)

Price per person: starting from $4,700 Twin Share

Japan Holidays

Autumn Leaves Tour 2023
$5,520

This tour covers Kyushu's unique and fascinating history and nature not found in any other region of Japan. Visitors can walk through beautiful Japanese gardens and enjoy the autumn foliage that can only be seen at this time of year, which many Japanese prefer to see. Also, after experiencing Japanese nature on a drive with magnificent views of volcanoes and the ocean, stay at a traditional ryokan and relax after a long day at a hot spring.

https://japanholidays.com.au/autumn-leaves-tour-2023/
p5001_7000
Autumn_Leaves,Culture,Beaches,Escorted,Food,Hot_Springs,Nature,Photography,Ryokan_Stay,,,,,,
Japan Holidays

4th-10th Nov 2023 (7 Days)

Price per person: starting from $5,520 Twin Share

Japan Holidays

Tohoku Cherry Blossom Tour
$8,610

Accompanied by a knowledgeable tour guide, this tour will take you to the Tohoku region during the season when the cherry blossoms are in full bloom. Tohoku is famous for its samurai culture, World Heritage-listed Japanese historical buildings, and unique traditional crafts. This tour is a unique way to experience Tohoku at the most beautiful time of the year for cherry blossoms.

https://japanholidays.com.au/category/cherry-blossom-itineraries/
p7001_
Cherry_Blossoms,Arts_and_Crafts,Culture,Nature,Escorted,Photography,Food,,,,,,,,
Japan Holidays

7th-15th Apr 2024 (9 Days)

Price per person: starting from $8,610 Twin share |
single supplement $1,390

JTB Australia

From Tokyo to Kyoto: 9 Day Package
$3,595

This semi-guided package is a combination of accommodation, some meals, day tours with English-speaking guides, transportation, and English-speaking assistants to help you to and from train stations! It will make getting around Japan hassle-free and you will be able to see the many sights of Japan with a guide while also having free time. Some highlights include Tokyo Skytree & the Asakusa area, the Great Buddha and a tea ceremony in Kamakura, a visit to Mt. Fuji and a night in a hotel or ryokan in Hakone, the World Heritage listed Shirakawago, the quaint city of Takayama, Kenrokuen garden in Kanazawa and the Golden Pavillion in Kyoto!

https://www.jtbtravel.com.au/japan-tours/guided/9-day-takayama/
p2501_5000
Culture,Hot_Springs,Ryokan_Stay,,,,,,,,,,,,
JTB Australia

Frequent departures

Price in AUD - from $3,595

JTB Australia

Nakasendo Trail 12 Days
$7,220

From Tokyo, you will walk the Nakasendo Trail in this small–group guided tour. You will spend 4 days walking the historic trail, visiting the villages of Narai, Tsumago and Magome and staying in traditional ryokans much like samurai, merchants, and travellers did during the Edo period.

https://www.jtbtravel.com.au/japan-tours/escorted/nakasendo-trail/
p7001_
Culture,Hot_Springs,Escorted,Walking,Nature,Ryokan_Stay,Special_Interest,,,,,,,,
JTB Australia

March through to November departures available

Price in AUD - from $7,220

JTB Australia

Glamping in Kawaguchiko – HOSHINOYA Fuji
$894

HOSHINOYA Fuji over looks Lake Kawaguchi, near Mt Fuji. It is a beautiful resort that is intimate, hidden from the world by a pristine red pine forest and mountain mists, while also opening up to offer expansive vistas that can be viewed from the comfort of your own cabin. All the pleasures associated with camping are offered throughout the premises and can be enjoyed at your leisure. 

https://www.jtbtravel.com.au/japan-tours/independent/glamping-in-kawaguchiko/
p_1000
Hot_Springs,Nature,,,,,,,,,,,,,
JTB Australia

Daily

Price in AUD - 2 nights from $894

Mountainwatch Travel

7 Nights Hakuba ski package including accommodation at The Happo |Mountainwatch Travel
$2,425

The Happo, Hakuba. The newest and most modern hotel - designed with the active modern traveler in mind. Centrally located only two hundred meters from Happo One Resort.
---
Package includes:
---
- 7-nights at The HAPPO (Deluxe king room/twin share)
---
- 5 day flexi pass that can be used any of the 6 resorts in the Hakuba Valley
---
Welcome drink every Tuesday evening, come meet the team and enjoy a drink on us at The Club House
---
2hr complimentary guided mountain orientation at four of our favourite ski resorts: Happo-one, Iwatake, Tsugakie, and Hakuba47
---
Hakuba resort office - open 7 days a week for all general and booking enquiries.
---
Adventure is calling; and it is so close.

https://bookings.mountainwatch.travel/?special=THAPP
p1001_2500
Ski,Adventure,Sports,Special_Interest,,,,,,,,,,,
Mountainwatch Travel

1 - 21 December 2023

Price in AUD, per person

Mountainwatch Travel

7 Nights Hakuba ski/snowboard package including accommodation at Mizuho Chalet |Mountainwatch Travel
$1,683

Mizuho Chalets offer fully self contained accommodation, ideal for families or friend groups. Mizuho has the option for 3 or 4 bedroom chalets with open plan living/dining area, fully equipped kitchen, underfloor heating, Apple TV, and beautiful mountain views. Mizuho is the perfect place to relax after a day on the slopes.
---
Package includes:
---
- 7-nights at the Miuzho Chalets (3 Bedroom Apartment - Six share)
---
- 5 day flexi pass that can be used any of the 6 resorts in the Hakuba Valley
---
Welcome drink every Tuesday evening, come meet the team and enjoy a drink on us at The Club House
---
2hr complimentary guided mountain orientation at four of our favourite ski resorts: Happo-one, Iwatake, Tsugakie, and Hakuba47
---
Hakuba resort office - open 7 days a week for all general and booking enquiries.
---
Adventure is calling; and it is so close.

https://bookings.mountainwatch.travel/?special=MIZHO
p1001_2500
Ski,Adventure,Sports,Special_Interest,,,,,,,,,,,
Mountainwatch Travel

1 - 21 December 2023

Price in AUD, per person

Mountainwatch Travel

7 Nights Shiga Kogen ski package including accommodation at Shiga Prince East |Mountainwatch Travel
$1,341

Shiga Prince East is located at the base of the Yakebitaiyama ski resort, with large rooms and a relaxing ambience featuring an impressive view of the ski slope. Shiga Kogen is the biggest ski resort in Japan with 19 unique ski areas both large and small offering a variety of terrain for all abilities.
---
Package includes:
---
- 7-nights at The HAPPO (Deluxe king room/twin share)
---
- Daily buffet breakfast
---
3 day all mountain lift pass
---
3 day Yakebitaiyama lift pass
---
Adventure is calling; and it is so close.

https://bookings.mountainwatch.travel/?special=SHPRE
p1001_2500
Ski,Adventure,Sports,Special_Interest,,,,,,,,,,,
Mountainwatch Travel

8 January 2024 - 9 February 2024

Price in AUD, per person

Mountainwatch Travel

7 Nights Myoko Kogen ski package including accommodation at Kogajuro |Mountainwatch Travel
$1,198

Located in the village of Akakura, Kogakuro is a Japanese-style ryokan offering Japanese tatami rooms with a traditional onsen onsite. There is a cosy lounge with a fireplace and bar for you to relax after a day on the slopes. In a central location, Kogakuro is but minutes walk to the ski resorts with many of the best bars and restaurants on your doorstep.
---
Package includes:
---
- 7-nights stay at Kogakuro
---
- 5 day snow chaser pass
---
Daily Buffet Breakfast
---
Adventure is calling; and it is so close.

https://bookings.mountainwatch.travel/?special=KOGKU
p1001_2500
Ski,Adventure,Sports,Special_Interest,,,,,,,,,,,
Mountainwatch Travel

10 - 27 December 2023

Price in AUD, per person

Mountainwatch Travel

7 Nights Niseko ski package including accommodation at Landmark View|Mountainwatch Travel
$2,263

With the premium apartments on the top 3 floors offering uncompromised views of the spectacular Mt Yotei and the Deluxe apartments offering great value on the lower 3 floors. Both the Premium and Deluxe apartments have a washer/dryer, full kitchen, and a dedicated area to dry ski gear/clothing within the apartment.
---
Package includes:
---
- 7-nights at the Niseko Landmark View Units (2 bedroom/ 4 share)
---
- 5 day All mountain pass
---
Adventure is calling; and it is so close.

https://bookings.mountainwatch.travel/?special=LNDMK
p1001_2500
Ski,Adventure,Sports,Special_Interest,,,,,,,,,,,
Mountainwatch Travel

1 - 15 December 2023

Price in AUD, per person

MW Tours

Cherry Blossom & Garden Tour
$9,199

This is our most popular tour, and for good reason! The Cherry Blossom & Garden Tour takes you to the most spectacular sights of this beautiful country, while the Cherry Blossoms are in full bloom. For a limited time frame each year, the Sakura (Cherry Blossoms) literally litter the ground, and the weather is perfect for visiting the natural and historical sites of Japan. To ensure you make the most of your tour, a professional English speaking guide will accompany you from Tokyo to Osaka. You will enjoy delicious local cuisine, comfortable transport, quality accommodation, and much much more!

https://www.mwtours.com.au/cherry-blossom-and-garden-tour/
p7001_
Cherry_Blossoms,Escorted,Festivals,Nature,Culture,,,,,,,,,,
MW Tours

Price in AUD - From $9,199 per person, Twin Share, Land & Air

MW Tours

Japan Express
$3,149

Our Express tours are designed to give you a taste of our most beautiful and unique destinations, and Japan Express does exactly that. The tour allows you to explore from the neighbourhoods of Tokyo to the port city of Osaka, with time to see the most popular sights. Visit impressive Mount Fuji, cruise on Lake Ashi, and wander through the traditional temples in Kyoto. You'll stay in perfectly located accommodation to allow you to make the most of your short stay, enjoying the benefits of professional local guides, and truly experiencing the best of Japan!

https://www.mwtours.com.au/japan-express/
p2501_5000
Autumn_Leaves,Cherry_Blossoms,Culture,Nature,,,,,,,,,,,
MW Tours

Daily Departure

Price in AUD - From $3,149 per person, Twin Share, Land Only

MW Tours

Japan World Heritage Tour
$4,699

Japan World Heritage takes advantage of the country's rich culture, as well as its fusion of modern and traditional. The craftsmanship and skills of the locals is evident in the beautiful gardens, shrines, and temples you will see throughout the country. As you visit a number of UNESCO World Heritage Listed sites, you will travel via train and even cable car! Stay in comfortable accommodation, and enjoy the benefits of a semi-independent tour that allows you to learn from your professional guides while also giving you plenty of freedom to explore independently.

https://www.mwtours.com.au/japan-world-heritage-tour/
p2501_5000
Autumn_Leaves,Cherry_Blossoms,Culture,Nature,,,,,,,,,,,
MW Tours

Daily Departure

Price in AUD - From $4,699 per person, Twin Share, Land Only

MW Tours

Great Trail of Japan
$6,649

One of our most in depth tours, the Great Trail of Japan takes you from bustling Tokyo, and west to the port city of Osaka. During your journey you will see the popular sights of Mount Fuji and the Snow Monkey Park, and explore the traditional historical areas of Takayama, Shirakawago, and Kanazawa, admiring their unique architecture and history. We've made sure to include luggage transfers so your journey is more comfortable, and you'll get to experience Japan's punctual transit system. Combined with your fantastic accommodation and delicious local cuisine, this is a holiday you will never forget!

https://www.mwtours.com.au/great-trail-of-japan/
p5001_7000
Autumn_Leaves,Cherry_Blossoms,Culture,Nature,,,,,,,,,,,
MW Tours

Daily Departure

Price in AUD - From $6,649 per person, Twin Share, Land Only

MW Tours

5 day Nakasendo Self Guided Hike (Active Pace)
$2,329

The tour allows you to explore the off the beaten track Kyushu. Visit impressive Onsen town Yufuin & Beppu and feel the beautiful nature in Miyazaki and the power of volcano in Kagoshima. And experience Japanese traditional culture in Kumamoto. You'll stay in perfectly located accommodation to allow you to make the most of your short stay, enjoying the benefits of professional local guides, and truly experiencing the best of Japan!

https://www.mwtours.com.au/5-day-nakasendo-self-guided-hike-active-pace/
p1001_2500
Adventure,Culture,Hot_Springs,Nature,Walking,,,,,,,,,,
MW Tours

Daily Departure

Price in AUD - From $2,329 per person, Twin Share, Land Only

Wendy Wu Tours

Tokyo Short Stay
$740

Enjoy a full-day of touring with a local guide utilising Tokyoís super-efficient metro system. See Tokyoís most famous upmarket shopping and dining district. Adjoining is the Imperial Palace, the main residence of the Emperor.

https://www.wendywutours.com.au/japan/tours/tokyo-short-stay.htm?utm_medium=DealsLink&utm_campaign=2016&utm_content=tokyoshortstay&utm_source=JNTO%20
p_1000
Autumn_Leaves,Cherry_Blossoms,Culture,Walking,,,,,,,,,,,
Wendy Wu Tours

Flexible departure dates (land only, independent travel)

Price in AUD

Wendy Wu Tours

Japan Impressions
$2,290

Japan's three best-known cities will certainly leave you with lasting impressions as you travel between skyscrapers and shrines by Shinkansen (bullet-train). The bustling life in Tokyo provides a sharp, yet complementary contrast with the traditions and temples of Kyoto. See Osakaís architecture beautifully framed by cherry blossoms if you time your trip right.

https://www.wendywutours.com.au/japan/tours/japan-impressions.htm?utm_medium=DealsLink&utm_campaign=2016&utm_content=japanimpressions&utm_source=JNTO
p1001_2500
Autumn_Leaves,Cherry_Blossoms,Culture,Walking,Walking,,,,,,,,,,
Wendy Wu Tours

Flexible departure dates (land only, independent travel)

Price in AUD

World Journeys

Cherry Blossom Japan
$14,420

This 16-day small-group hosted journey explores Tokyo's absolute highlights against the backdrop of springtime's cherry blossoms. Start in Tokyo, then discover the snow monkeys of Yudanaka, the alpine old town of Takayama, cultural Kyoto, poignant Hiroshima, spectacular views of Mt Fuji and more. Priced in Australian dollars, 4-star accommodation, transfers and transport (including the bullet train), comprehensive sightseeing, entrance fees and some meals are included.

https://worldjourneys.com.au/destinations/hosted-travel/cherry-blossom-japan/25001180/
p7001_
Cherry_Blossoms,Escorted,Culture,Food,Ryokan_Stay,Hot_Springs,,,,,,,,,
World Journeys

Price in AUD - Land only. Airfares from Australia are additional

World Journeys

Cherry Blossom Japan with flights
$17,195

This 17-day small-group hosted journey explores Tokyo's absolute highlights against the backdrop of springtime's cherry blossoms. Fly from Auckland to Tokyo, then discover the snow monkeys of Yudanaka, the alpine old town of Takayama, cultural Kyoto, poignant Hiroshima, spectacular views of Mt Fuji and more.

https://worldjourneys.co.nz/destinations/hosted-travel/cherry-blossom-japan/25001179/
p7001_
Cherry_Blossoms,Escorted,Culture,Food,Ryokan_Stay,Hot_Springs,,,,,,,,,
World Journeys

Priced in NZ dollars, return flights ex Auckland, 4-star accommodation, transfers and transport (including the bullet train), comprehensive sightseeing, entrance fees and some meals are included.

Zenbu Tours

ZENBU HIGASHI-JIMA. 18 Days Shikoku and The Art Islands
$24,390

Our raw, real, magical Shikoku and the blissful Seto Art Islands itinerary offers an experience like no other. True local traditions, food, culture and people. Deep country style. Autumnal. Alpine, coastal, sub-tropical - with a side of island hopping and a glam Tokyo city stay at each end!

https://zenbutravel.com/tours/zenbu-higashi-jima-18-days-shikoku-and-the-seto-art-islands/
p7001_
Food,Culture,Arts_and_Crafts,Escorted,Autumn_Leaves,Nature,Walking,Ryokan_Stay,Hot_Springs,Special_Interest,Photography,,,,
Zenbu Tours

8-Nov-23

Price in AUD

Zenbu Tours

ZENBU KYO-ZA. 15 Days Kyoto, Kanazawa and Noto Peninsula
$26,650

Join us for this fabulous winter-wonderland soujorn, deep-diving into the cuisine and culture of Kyoto and surrounds, Kanazawa and the remote Noto peninsula.

https://zenbutravel.com/tours/zenbu-kyo-za-15-days-kyoto-kanazawa-and-noto-peninsula/
p7001_
Food,Culture,Arts_and_Crafts,Escorted,Nature,Photography,Special_Interest,Walking,Wellness,Zen,,,,,
Zenbu Tours

12-Jan-24

Price in AUD

Zenbu Tours

ZENBU KYO-RYORI. 12 Day Kyoto and surrounds food tour with celebrity Chef Peter Gilmore
$26,500

Take a closer look at Japanese cuisine, culture, gardens and ceramics in this beautiful late spring tour co-hosted by Chef Peter Gilmore of Quay and Bennelong Restaurants and Zenbu tours' own Japanophile food and travel writer, Jane Lawson.

https://zenbutravel.com/tours/zenbu-kyo-ryori-2024-kyoto-food-tour-with-chef-peter-gilmore/
p7001_
Food,Culture,Arts_and_Crafts,Escorted,Nature,Photography,Special_Interest,walking,Wellness,zen,,,,,
Zenbu Tours

10-May-24

Price in AUD

Kintetsu International Express

Japan Gourmet Travel Experience – Cherry Blossom
$10,180

This tour puts Japanese cuisine in the spotlight as we travel the popular "Golden Route" in the beautiful spring time to seek out the best dishes each region has to offer. And between meals we'll show you our favourite sights and attractions.

https://www.kintetsu.com.au/japan/jp-aaf/
p7001_
Cherry_Blossoms,Culture,Escorted,Food,,,,,,,,,,,
Kintetsu International Express

7 Apr 2024 (10 days)

Price in AUD

Image
Title
Price