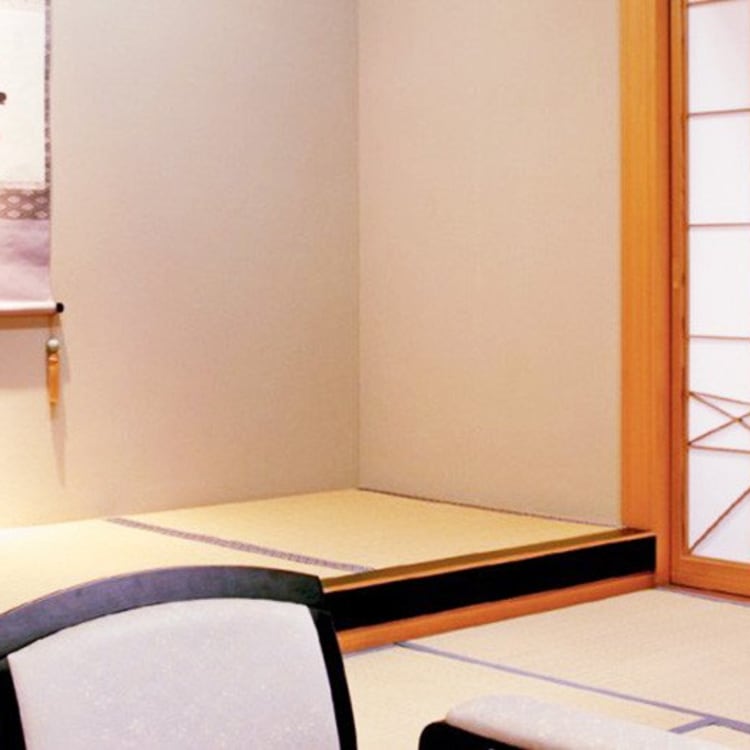 Accommodation
Japan abounds in accommodations, both western-style and Japanese. Types of accommodation vary widely in terms of style and price. You can choose to stay in the familiar comforts of a western-style hotel, or enjoy the comfort and personal attention of a traditional Japanese inn.
By taking time to search out some of the nation's less-publicised types of lodgings, you're sure to find clean and comfortable places to stay that suit your pocketbook.
Introduction to Types of Accommodation in Japan
Western Hotels
From the familiar western chains to local Japanese brands, from budget hotels to 5-star luxury properties, there are a huge number of western style hotels in Japan.
These generally offer settings and amenities familiar to Australian and New Zealand travellers, including western style beds, a small writing desk, a refrigerator and kettle, and an ensuite bathroom, generally with a shower over bath. (Amenities vary by property; be sure to check the details before booking.)
In general, western hotels in Japan will offer less space than their equivalents in Australia or New Zealand, though this can vary greatly depending on whether the hotel is in a big city or in a regional area.
Prices vary greatly depending on the location and rank of hotel. It is worth noting that there is no official hotel rating or ranking system in Japan, but when hotels call themselves '4-star' and '5-star' they usually endeavour to adhere to the same standards as other countries.
Some western hotels offer family rooms or can provide adjacent or connecting rooms to families.
Business Hotels
These are a type of western hotel, usually located adjacent to or nearby train stations, and offer very basic amenities to suit a 'business traveller' who simply needs a place to rest their head after a day of meetings.
Rooms at business hotels are usually much more compact than standard western hotels, so may not be suitable for people travelling with large suitcases. Business hotels usually do not sleep more than 2 people, though some do offer triple rooms.
Business hotels are usually priced somewhat more economically than standard western hotels, but this will vary depending on location, for instance due to the convenience of being located adjacent to a train station.
Ryokan (traditional inns)
Styles of ryokan vary, from the very traditional to modern, from sprawling resort to private villa retreat, from onsen ryokan to urban establishment.
When searching for luxury accommodation outside of the major cities, ryokan are often your best chance at finding 5-star service and amenities; however, travellers on a budget who want a ryokan experience can find more economical properties as well.
Common elements to this most quintessential style of Japanese accommodation generally include tatami flooring, futon bedding (though many ryokan do now have rooms with western beds as well), yukata robes, sumptuous in-house kaiseki multi-course meals, and a traditional Japanese breakfast.
Learn more with our Japanese Ryokan Guide.
Shukubo (temple stays)
Spending a night at a temple gives visitors a rare insight into the traditions and daily life of the monks and other temple workers. Most if not all shukubo in Japan are at Buddhist temples, with the most popular destination being Koyasan in Wakayama.
A temple stay is more than just having a place to sleep, it is an opportunity to take part in Buddhist practices and activities, such as therapeutic calligraphy, meditation and morning services. 
Meals at most shukubo will be shojin ryori, a traditional Buddhist cuisine. Each meal is prepared based on the principle of five, offering five distinct colours and flavours. Without using meat, fish, or strong flavours, the subtle yet satisfying soy-based dishes change with the seasons to nourish body and soul. Note that shojin ryori is often vegan, though not always.
Learn more with our Shukubo Guide.
Youth hostels
Japan is a member of the Hostelling International (YHA - Youth Hostel Associations) network, and there are hundreds of YHA properties throughout Japan. A small membership fee may be required to join the international network upon booking your accommodation.
Four- to six-bed dormitories are standard, but all YHA properties have a family room, and some offer single and twin rooms, too. Most offer both coed lodgings and segregated floors. Common areas and bathrooms are shared.
Despite the name, youth hostels welcome backpackers and travellers of all ages. In cities such as Tokyo and Kyoto, some hostels have been revamped, have in-house restaurants or bars, and provide a more guesthouse-like atmosphere. In rural areas, you may even find temple hostel accommodation. Prices typically start at 2,500 yen per night for very basic dormitory beds. Be aware that some hostels have curfews.
You can also find hostels outside of the YHA network, as well as properties called 'guesthouses', which are similar to hostels but may be slightly more traditional in setting. Hostels and are touched on and guesthouses are explained a bit more in our Minshuku and Guesthouses Guide.
Minshuku (B&Bs) and minpaku (private lodging)
Minshuku are essentially Japanese-style B&B lodgings - that is, family-run bed-and-breakfast lodgings in the owner's home. Often located in regional areas and near resorts and vacation spots, minshuku offer visitors on a budget a chance to witness Japanese family life firsthand.
Rooms will often - but not always - feature tatami flooring and futons. Amenities are simple compared with traditional inns and ryokan. Bathroom facilities are often shared, and you are usually expected to put away your bedding.
Minpaku, on the other hand, are generally unattended residences. Many of these are old houses that have been converted into accommodation, such as with machiya, a style of guesthouse common in Kyoto and Kanazawa.
*Please note that minshuku and minpaku are sometimes referred to as 'guesthouses' as well, though they are different to the hostel-style 'guesthouses' mentioned above. There is no set defintion for the word 'guesthouse' in Japan, so when searching, be sure to check which style of guesthouse it is: hostel-style, minshuku style or minpaku style. Learn more with our Minshuku and Guesthouses Guide.
Homestays and Farmstays
If your goal is to immerse yourself in Japanese culture, consider the increasingly popular experience of a homestay. While traditional accommodation, such as ryokan and minshuku, focuses on excellent service rather than forging relationships, homestays offer a more relaxed experience with an emphasis on simple work, camaraderie and cultural exchange.
Each family has its own flair and style, but all offer the opportunity to form a meaningful bond with locals. Plus, paying off your room and board by volunteering help is a convenient solution when money is tight. Additionally, volunteer-based homestays offer an opportunity to learn new skills, from rice farming and animal care to traditional arts.
Learn more with our Homestays, Farmstays and WWOOFing Guide.
Capsule hotels
Capsule hotels are a quintessentially Japanese travel experience.  Also known as pod hotels, these quirky lodgings are made up of rows and rows of compact, self-contained 'capsules.' These minimalist, bed-sized spaces give guests a private place to sleep, as well as access to communal facilities, such as toilets and showers.
Ranging from sci-fi inspired futuristic pods to more elegant and upmarket sleeping cabins, a stay in one of Japan's capsule hotels is an experience that's not to be missed.
Learn more with our Capsule Hotels Guide.
---
Useful Links
Points to Note
The accommodation charge is subject to a consumption tax of 10% (as of 1st October 2019).
Some cities also charge an additional accommodation tax, usually not a percentage but a fixed tiered rate.
Properties with onsen (hot springs) often charge a 'bathing tax' as well. This varies by region but is usually about 150 yen, charged per person.
The above taxes are usually included in the total listed room rate.
First class hotels may also impose a 10 to 15% service charge as well.
Tipping is not customary except at top luxury ryokan, where a guest will tip a maid when they first serve tea in the room.
Visitors to Japan are required to do the following when they check in at lodging facilities in Japan for the purpose of preventing infectious diseases and terrorism:
Fill in their "Nationality" and "Passport Number" as well as "Name", "Address", and "Occupation" on the guest registration form.
Present their passports to be photocopied. (The proprietors of lodging facilities are obligated to keep the photocopies.)
Your understanding and cooperation is appreciated.