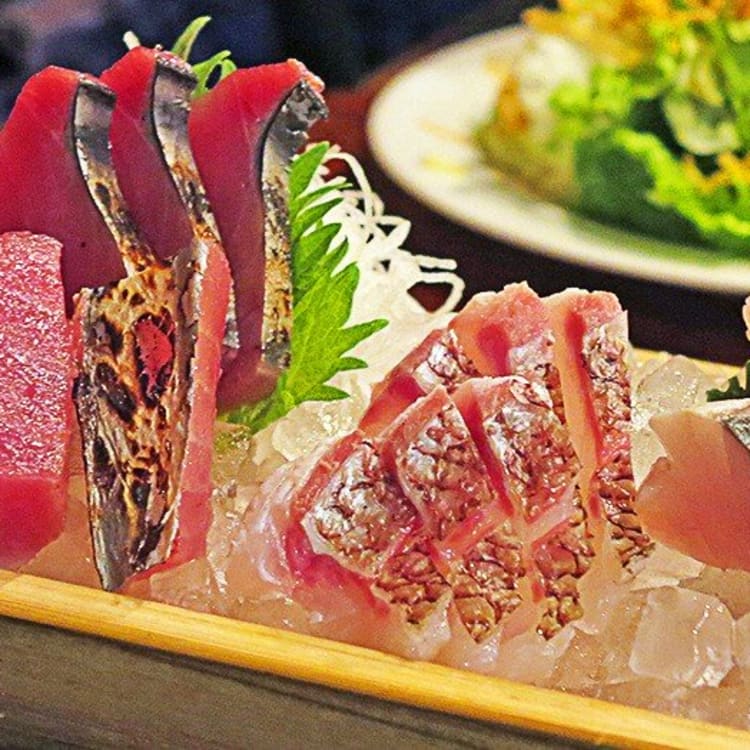 Seven must-try food experiences in Japan
Seven must-try food experiences in Japan
One of the biggest reasons people travel to (and keep returning to) Japan is the food. From quick bites from street vendors to over-the-top dining experiences fit for royalty and traditional meals created by sprightly seniors who have dominated the kitchen for decades, Japan delivers it all. Here are seven food experiences to put on your list when you're in Japan:
Splash out on kaiseki cuisine
Kaiseki Cuisine
This quintessentially Japanese style of ceremonial dining is both a culinary and cultural experience. A multi-course feast consisting of many delicate dishes created with skill and flair by top chefs around Japan, kaiseki cuisine (kaiseki ryori), Japan's own Haute cuisine is well worth the high price point. Kaiseki cuisine varies depending on the chef's approach and philosophy, but expect a series of immaculately presented dishes including sashimi, pickled vegetables, miso soup and hot pots served in an exclusive environment like a private dining room at a ryokan, within a Japanese garden or in a five-star hotel like Palace Hotel Tokyo's Wadakura.
Go on a fruit picking adventure
Nikko Strawberry Picking
While fruit picking might not be the first thing that comes to mind when you think of Japanese food experiences, Japan's farms, orchards and groves represent a great opportunity to try some of the most flavoursome fresh fruit in the world. Apples, stone fruit, cherries and grapes are prevalent throughout the country but it's the strawberry that reigns supreme. At Nikko Strawberry Park, guests can pick as many strawberries as they can eat within 30 minutes for 1600 Yen (A$19 as of 5th May 2017). Plump, juicy, sweet and plentiful, the strawberries at Nikko Strawberry Park defy logic. How could a strawberry be so perfectly formed? How could a strawberry taste so good? What's the record for number of strawberries eaten by a human in half an hour? These are the important questions that come with a visit to Nikko Strawberry Park.
Grab an ekiben to go
There are many exciting elements of a bullet train (shinkansen) ride in Japan. Apart from the thrill of hitting top speeds of over 300km per hour, it's the legendary bento boxes (ekiben) available at train stations that are an integral part of the ride. Beautifully presented in highly appealing decorative boxes easily picked up at stores located on the station platform, ekiben are the ultimate low-cost, high-value packed lunch. Featuring ingredients like rice, fish, prawns, meat, tofu, pickled ginger, egg and more – it's estimated that Tokyo Station alone has hundreds of different ekiben varieties on offer. Choosing just one is the only problem when it comes to ekiben!
Sit down for a soba noodle session
Think soba noodles come out of the packet you bought at the supermarket? Think again because nothing beats eating soba noodles made from scratch. These thin noodles made with buckwheat flour aren't just added to bowls of ramen or served as a side dish – soba is considered the main event in Japan. With each noodle sliced by hand by a soba making pro, the noodles are traditionally served as a standalone dish designed to be dipped in soy sauce and garnished with grated wasabi root.
Go on a fish market food crawl
Tsukiji Market Food
Japan is home to many fish markets, however Tokyo's Tsukiji Fish Market is the undisputed king of the fish market scene. For seafood lovers, no trip to Tokyo would be complete without a food crawl through the plethora of food stalls lined up in the outdoor section of the perennially popular market. To try a wide variety of flavours and textures (without completely ruining your appetite) simply trawl the food stalls and buy small takeaway bites along the way. From deep fried fish balls to fresh sashimi sliced by pros with beyond-impressive knife skills, this fish market is custom-made for a crawl and bite culinary adventure.
Pull some izakaya night moves
The place where local businessmen go to blow off steam after a long day at work, izakaya can be found everywhere from the suburbs of Tokyo to the city centre of Osaka and beyond. A Japanese version of a pub or casual bar, a visit to an izakaya almost always involves drinking beer, sake or shochu (a distilled spirit) and eating yakitori (chicken cooked over open coals then served with condiments like miso paste, pepper and fresh wasabi). Typically a low-cost dining experience, heading to an izakaya is a good way to rub shoulders with locals.
Make a food truck park pit stop
Beer Truck
Synonymous with hip American cities like Portland and Austin, Japan has taken the food truck concept and ran with it. Located in Tokyo not far from Omotesando Station, Commune 2nd is an open-air food truck park frequented by the city's cool set. With an international vibe, expect local and imported beers, fresh oysters the size of your hand, vegan eats, barista-style coffee and deep-fried carbs thanks to Brooklyn Ribbon Fries.