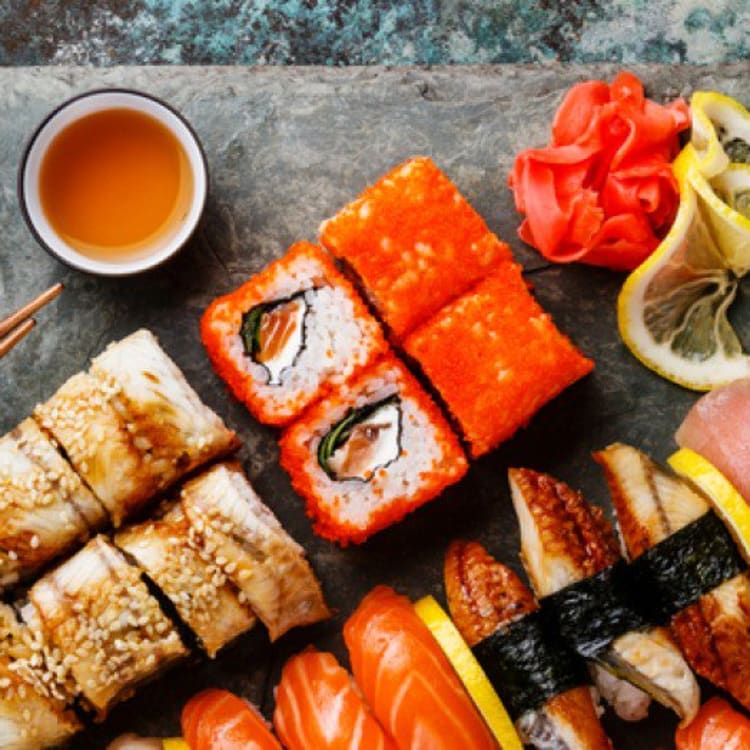 Top 10 Unique Flavours to Explore in Japan
1. Miso
What is it?
Miso is a thick, textured paste made by fermenting soybeans with salt and koji (a fermentation culture) as well as rice, barley and other ingredients.
How do you use it?
Packed full of umami, miso is one of Japan's most versatile, most-loved ingredients and is used as a seasoning base for soups, stews, vegetable dishes, sauces, spreads, marinades…everything!
Best place to taste it?
All over Japan! Each region has its own unique version of miso, however the most common are shiro (white), mugi (barley), aka (red) and awase (a mix of red and white). If you're visiting Nagoya (Aichi Prefecture) you can't miss miso katsu, a deep-fried pork cutlet covered in a rich miso sauce.
2. Kinako
What is it?
A Japanese superfood, kinako is a roasted soybean flour with a deliciously nutty flavour that is slightly sweet. It's also gluten and nut-free!
How do you use it?
Kinako is a common Japanese confectionery flavour as well as a tasty topping on ice cream and mochi (pounded rice cakes). It can also be stirred into hot milk to make kinako lattes!
Best place to taste it?
Kinako desserts can be found all over the country. One common dessert to try is warabimochi, a popular summer sweet, especially famous in the Kansai region. Warabimochi are translucent pieces of jelly made from the starch of the warabi plant (bracken), dusted in kinako.
3. Wasabi
What is it?
A condiment sometimes referred to as 'Japanese horseradish' that is grated from its root into a paste.
How do you use it?
Wasabi is primarily eaten with sushi or sashimi, however the stalks and leaves can be pickled and served on top of various dishes.
Best place to taste it?
Where else but the birthplace of wasabi? Visit Utogi, a mountain village on the Abe River (Shizuoka Prefecture), where people first started wasabi cultivation during the Edo period (1603–1868). Or try a wasabi soft-serve ice cream from the Daio Wasabi Farm, near Matsumoto City (Nagano Prefecture).
4. Sakura
What is it?
Extracted from Japan's signature cherry blossom flower—sakura captures the aromatic and flavour profiles of the flower and leaves. In desserts or confectionery, it has a mild cherry flavour, but in tea and savoury dishes, it tastes slightly salty and sour.
How do you use it?
This popular flavour is incorporated into a wide variety of sweets and desserts—from cakes to ice cream and even Kit Kats! It's also commonly drunk as a slightly salty tea, called sakurayu.
Best place to taste it?
Sakura mochi is a traditional wagashi, or Japanese sweet, that's enjoyed during the springtime throughout Japan. The pink mochi filled with a sweet red-bean paste is balanced by the saltiness of the pickled cherry blossom leaf it's wrapped in.
5. Tochiotome
What is it?
Tochigi Prefecture is Japan's #1 producer of strawberries and produce the country's best-tasting strawberry—tochiotome!
How do you use it?
The strong-scented strawberries are used in a number of sweet treats but nothing beats having them fresh!
Best place to taste it?
There are numerous farms and parks in Tochigi Prefecture that, for a fee, allow you to pick and eat as many strawberries as you like! At Kegon Falls in Nikko, try a delicious tochiotome soft-serve ice cream, ranked the #1 soft-serve in the Kanto region.
6. Yuzu
What is it?
A lemon-like citrus fruit, yuzu is fantastically fragrant and is prized for its super sour and tart zest and juice. Unlike other citrus fruit, the flesh of the yuzu is not typically eaten.
How do you use it?
Yuzu is used to add flavour and aroma to Japanese cooking, such as kaiseki (Japanese traditional banquet) cuisine as well as in cocktails and desserts. It's also used to make tea and jams and to infuse alcohol and bath and body products.
Best place to taste it?
Kochi Prefecture on the island of Shikoku is the home of yuzu, and is the largest producer of the fruit of Japan. Here you can go yuzu crazy! Sample a variety of yuzu food products and dishes and even take a dip in a revitalizing yuzu bath!
7. Soy Sauce
What is it?
Soy sauce, or shoyu in Japanese, is made from fermented soybeans, salt, water and sometimes roasted grains like wheat. Its distinct earthy, umami flavour makes it Japan's go-to seasoning.
How do you use it?
Save for desserts, soy sauce is used to season everything from ramen noodle soup to sushi to senbei rice crackers! There are also countless regional soy sauces that vary in colour and flavour.
Best place to taste it?
For something a little different, sample saishikomi—one of the rarer soy sauces on the market—that is the result of double-brewing the same batch soy sauce. Hailing from Yamaguchi Prefecture, saishikomi is darker, thicker and has a very pronounced flavour that is perfectly suited for sushi.
8. Matcha
What is it?
Matcha is a powdered green tea that has a full-bodied leafy flavour ranging from sweet to bitter depending on the quality. Consumed for thousands of years, today matcha has been hailed as a miracle drink because of its countless health benefits.
How do you use it?
Apart from drinking it as tea, the powder can be infused into lattes, cakes, chocolate, even soba noodles!
Best place to taste it?
It has to be at a traditional Japanese tea ceremony! The traditional practice, sado, is considered one of Japan's highest art forms and is offered all over Japan ranging from ¥500 to ¥5000. The bitterness of the matcha is perfectly paired with a traditional wagashi sweet.
9. Mirin
What is it?
A rice wine made from fermented steamed mochi rice and malted rice that possesses a sweet, slightly acidic flavour and aroma.
How do you use it?
Unlike Japan's more famous rice wine, sake, mirin isn't drunk but is used in cooking as a base ingredient to balance saltier sauces (e.g. soy). Mirin goes particularly well with grilled foods and is the key ingredient in teriyaki sauce.  
Best place to taste it?
Mikawa (Aichi Prefecture), boasts the ideal water quality and climate for brewing traditional mirin and is home to Sumiya Bunjiro Shoten, one of Japan's most famous breweries.
10. Red bean
What is it?
Anko, or red beans, is a thickened paste made by mixing sugar with mashed boiled azuki beans. The most common forms are tsubuan (chunky) and koshian (smooth).
How do you use it?
Anko is a staple in Japanese sweets. It is commonly used as a filling for mochi and cakes like dorayaki—one of the most famous sweets in Japan that is simply red bean paste sandwiched between two specialty pancakes.
Best place to taste it?
Usagiya is a long-established popular dorayaki store located in Tokyo's Ueno district and is said to be responsible for creating the famous shape back in 1914! You can also find dorayaki and taiyaki (a sweet cake filled with anko that is shaped like a fish) sold as street food across the country.