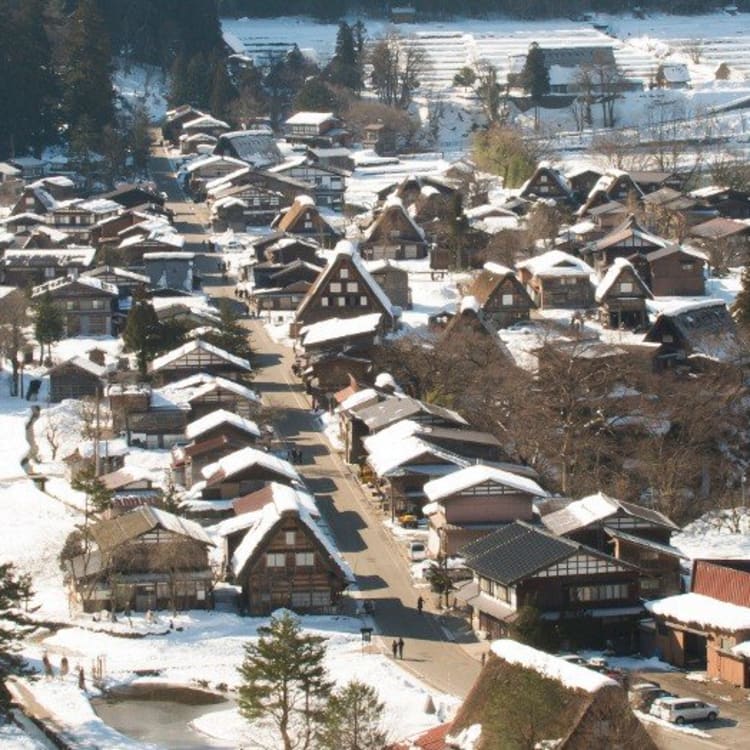 Guide
Guide to Nagano, Kanazawa, Takayama and Shirakawa-go
Guide to Nagano, Kanazawa, Takayama and Shirakawa-go
Australian YouTuber Chloe Ting's guide to Nagano, Kanazawa, Takayama and Shirakawa-go
Most people who have been to Japan have travelled through the main cities of Tokyo, Osaka, and Kyoto. If you're looking for a more off-the-beaten-track experience, I would highly suggest and recommend these spots from my latest trip to the Hokushinetsu region!
I started off from Nagano, which is about an hour and a half away from Tokyo by Shinkansen. I was only in Nagano for a day, but managed to squeeze in quite a number of key locations. I then moved on to Kanazawa which is about another hour by shinkansen to spend another full day there. The remaining half of my trip was to Shirakawa-go – the unique Japanese thatched-roof farmhouses that looks amazing in winter, and finally ending my trip at Takayama.
Before jumping into the brief guide below on what to do, how long to stay and what to eat, check out my montage video of my trip to get some visuals!
Nagano
(Recommended Duration: 1-3 days stay)
1) Zenkoji Temple (1-3 hours)
Zenkoji Temple is located about a 10-15 minute drive away from Nagano Station. Locals visit it daily to get blessings from the priest at dawn and it's a lovely place for a stroll. From the temple, you can walk along a long stretch of traditional looking buildings that have various shops. 
Recommended eats along this street would be chestnut food items like chestnut mochi, chestnut ice cream or just plain chestnuts. There's also a famous apple pie store that serves up delicious pastries made from the sweetest apples from the Nagano region. 
Another recommendation would be to have a soba noodle meal. There's various stores selling it but look out for the ones that have an open window display of them making their noodles fresh daily. Be sure to go early as they're known to sell out early by lunch!
2) Shibu Onsen (overnight stay is highly recommended!)
About an hour away from Nagano Station is Shibu Onsen which is a historic and attractive hot spring town in Yamanouchi Town. There's a total of 9 hot springs, hence the recommendation to stay at least 1 night so you get to enjoy the various hot springs in this small town.
We stayed at Kanaguya which I would highly recommend. It's an historical 250+ yr old ryokan dating back to the Edo Period and the place looks like a labyrinth. There are a total of 9 baths in the inn, 4 communal ones and 5 private ones for those of you who aren't that comfortable with enjoying the hot springs in public. I highly recommend you try their Kaiseki meal for a complete dining experience.
3) Jigokudani Monkey Park (1-2 hours)
The Jigokudani Monkey Park is a short distance from Shibu Onsen, making it a great short morning or midday sightseeing trip if you're staying in Shibu Onsen town. It's a must visit spot in winter to see the snow monkeys up close and personal as they soak in the natural hot springs. Just be sure not to feed them and make sure your belongings are packed safely away!
During winter, the shortcut pathway is closed which means you would need to take a 20-30 minute hike up to the hot springs. There are boots available for rent if you don't come with the right footwear.
4) Kamakura Snow Hut (1-1.5 hours for dinner)
This snow hut village is open only for a month in a year so you'll have to time your trip well to catch this one. They're not just an attraction, but they're open for reservations for lunch or dinner so you can gather around within a snow hut and enjoy a nice warm hot pot together with your group. You can find out more details on their website.
Kanazawa
(Recommended Duration: 1-2 day)
1) Kenrokuen Garden & Kanazawa Castle
I recommend starting the day at Kenrokuen Garden as it's less crowded if you arrive early. It's a beautiful spot to take a stroll and its extremely beautiful during the winter season. Located right next to Kenoruken Garden is Kanazawa Castle. Both these spots have tons of picture perfect scenery for photos so do take your time and enjoy the surroundings. I was here for a good 2-3 hours and enjoying it at a slow pace.
2) Higashi District
You know how much I love sweet treats, so Higashi District was one of my favourite places to shop during my trip. It's a beautiful row of traditional houses and lots of visitors come dressed the part with kimonos on. Being here reminds me of Kyoto, but it has it's own uniqueness and you definitely must try all the interesting snacks they have.
You'll also find several ice cream stores selling soft serves with a piece of gold leaf on it. It's definitely something worth trying and truly unique to Kanazawa. Also in the area is Sakuda, where you can have a Gold Leaf experience in making your own gold leaf chopsticks, keychains, and other souvenirs.
3) Omicho Market
If you managed to squeeze all the above by 3 pm, I would highly recommend visiting the Omicho Market before it closes at 5 pm. It's a busy and colourful street lined by about 200 shops and stalls selling various fresh seafood and produce.
One of the stores sell fruits cut up to bite sizes, so you get to sample some fresh fruits on the spot instead of buying large ones which may be inconvenient during your travels. One of the seafood stores I went into served up fresh sashimi, and grilled oysters and scallops with sake. I wasn't even hungry at the time, but I couldn't pass on the opportunity to indulge on fresh seafood and I had no regrets!
Shirakawa-go and Takayama
(Recommended Duration: 2-3 days)
1) Shirakawa-go
From Kanazawa, we went to Shirakawa-go by car and it took approximately 1-1.5 hours. It's a must visit spot on your bucket list and I personally would prefer visiting it in winter over summer. If you wish to, you can actually stay overnight in one of these traditional houses and indulge in Hida Beef. I'm sure you've heard of Kobe beef but the Gifu prefecture's famed Hida Beef does give it a run for its money and I'm a huge fan.
If you're not staying the night, you'll probably need about 3 hours in the village. Just make sure you make your way up to the observatory to get a bird's eye view of the village for a photo, and ensure you try their Hida beef or soba noodles.
2) Takayama Historic Village
We drove on from Shirakawa-go to Takayama, which is another 1-1.5 hours away. I spent the morning putting on a kimono, and the afternoon strolling through the Takayama Historic Village and heading towards the Sakurayama-Hachiman Shrine. Everything is in walking distance, but it's still a decent sized town so don't expect it to be quick. There are rickshaws available for rent in the middle of Takayama Historic Village.
It's a great spot to rent a kimono and experience a day in their traditional wear while shopping and enjoying sweet treats. I highly recommend trying out their fresh fruit mochis and steamed Hida Beef buns. Absolutely delicious and we got some for the road on our way home.
Pro tip:
Consider ending your trip at Takayama like I did, but add more days to your itinerary. Having a couple more days to your itinerary in Takayama will allow you to visit the Hida No Sato – a traditional village just 15 mins away from Takayama's main town. You can also check out the Shinhotaka Ropeway and stay the night at the many traditional inns along that stretch of road as they have outdoor onsens you can enjoy in the snow.  They're all an easy drive away and there's so many outdoor onsens to choose from. I highly recommend Shinzansou or any of the other onsen that are just next to the Shinhotaka Ropeway.