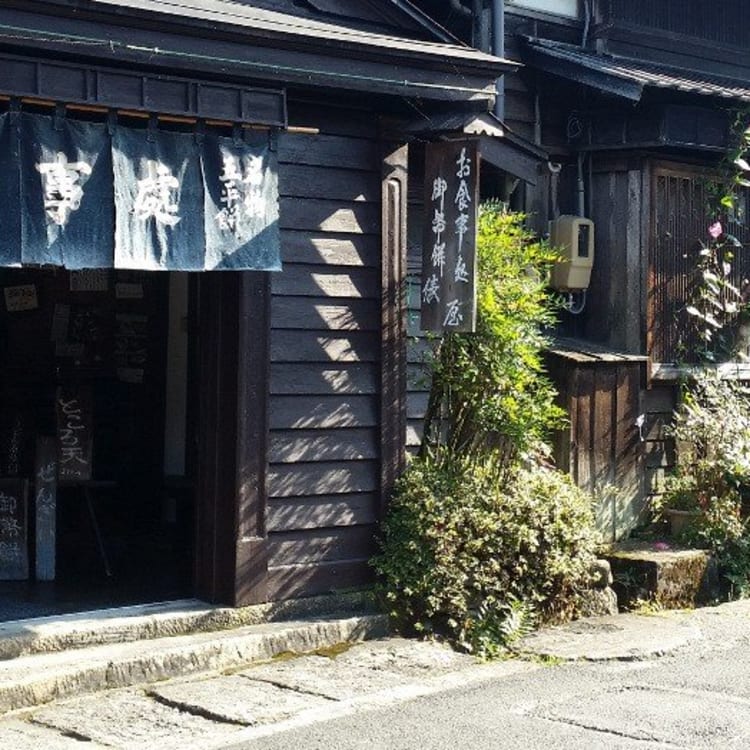 Story
Walking the Nakasendo Road from Magome to Tsumago
Walking the Nakasendo Road from Magome to Tsumago
The clang of brass bells is the Kiso Road's soundtrack. On this trail, hikers are encouraged to rent a bell to scare off bears. The Kiso Road, or Kisoji, runs alongside Japan's Central Alps. It's been chronicled since 701AD, but its prominence soared in the Edo period (1603-1868) when it merged with the Nakasendo, a major highway joining Kyoto and Edo (present-day Tokyo).
Juku post towns like Magome and Tsumago thrived on the passing trade. Daimyo lords and samurai on mandatory biennial trips to the Edo shogunate, pilgrims, monks, merchants, peddlers, entertainers and holidaying folk formed a motley parade.
Magome's and Tsumago's fortunes fell in the late 1800s. From the 1960s, locals restored their romantic feudal townscapes which continue to lure tourists today. Wires and electric poles, concrete structures and advertising billboards are hidden or banned.
Magome-juku
Magome means "horse basket" as travellers once had to leave their horses at inns before the steep path. The town is a sloped street with wood and plaster buildings and wood plank roofs held with stones.
Walking on the Kisoji of the Nakasendo Way
The two and a half to three hour walk from Magome to Tsumago reveals shrines, waterfalls, bamboo groves, terraced rice paddies, a teahouse rest stop and a forest path with large, rough stones laid in the early 1600s.
We passed through small scratches of villages, some spruced with decorations. In autumn, orange persimmons, vibrant as paper lanterns, hang to dry in rows under eaves.
Japan's bear attacks usually occur farther north but there are warning bells on the path. Their rings echo frequently through this popular trail. They start to sound like a dinner bell. "Come and get it!" A starving bear could find a human sushi train right here.
Centuries ago, dignitaries rode horses or were carried in palanquins. Commoners walked and you can trace their straw sandal clad steps and imagine carrying an oiled paper umbrella or raincoat like in olden times. People also once feared being bewitched by foxes, badgers and ghosts in these woods.
Tsumago-juku
Don't miss Tsumago's Wakihonjin Okuya, a former inn for high-status guests rebuilt in 1877 entirely from native hinoki cypress. In 1967, a group of locals met around its hearth and started Japan's first town preservation movement.
Agriculture struggles in this snowy, mountainous region so people looked to the forest. Wood was harvested to build castles and shrines. Townsfolk crafted goods like lacquerware, furniture and ornaments. Woodwork is still a Kiso speciality. When prized hinoki cypress is turned into tubs for bathing or cooked rice, heat unlocks its fine fragrance.
Kiso Valley Food
Local treats include gohei mochi toasted rice balls with walnut, sesame and soy sauce (highly recommended), buckwheat soba noodles and sake made from pure alpine water. Autumn delivers chestnuts which can be stirred through rice or pureed into sweets or ice cream.
The area is landlocked but there's ayu river sweetfish, delectable over charcoal. Bee or hornet larvae or grasshoppers (not bad with soy sauce and sugar) are a protein source. The Kiso horse, bred since ancient times, can be served as sashimi or cooked offal. Old-style Japanese inns serve set meals with no menu so if you don't want these, tell the staff.
After dinner we explored Tsumago in our inn's cotton yukata robes. We were eons from Tokyo, where every night is illuminated like Christmas. Here, we strolled under starlight and a few lamps. The clanging bear bells had stopped. The only sound was the "clack-clack" of our wooden geta sandals slapping the street.
Story and all images by/copyright Audrey Foo. For more Japanese food, culture and travel go to Bites of Oishii (www.bitesofoishii.com).
The Kiso Valley is about midway between Kyoto and Tokyo. You can cover Magome, Tsumago and the hike in a day or stay overnight in a traditional inn. The hike between Magome to Tsumago is regarded as easy but if you want the more downhill route, start in Magome.
About Travellers Blog
Travellers Blog entries are submitted by travellers communicating their travel experiences in Japan and are published 'as is'. Opinions written do not necessarily reflect those of JNTO. If you wish to submit a blog, please submit an enquiry through the contact us page.