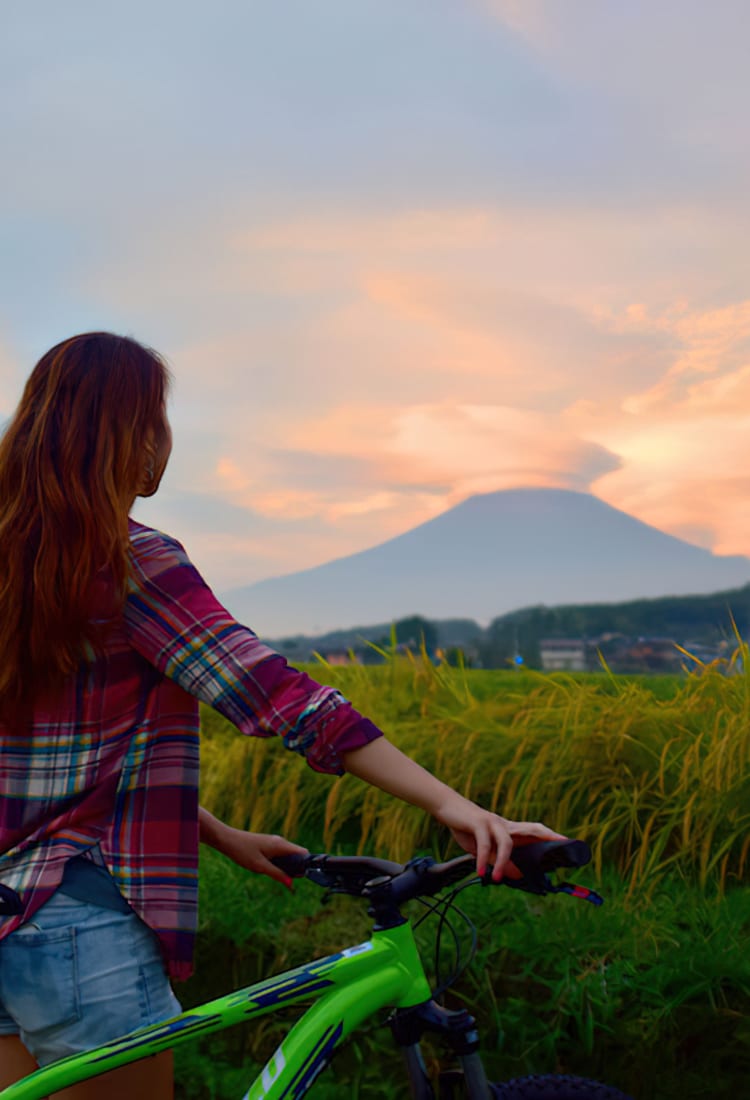 2021.11
Ecotourism in the Tokai and Hokuriku Shinetsu Regions
Slow down for a sustainable journey in these top destinations for eco-friendly travel
What might travel in Japan look like in the post-Covid 19 world? Travel that hits the United Nations' Sustainable Development Goals may provide the answer. Preserving local culture, supporting local economies and protecting biodiversity and habitats are all ways Japan's tourism industry can move forward. Slow, experiential travel is key to traveling sustainably.
There's no denying Tokyo's urban energy is one of the country's main draws but Japan's seasonality, outdoor activities, mountains and sea, traditional culture and cuisine are not only other tourism drivers but also foundations for planning your sustainable travel journey. The Tokai  and Hokuriku Shinetsu  regions, both easily accessible by train from Tokyo and the Kansai area, offer much in the way of eco-friendly travel opportunities.
The unique attributes of Tokai and Hokuriku Shinetsu for ecotourism opportunities
From craggy mountains and undulating green tea plains to verdant forests and azure waters, the Tokai and Hokuriku Shinetsu regions' diverse topographies offer an outdoor escape for all. The prefectures that make up these areas—Mie, Gifu, Aichi, Shizuoka and Yamanashi in Tokai, and Fukui, Ishikawa, Toyama, Nagano and Niigata in Hokuriku Shinetsu—are all resplendent in the seasonal, natural beauty that Japan is famous for.
Touring with a company specializing in sustainable travel is not only a great educational and cultural experience but will also see you contributing to local economies.
Photo credit: En-Ya Mt. Fuji Ecotours
Food culture is another way to explore the individuality of each prefecture. Japan's hyperfocus on seasonality and local produce ticks many ecotourism boxes. Local farm-to-table experiences, from tea harvesting, fruit picking and learning more about domestic produce like wasabi all allow insights into farming culture and omotenashi (traditional Japanese hospitality).
No less important in contributing to sustainable tourism is each prefecture's rich, local history and culture. Some towns, such as Tajimi  in Gifu, and Tsubame Sanjo  in Niigata, are synonymous with distinctive arts, crafts and manufacturing practices that date back hundreds of years.
Getting back to nature in Tokai: Ecotourism escapes in the great outdoors
The Tokai region boasts plenty of natural beauty and is home to one of Japan's most iconic symbols, Mt. Fuji. The mountain's sheer scale and power are humbling. While many make annual pilgrimages to climb the prestigious peak , a less strenuous and crowded option is to hike the nearby Hoei crater, roughly 2,400 meters above sea level and said to have been formed over 300 years ago. Don't miss the breathtaking views of the Izu Peninsula and Suruga and Sagami bays on sunny days.
Paragliding is an environmentally friendly way to see Mt. Fuji and Shizuoka Prefecture surroundings
The surrounding Fujinomiya foothills, nearby Asagiri Kogen Highlands and Shiraito Falls  offer further opportunities for solo or group tour exploration, with eco-bike rental the easiest way to get around. Thrillseekers can enjoy the Instaworthy experience of paragliding against a Mt. Fuji backdrop. Less adventurous types can opt for temple visits or hands-on food experiences ranging from soba making to trout fishing to dairy farming.
Similar activities are available in Shizuoka's Kawane and Okuoi districts, where hiking is a popular activity. If you've ever wanted to learn more about Japanese green tea, this is the place to be. Shizuoka  is one of the nation's prime tea farming areas and harvesting takes place from May to October.
While Japan's relationship with tea dates back to the ninth century, the nation's fishing history dates back thousands of years. If cultural anthropology, an interest in marine ecosystems and unusual dining experiences appeal, a trip to Mie , easily accessible from Osaka and Nagoya by train and bus, is a must.
Ama deep-sea divers in Mie Prefecture grill some of their catch. Note the traditional buoy-like diving equipment in the background.
The unique practice of ama deep-sea diving, where women forage for shellfish and seaweed, awaits. Modernization has seen ama diver numbers decline, but at Ama Hut Hachimankamado in Osatsu, Toba, curious travelers can learn from the divers themselves about ama lifestyles and how traditional freediving methods have helped sustain marine resources. Make sure to partake in a freshly grilled feast of the amas' catch.
Sojourns to nearby Shinmei-jinja, a place of worship for the divers and Osatsu Ama Culture Museum will complete your ama education. Sea-kayaking tours in the Ise-Shima National Park allow for an environmentally friendly and closer observation of local wildlife and if you're lucky, ama divers at work.
Exploring local traditions in Hokuriku Shinetsu: Getting up close with Japan culture and craftsmanship
Making the ethical choice to support local artisans and buy their works is one way of engaging in sustainable tourism, but why not deepen your understanding of their practice and Japanese culture by taking a class yourself? 
Fukui, Ishikawa and Toyama prefectures are renowned for distinct traditions in washi papermaking, ceramics, metal casting and copperwork. The prefectures, all flanking the Sea of Japan, also make a worthy and less crowded alternative to traveling the Tokyo-Kyoto "Golden Route."
Echizen in Fukui Prefecture  is Japan's hub for washi manufacturing, the sturdy paper typically made from kobo and mitsumata fibers. Washi is often used in Buddhist sutras, woodblock prints, scrolls, stationery, lampshades, screens and similar items.
Visit Echizen in Fukui Prefecture to see craftsworkers making washi paper the traditional way.
Photo credit: Echizen Town Tourism Association
The Udatsu Paper and Craft Museum offers visitors a glimpse into papermaking techniques that date back roughly 1,500 years. This facility is one of the last of its kind to make paper using traditional tools; making your washi here is a one-of-a-kind experience!
Kutani ware porcelain from the Kaga district in Ishikawa Prefecture  is marked by vibrant colors, sophisticated designs and original potting and glazing techniques.
Photo credit: Kutani Ware Kutani Kosen Kiln
Budding potters and ceramicists can try their hands at either wheel throwing or painting at the Kutani ware Kutani Kosen Kiln or the Kutani Yaki Kiln Museum. While both venues provide a rich insight into the artform's history, they differ slightly in their approach. Worth noting is that the museum houses a kiln central to the revival of the artform in the 19th century, while the Kosen Kiln takes bookings to see the production process up close.
An artisan at work decorating a piece of Kutani porcelain.
Photo credit: Kutani Ware Kutani Kosen Kiln
The latticed storefronts of Kanayamachi in Takaoka City, Toyama Prefecture, hint at the district's storied past. A center for metal casting over 400 years ago, today, the city is gaining popularity as an industrial and craft tourism  destination.
The wooden welds used in manufacturing on display at Nousaku foundry.
Photo credit: Nousaku
Not to be missed is the strikingly designed Nousaku foundry, famous for its open-factory tours, tin sand-casting workshops and cafe serving local produce. If you're a fan of modern design, you may recognize some of the brand's wares.
The Nousaku foundry began as a tin and brass casting subcontractor but it now produces house wares including sake cups and dishes.
Photo credit: Nousaku
Momentum Factory Orii offers workshops in traditional coloring techniques used on copper Buddhist altar fittings but more recently appropriated to different architectural finishes.
The door and signage at Momento Factory Orii show the company's expertise in metalware coloring techniques. 
Photo credit: Momento Factory Orii
Staying longer in the region: Possibilities for slow travel
Forging deep connections to a place and spending more time somewhere, doing less, is at the heart of any slow travel journey. Sustainable travel takes on a new meaning with farm stays such as WWOOFING. You may prefer instead to spend accommodations camping or glamping, in temples and restored mansions .
On a practical note: Japan is blessed with one of the world's best rail systems so take advantage of rail passes  and special tickets  when planning your trip. Some destinations have bike rental systems in place, but it's also possible to bring your own bicycle . Prefer to rent a car ? Charging stations for electric and hybrid cars are springing up around the country.
Whether you're a first-time traveler to Japan, a repeat visitor in search of a "road less traveled experience" now that Tokyo and Kyoto have been ticked off your bucket list, or a seasoned resident, Japan has an ecotourism activity that's right for you.
Business hours
Due to measures to prevent the spread of COVID-19, business hours may be subject to change; please check with the venues before visiting.
Information
Osatsu Ama Culture Museum
Kutani ware Kutani Kosen Kiln
Kutaniyaki Kiln Museum 
(Note that wheel throwing and painting workshops are in Japanese only.)