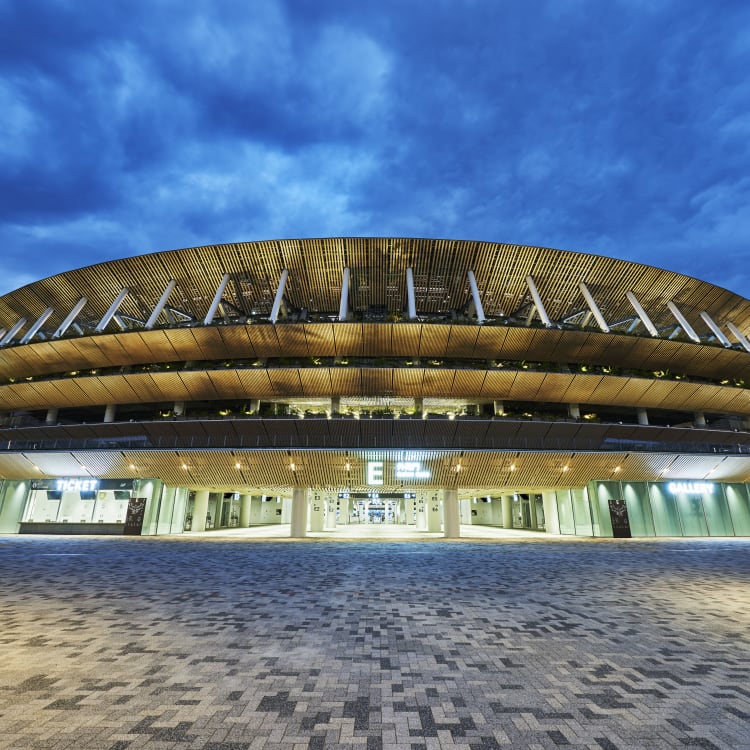 STORY
Kengo Kuma and Japan's New Architecture [PR]
Japan Cultural Expo celebrates the ingenuity of Japanese architecture and its relationship with nature and tradition
Much of what we think of as Japanese traditional architecture is informed by the environment and an inherent respect for nature
There are strong influences from Shinto, an indigenous religion centered around nature, and Zen Buddhism and its focus on space and simplicity. Although international movements from modernism to brutalism have affected architectural trends, many of Japan's contemporary architects have returned to their natural roots, with a focus on natural materials, sustainability and echoes of traditional design.
This year, Japan Cultural Expo focuses on the relationship between Japanese people and nature. There will be several exhibitions around the synergy between art and architecture with tradition and nature, including a major retrospective of the works of contemporary Japanese architect Kengo Kuma. Tradition and Innovation
One of the world's most talked-about structures this year is the new National Stadium, built for the 2020 Tokyo Olympics. Architects Kengo Kuma & Associates worked with Taisei Corporation and Azusa Sekkei to design a space that embodied the environmentally sustainable ethos of the 2020 games. The result is an innovative design that reinterprets traditional Japanese design for the 21st century.
Like many of his Japanese contemporaries, Kuma favors natural materials in his designs, especially wood. Natural, breathable, flexible; wood has been a key element of Japanese design for thousands of years. Natural materials and traditional crafting techniques are the focus of "Architecture of Japan: Natural Materials Meet Traditional Techniques" across several venues including Tokyo National Museum, scheduled for later this year.
Kuma collected wood from every prefecture of Japan for the new stadium, to literally unite the country under one roof.
According to Kuma, the horizontal layers and the open-air columns of the stadium are references to the 1,300-year-old pagoda at Horyuji Temple, believed to be the oldest timber building in the world. His design also uses the surrounding trees of Jingu Shrine as borrowed scenery. Although the stadium is huge—it has a capacity of 68,000 spectators for the Olympics—it doesn't dominate the local landscape. Following traditional design principles, it exists in harmony with its environment. Building up to the Tokyo Olympic Stadium
The new National Stadium has made Kengo Kuma a household name. Born in 1954, Kuma was inspired to study architecture when he saw Kenzo Tange's Yoyogi National Gymnasium, built for the 1964 Tokyo Olympics, as a child. After completing his degree in Tokyo, he traveled through the Sahara to study indigenous architecture and how villages deal with environmental challenges, before moving to New York as a visiting scholar at Columbia University.
Now, with his office Kengo Kuma & Associates, he works all over the world, with an ethos of designing structures that naturally merge with their cultural and environmental surroundings. From the recently completed Meiji Jingu Museum intended to echo the lines of the nearby shrine, to the striking Scottish outpost of the Victoria & Albert Museum, which resembles local dry stone walling, Kuma's projects aim to respect the local environment and cultural traditions.
His work is focused on buildings with an approachable scale, and finding new materials to replace concrete and steel. He often engages master craftsmen with traditional jigoku-gumi joinery skills, to create his complex, interlocking structures. This year, the National Museum of Modern Art Tokyo will stage a major retrospective of his works. Titled simply "Kengo Kuma Exhibition", it aims to introduce his philosophy of working with the environment to a wider audience. The exhibition is scheduled to run from July 17 to October 25, 2020 at the National Museum of Modern Art, Tokyo (visit the museum website for the latest updates). Looking Back to Look Forward
The distinctive language of Japanese design has evolved over centuries, and while society and technology have changed, many of the key tenets have remained the same. Life is still strongly influenced by the seasons and by natural forces, from earthquakes and volcanoes to typhoons. There is a deep respect for nature and a reverence for natural materials. Traditional motifs like temple buildings and machiya houses are reinterpreted for a new audience, referencing the past from a contemporary viewpoint.
This year, a major exhibition at the National Art Center, Tokyo will explore the relationship between tradition and modernity through art, architecture and more. "TIMELESS CONVERSATIONS 2020: Voices from Japanese Art of the Past and Present" (check the museum website for updates on exhibition schedules), pairing eight contemporary artists and designers with masterpieces of classic Japanese art. This approach aims to find artistic and spiritual similarities shared within works of the ancient and modern eras.
Architect Tsuyoshi Tane (1979-) describes his works as "archeology of the future". His structures connect people to the past through the memories that are embedded in places. In the exhibition, he has created a space to display two ancient statues, a beautifully gilded Nikko Bosatsu (Bodhisattva) said to extinguish darkness with light, and Gakko Bosatsu (Bodhisattva), that can remove anxiety; both powers that are needed in modern life. Tane visited Saimyo-ji Temple in Shiga, the home of these two statues. At the temple, he found common themes that he has been working on for a long time, such as "time and light" and "memory." He aims to create a suitable space for viewers to quietly engage with the bodhisattvas and experience something on a deep inner level. Kenzo Tange: Tokyo's Original Olympic Architect
Japanese and international architecture have deep ties, with inspiration flowing in both directions, from Le Corbusier's National Museum of Western Art (1959) in Tokyo, to Tadao Ando's La Bourse de Commerce (2019) in Paris. One of the giants of international architecture was Kenzo Tange (1913-2005). Tange's style combined tradition with modernism, and he was a leader of the Metabolist movement, which regarded cities and structures as constantly evolving and changing, like a living organism.
One of Tange's most famous designs is the Yoyogi National Gymnasium, built to house the swimming and diving events at the 1964 Tokyo Olympic Games. The elegantly arched, suspended ceiling is reminiscent of a cathedral; a temple to sports. The Yoyogi National Gymnasium will have its Olympic moment again, when it hosts handball at the 2020 Tokyo Olympics and both the wheelchair rugby and badminton at the Paralympics. Another must-see is Tange's design for an actual cathedral, built at the same time: St. Mary's Cathedral in Tokyo (1964).
Tange's works have inspired the next generation of architects, including Kengo Kuma. Visit "Kenzo Tange 1938-1970" at National Archives of Modern Architecture, July 4 to October 11 (check the National Archives of Modern Architecture website for updates). Where to See Japan's Best New Architecture
Japan is filled with striking works of contemporary architecture, and many are in central Tokyo. Serious enthusiasts can visit the National Archives of Modern Architecture in Ueno, which stages several exhibitions each year.
For a classic example of Metabolist architecture, the Nakagin Capsule Tower by Kisho Kurokawa (1972) in Ginza, is a must-see. Although you can't enter the building, the façade is very striking.
There are many examples of Kengo Kuma's signature work around Tokyo, including the Nezu Museum in Aoyama and the Asakusa Culture Tourist Information Center; both structures are inspired by traditional housing styles and the surrounding environment.
Another example of design being inspired by the environment is the Tod's Omotesando store by Toyo Ito (2004) in Aoyama, which expresses the branch patterns of the zelkova trees that line the street.
Due to precautionary measures against COVID-19 (coronavirus), many museums are temporarily closed until further notice. Please check the individual museum websites for updates.
Did this information help you?
out of found this information helpful.