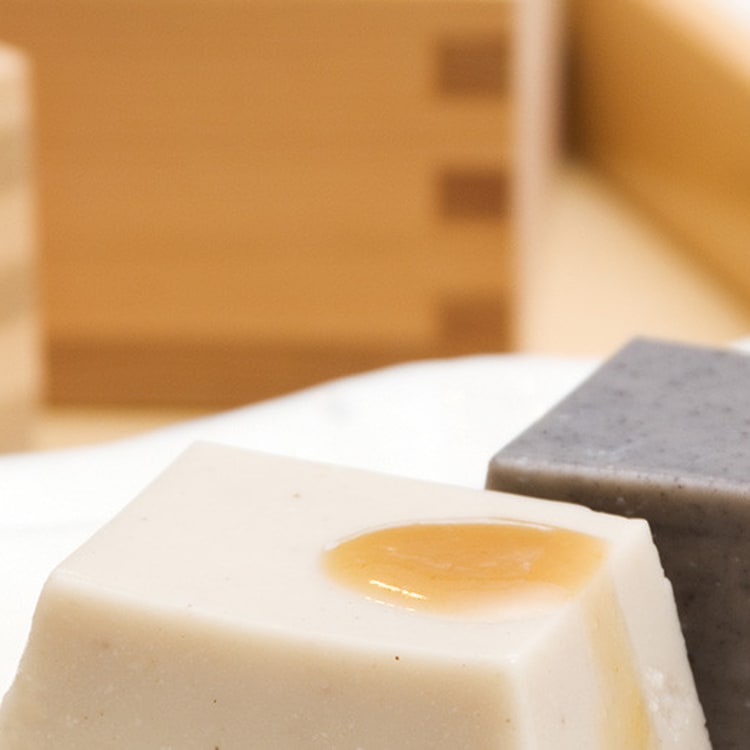 Regional Specialities
Regional Specialities
Japan's diverse landscape stretches from the tropical south to the wintery highlands of the north, in which Pacific climates meet Siberian winds. This incredible diversity means a variety of regional delicacies have developed over the centuries, and one can find tastes changes as quickly as the Shinkansen travels between islands. While the hallmarks of traditional cuisine can be found across Japan, each region also has their trademark specialities, informed by local ecology.
Hokkaido
Hokkaido is Japan's northernmost island and is well known for the variety of fresh seafood it has to offer, harvested in its crisp northern seas. Ishikari-nabe is a popular salmon hot-pot dish made from chunks of salmon, vegetables, tofu and konnyaku (devil's tongue jelly). A barbequed lamb dish called Genghis Khan is also a favourite.
Tohoku
Sendai City in the Tohoku region, in the northern part of Honshu, is famous for sasakamaboko, a steamed fish paste. Those seeking culinary adventure must sample wanko soba, a favourite of Iwate Prefecture. Wanko soba is a dish as delicious as it is entertaining, in which the noodles are served in mouthful-sized portions in small bowls that a server flings at you as you finish each bowl.
Kanto
Just outside of Tokyo is a quaint seafood paradise perfect for every visiting foodie. A quick trip beyond Tokyo's city limits will reward you with a traditional fisherman's dish called namerou, quite popular in Chiba Prefecture. When in Tokyo itself, be sure to try the local specialities. Monja-yaki a pan-fried batter and fukagawa meshi is a bowl of rice topped with a delicious mix of shelled clams, leek and miso.
Chubu & Tokai
In the Chubu and Tokai regions, located on Honshu between Osaka and Tokyo, intrepid travellers will discover houtou, a noodle dish similar to udon. Shizuoka Prefecture is renowned for its eel, farmed in the local lake, and while in Aichi Prefecture, visitors must try misokatsu, a deep-fried pork cutlet served with a miso-based sauce.
Hokuriku
Still on Honshu, when travelling north of Nagano to Toyama Prefecture, you cannot miss the hotaruika, firefly squid. Enjoy a delicious soup of wild duck and traditional vegetables know as jibu-ni from Kanazawa in Ishikawa Prefecture.
Kansai
The Kansai region includes historical Kyoto and cosmopolitan Osaka. Their speciality is tofu, with yudofu, or boiled tofu in Kyoto and koyadofu, or freeze-dried tofu in Wakayama Prefecture. Octopus dumplings, known as takoyaki, are the all-time favourite of Osaka and for something a little bit different try funazushi, a cheese-like dish that is made by pickling and maturing carp. The process takes over 6 months and the result is definitely an acquired taste – but one you'll only find in Japan!
Chugoku
The Chugoku region includes the oft-visited Hiroshima Prefecture, which boasts world-famous oysters that have to be tasted to believed. Hailing from Hiroshima is also the beloved okonomiyaki, a savoury Japanese pancake usually drizzled in delicious sauce. Another regional delicacy known around the world is the puffer fish, or fugu, which you can try in Yamaguchi Prefecture.
Shikoku 
Shikoku is the smallest of Japan's four main islands, and its proximity to the Northern Pacific Ocean makes it an ideal location for sampling bonito, a medium-sized fish prepared a number of iconic ways on the island. Kagawa Prefecture is also famous for the local style of udon (wheat noodles), called sanuki-udon.
Kyushu 
Meanwhile, on Japan's southernmost main island Kyushu, the specialities differ again. Mizutaki is a boiled chicken dish, very popular in Fukuoka Prefecture. In Miyazaki Prefecture, another fisherman's favourite is a dish called hiyajiru, made by pouring a chilled fish and miso based soup over a hot bowl of rice. As Kyushu borders on the tropical, you might also like to try a golden Miyazaki mango or a bittersweet hyuganatsu, a yellow citrus fruit
Okinawa
The people of Okinawa, the archipelago located between Japan's main islands and Taiwan, famously enjoy the greatest longevity in the world and are among the least likely to suffer from chronic diseases of ageing. It is said that their secret to health and longevity is linked to their diet, which consists of dishes such as goya champuru. Goya (a bitter melon) is stir-fried with egg, tofu, vegetables and pork.