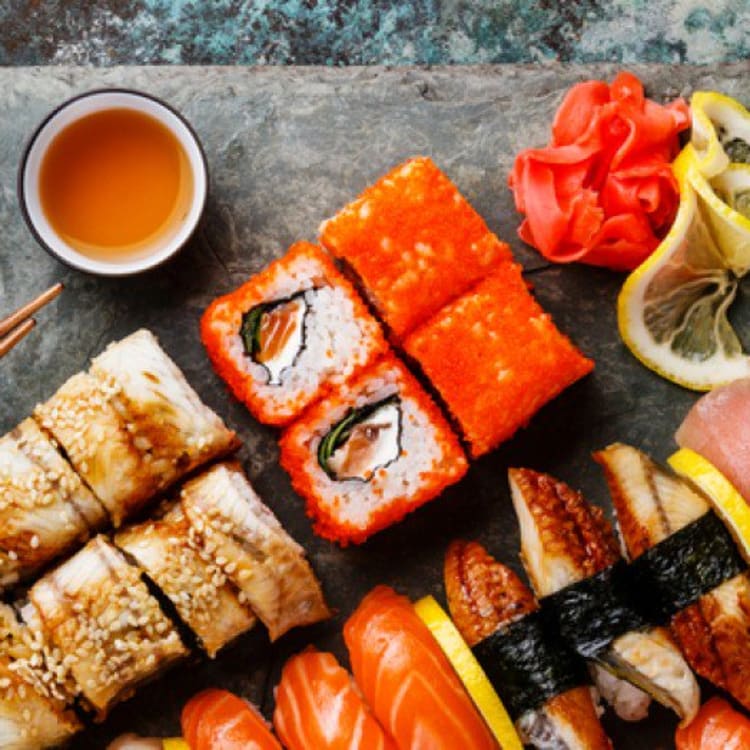 Foodies adventure
Japan is a paradise of plenty for the seasoned foodie, boasting many drinks and dishes that have become staples of international cuisine. It stands to reason that in Japan you can get the original and the best … as well as special produce that's just for the locals.
See below for our guide to some of the best food and drink in the country, from the breweries of Hokkaido to the ramen of Kyushu. 
Sake
It's not really a meal without sake, is it? This 'rice wine' (actually closer to a beer!) can be served hot, chilled or at room temperature. It comes in as many varieties – and with as many subtleties – as wine or whisky, and as a result is beloved by the layperson and the connoisseur alike.
One of the most revered sakes is Isojiman, translated as 'the pride of the seashore'. Their brewery, or shuzo, has existed in Shizuoka Prefecture (not too far from Tokyo) since 1830 but they've experienced a major resurgence in the last 35 years, producing elegant, balanced and delicious sake from premium ingredients. In 2008 it was even served to the leaders of the G8!
Further west, Gifu Prefecture is home to the 250-year-old brewery of Michisakari, who mix their reverence of tradition with a savvy 20th-Century decision to corner the market on artisanal dry sake. The resulting drink, which can now be found all over Japan, is smooth, crisp and no-nonsense.
Ramen
Far from being fast food, ramen in fact takes many hours to produce and requires incredible culinary craftsmanship so it's not something to be taken lightly. The price of ramen is usually indicative of its quality. The more expensive a bowl of ramen is, chances are the better the quality.
Your first stop should be Ichiran in Osaka's Dotonbori district. It's a whole customisable experience that lets you determine your ramen's additions, broth thickness, spice level and much more.
On the other side of the spectrum (and the country) is the tonkotsu ramen of Hakata – creamy ramen made from pork bones that is uniformly delicious.
But ramen fanatics tend to flock to Ore No Appare, 40 kilometres outside of Kyoto. Here, lines often circle the block even before it's opened. If you like your ramen, you'll make the excursion to find out why.
Take note that ramen restaurants aren't quite like cafes. Try not to take too long to finish the meal, as it's considered poor etiquette to spend a lot of time chatting.
Beer
Hokkaido is home to skiing, beautiful natural reserves and some fantastic beer breweries. Something to do with its volcanic nature, maybe?
In any case, the town of Sapporo is where it all began for its eponymous beer, and it's a must-visit for beer aficionados. Sapporo Brewery is the only place you can get their 'Sapporo Classic', which can be enjoyed in Megumi Garden.
Hokkaido is also home to breweries for Asahi, Otaru and Kirin, where you can take tours and see how they're all made—and in the case of Asahi, you can also learn how to pour the beer and get the most out of its flavour. Definitely worth a trip north!
Whiskey
First up, the big ones: Suntory Yamazaki distillery is located between Osaka and Kyoto. It's an enormous operation, with the building sometimes housing up to a million whiskey casks from all vintages since it began. You can do counter whiskey-tastings and production tours throughout, all of it fascinating and intoxicating.
Back in Hokkaido, the Yoichi Nikka distillery (the second-largest in the country) produces single-malt Scotch whisky and offers wonderful guided tours for free – a fine chaser to the beer breweries in nearby Sapporo.
But the smaller whiskey operations are something else, too: Chichibu, two hours from Tokyo, is a relatively young distillery compared to the behemoths but already has a formidable reputation that makes it well worth the train ride.  
And tucked away in the Japanese Alps is Mars Shinshu, where the Hombo family produce sophisticated, multifaceted whiskies in the highest distillery around. Even if you don't make it that far, keep an eye out for these great boutique labels.
Sushi
Before becoming Japan's best-known export, sushi was popularised in Edo – now Tokyo – so it's no surprise that the city still has the best sushi places in the world.
You may have heard of Sukiyabashi Jiro from the documentary Jiro Dreams of Sushi, so let's say no more about it other than it's utterly unmissable – if you're lucky enough to get a seat at the table.
But there's also Sushi Saito, with its otoro nigiri that's hotly contested as the best in the world. Like Sukiyabashi Jiro, Sushi Saito is often booked out months in advance. People plan flights around the availabilities of these two restaurants, so don't delay!
Nearby, Osaka's Sushi Hayata is exquisite, with a superb tasting platter if you're keen to sample a bit of everything. And the little fishing villages dotted along Japan's coastline often contain wonderful surprises for the sushi-seeker. One piece of advice: turn the fish-side down when dipping it in soy – otherwise the rice absorbs too much salt!