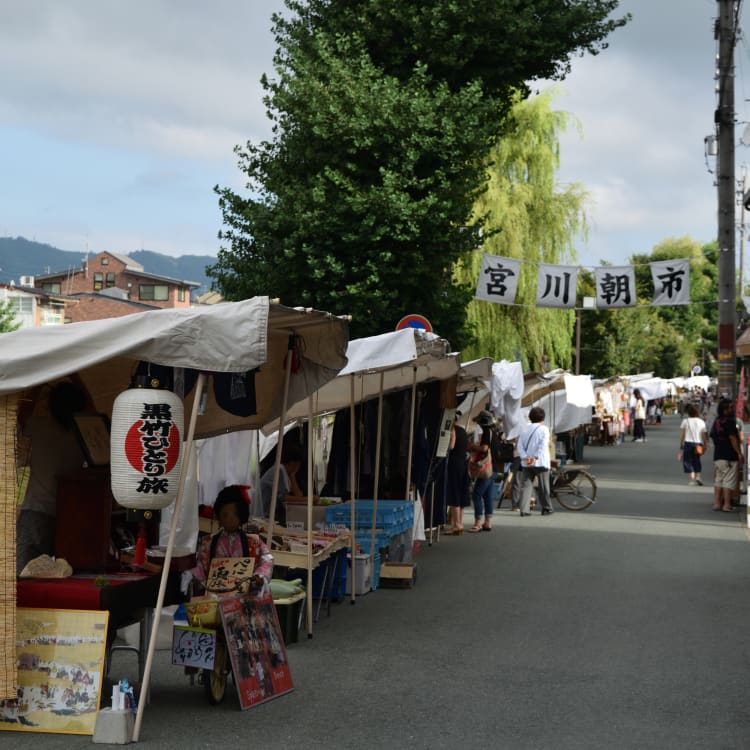 STORY
Morning Markets in Japan
A fresh look a local produce
Explore the morning markets across Japan
What better way to learn about a local region than visiting its local farmers market? Browsing through the stalls, you'll get a chance to see what kinds of produce the area specializes in, and will be able to mingle first-hand with local farmers and shoppers. Consider budgeting time during your trip to visit one of the markets below.
Hakodate Morning Market
Just a few steps from JR Hakodate Station, this large market in the port city of Hakodate stretches across four blocks, with over 200 shops selling fresh seafood and produce. There are also many restaurants in the area. In winter (January to April) shops are open from 6 a.m. to 2 p.m., and in summer (May to December) opening hours are from 5 a.m. to 2 p.m.
Mikoda Morning Market
Get up bright and early to shop for fresh produce from the local farmers of Iwate


Prefecture. In addition to fresh fruits and vegetables, you'll also find vendors selling snacks, clothing, and other daily necessities. Held from 5 a.m. to 8:30 a.m. in Mikoda-cho, Morioka daily (except on Mondays).
Gojome Morning Market
With 500 years of history, the Gojome Morning Market is a staple of life in Akita


Prefecture. From 7 a.m. to 12 p.m., Shitamachi Street in Gojomemachi overflows with fresh produce and fish from the nearby mountains and lakes. The market is open on days with by 2, 5, 7 and 0 in them, and large festivals are held on May 4, August 13 and December 31.
Katsuura Morning Market
Browse the rows of vendors selling fresh produce, fish, dried goods, and other treats, which have been produced here in Katsuura, Chiba Prefecture for over 400 years. Held 6:30 a.m. to 11 a.m. on Shimohoncho Asaichi Street for the first 15 days of the month, and on Nakahoncho Asaichi Street from the 16th onwards.
Joetsu Morning Market
The city of Joetsu in Niigata


Prefecture has not just one market, but four. These four markets operate in rotation with one another, providing a different backdrop for local shopping depending on the day of the month. Ichinohi Ichi is held in the Kakizaki district on the 1st, 11th, and 21st. Sanpachi no Ichi is held in the Chuo district on the 3th, 8th, 13th, 18th, 23rd, and 28th. Shiku no Ichi is held in the Omachi district on the 4th, 9th, 14th, 19th, 24th, and 29th, and Nishichi no Ichi — also in the Omachi district — is held on the 2nd, 7th, 12th, 22nd, and 27th.
Wajima City Morning Market
With approximately 340 vendors, the Wajima City Morning Market in Ishikawa


Prefecture is one of the three largest in Japan. Believed to have been started more than 1,000 years ago, the market is a great place to shop for the region's famous traditional lacquerware. Held in Kawai-cho in Wajima from 8 a.m. to 12 p.m. Closed on the 2nd and 4th Wednesday.
Shichiken Morning Market
Held in the town of Ono in Fukui


Prefecture, the 400-year-old Shichiken Morning Market welcomes farmers from across the region who offer a wide range of fresh produce. This market is particularly notable for its picturesque location, with vendors lined up along traditional streets dating back to the 16th century. Held 7 a.m. to 11 a.m. from late March to December 31.
Hida Takayama Miyagawa Morning Market One of the three largest morning markets in Japan, the Hida Takayama Miyagawa Morning Market is held daily from morning to noon in Takayama in Gifu


Prefecture. Vendors stock a wide selection of fresh produce, flowers, and other daily goods. Note that the market spans two locations, with most stalls situated along the bank of the Miyagawa River and additional stalls set up in front of the famed Takayama Jinya house.
Kochi Sunday Market
With 300 years of tradition, the Kochi Sunday Market welcomes around 300 vendors who sell a range of produce, plants, and everyday products. Come to the market to get an authentic feel for the town and its residents. Held morning to sundown every Sunday in Otesuji, Kochi Prefecture.
Yobuko Morning Market
Located in the town of Karatsu in Saga


Prefecture, the Yobuko Morning Market boasts an extensive selection of fresh fish thanks to its close proximity to Yobuko port. This 200-meter stretch of stalls opens from 7:30 a.m. to 12 p.m. along Asaichi Street.
Did this information help you?
out of found this information helpful.