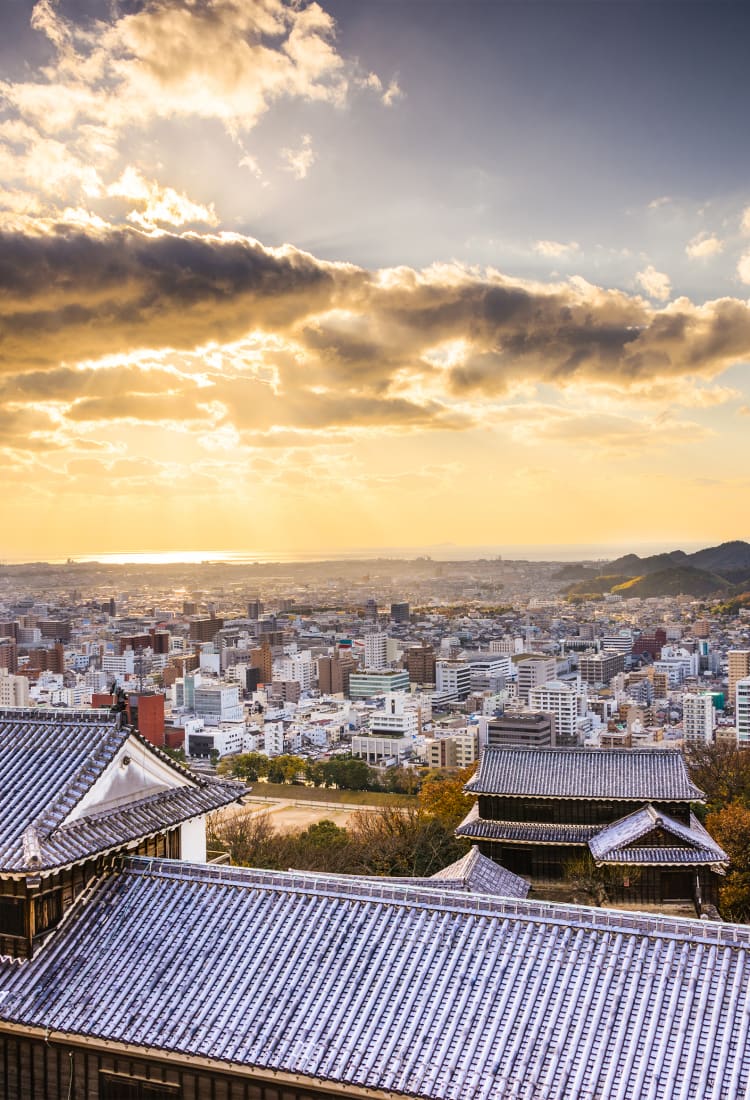 2021.08
Best Locations for Extended Stays in Japan
Introducing seven amazing Japanese cities as a base for a longer visit
When it's possible to travel to Japan again, we're excited for you to visit and hopefully stay a while! Japan has so many amazing cities for visitors from other countries to stay for extended periods, in terms of living standard and other important factors for the foreign community. 

Although it's a very accessible country overall, these are some of our top picks for best areas in Japan for long-term visitors. Come for the hot springs and green tea, and stay for a good taste of the Japanese way of life, and all it has to offer!
Kamakura (Kanto): Historical allure and oceanside bliss close to Japan's capital 
Just under an hour south of Tokyo, Kamakura has a storied connection to Buddhism and Japanese samurai history, while also being a hip and relaxed beach city. Convenient access to central Tokyo and refreshing oceanside accommodation make Kamakura a great place for long-term stays for overseas visitors.  
Also, the abundance of tourism in the area means that English-language support is within reach when necessary. Kamakura is home to the massive Daibutsu (Great Buddha) statue, serene bamboo forests, hiking trails and abundant greenery, alongside oceanside cafes, breweries and surf spots for ocean enthusiasts like Yuigahama Beach.
If you're looking for a city full of energy, historical allure and revitalizing natural beauty—and very close to Tokyo's urban city center—you will love Kamakura. 
Kobe (Kansai): A cosmopolitan yet reserved urban hub in Kansai
Although Osaka and Kyoto are the Kansai area's more famous cities, with the former offering big-city excitement, nightlife and street food, and the latter being perhaps Japan's greatest cultural and historical city, Kobe is often overlooked as a fantastic base for long-term exploration of the Kansai area. 
Kobe's location just past Osaka on the bullet train can't be beaten, and as a port city that's thrived since the 19th century, Kobe has welcomed overseas visitors and served as a gateway for international culture throughout history.
Today, these deep international ties are highly visible in Kobe's Chinatown, which serves as a hub for Chinese residents in the Kansai area. Kobe is also home to Japan's first mosque, making it a significant location for Islamic residents and religious freedom. 
Fukuoka (Kyushu): International atmosphere and fantastic food in Western Japan
Fukuoka has thrived as a port city since ancient times, and its location in Southern Japan puts it very close to many locations through the Hakata Port International Terminal —including Shanghai, Taiwan and South Korea (accessible in just over three hours by high-speed ferry). International ties to these places are visible throughout the city in businesses, neighborhood names and restaurants.
Fukuoka is the largest city in Western Japan, and while it's compact and easy to escape for a getaway, the cityscape itself is urban and dense. Overseas visitors will find a strong network of local connections and no shortage of modern convenience or outstanding local cuisine, which is very popular in Nakasu, famous for its delicious outdoor yatai food stalls.
Come for next-level ramen and stick around to soak up city life in Southern Japan—a perfect balance of rural and urban makes Fukuoka a great long-term destination for overseas visitors.
Matsuyama (Shikoku): Cultural intrigue and urban convenience in Shikoku
Matsuyama is the capital of Ehime Prefecture in Western Japan on the island of Shikoku. With a population of over 500,000 it's the largest city on the island, and represents the best of both urban and rural Shikoku.
Ehime Prefecture has a rich cultural legacy, including a storied history in literature, that creates a backdrop for long-term intrigue, while also being a modern city full of conveniences and great food. Japan's oldest hot springs, Dogo Onsen, ancient Matsuyama Castle and the surrounding Matsuyama Shiroyama Park are all incredible highlights. 
Finally, as Shikoku's largest city, a strong network of international residents and facilities in Matsuyama will be valuable for overseas visitors who choose to stay for an extended period here.
Naha (Okinawa): A sun-seekers' paradise with strong international ties
The island paradise of Okinawa offers stunning oceanside accommodation, deep international ties and charming local culture and cuisine, making for a great environment for long-term visitors to slow down and immerse themselves into island life. 
The history of American military bases operating on the island means that foreign communities thrive here, evident in the English-language support everywhere and the fact that USD is accepted at many establishments.
Entertaining attractions abound in Okinawa, too, including the vast and enthralling Okinawa Churaumi Aquarium or snorkeling and diving at Blue Cave, just an hour drive north of Naha. The tropical climate and ocean views make Okinawa a fantastic place for a long-term stay—especially if you appreciate the art of slow travel. One visit to this island paradise, and you might never leave!
Sapporo (Hokkaido): Enjoy world-class seafood and temperate climate in Japan's far north
As the economic and cultural capital of Hokkaido, Sapporo boasts a rich diversity of museums, galleries and shopping malls, coupled with a good public transportation system and a wealth of green space.
The fresh local produce and seafood as well as the city's laid-back atmosphere are also major draws. American visitors may also appreciate the relative lack of humidity in Japan's north and the grid layout of the city, easily traversable according to the cardinal directions.
A popular destination for overseas winter enthusiasts who love the outdoors, Sapporo offers easy access to some of the best skiing in Japan, including the world-famous Niseko Resort, and the surrounding natural environment is known for its scenic beauty and natural hot springs.
Nagoya (Chubu): Urban convenience with opportunities for international community building 
Centrally located in mainland Japan between Tokyo and the Kansai region, Nagoya is a metropolitan area home to large foreign populations, and Nagoya Station is an engineering marvel and transportation hub for all of Japan. As the fourth largest city in Japan, Nagoya boasts a number of international schools and global Japanese corporations.
The Nagoya area was home to Expo 2005, a World Expo that brought together participants from 121 countries around the globe. Vestiges of Nagoya's international connections and foreigner-friendly city atmosphere can still be felt here, alongside strong ties to art and design, which visitors can see at the Nagoya City Art Museum.
For those looking to stay long-term in a convenient, bustling and vibrant Japanese city, Nagoya offers the promise of a cosmopolitan atmosphere and an unforgettable time.
We hope you enjoyed a brief glimpse into seven of Japan's best cities for long-term stays or slow travel. Whether you're considering living in Japan or simply can't get enough of the country, we hope you find a home away from home for the duration of your stay!
Business hours
Due to measures to prevent the spread of COVID-19, business hours may be subject to change; please check with the venues before visiting.
Related Links