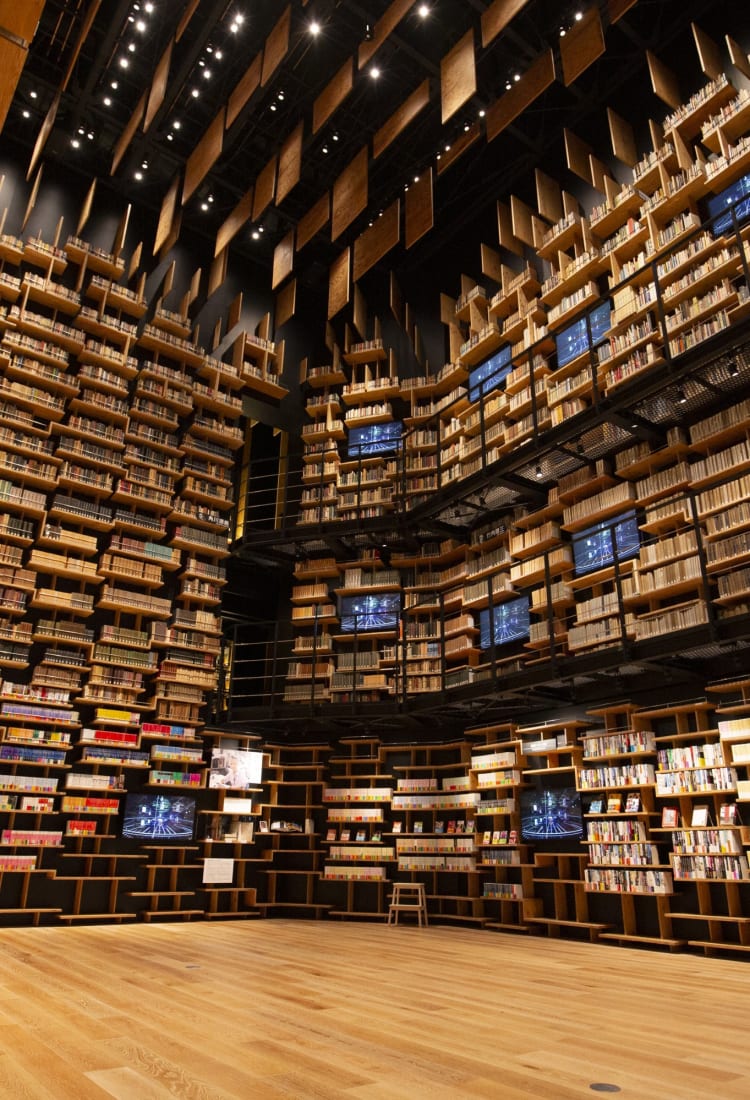 2022.03
New Perspectives on Japanese Pop Culture, Literature and Art at the Kadokawa Culture Museum and the Yokote Masuda Manga Museum
Out-of-this-world anime and manga adventures are transformed into real-world experiences
Photo credit: Kadokawa Culture Museum
Undoubtedly, Japanese pop culture is one of the country's most enduring cultural exports. Now, Tokorozawa Sakura Town, a new arts and entertainment complex dedicated to the unique artforms of anime, manga, and other modern creative disciplines, showcases Japan's contemporary cultural heritage in a more immersive way than ever before. This builds on the already rich experiences at other great museums like the Yokote Masuda Manga Museum, Japan's first manga-themed museum.
Meaningful collaboration in the creation of Tokorozawa Sakura Town
Photo credit: Tokorozawa Sakura town
Opened in 2020, Tokorozawa Sakura Town is an epic collaborative project documenting Japanese pop culture's irresistible rise and influence spread to the public. Part of the Cool Japan Forest Project, a joint initiative between the literary and media powerhouse Kadokawa and Tokorozawa City, Tokorozawa Sakura Town is a vast complex dedicated to the uniquely Japanese cultural exports of manga and anime.
Tokorozawa Sakura Town is a utopia for fans of Japanese pop culture and spread across several core spaces. These areas include the Musashino Reiwa Shrine, the Da Vinci Store, the EJ Anime Hotel, and the Kadokawa Culture Museum—the beating heart of Tokorozawa Sakura Town.
Visitors to Tokorozawa Sakura Town will be whisked away into a land of fantasy and imagination. The guiding principle of the complex is to bring the vivid adventures manga and anime fans get from the media and turn them into real-world experiences.
Exploring a cultural labyrinth at the Kadokawa Culture Museum
Photo credit: Kadokawa Culture Museum
The Kadokawa Culture Museum is a structural marvel. Designed by renowned architect Kengo Kuma, a former winner of the Global Award for Sustainable Architecture, the museum building is an imposing stone structure that appears as though it has been transplanted directly from the pages of a manga comic book.
The centerpiece of the Kadokawa Culture Museum is its Bookshelf Theater. This mind-blowing, ten-meter-high atrium is a library like no other you've seen before. Containing around 30,000 titles, this spellbinding room is more than just a library space. The theater can be transformed into a performance venue for music and theater events and a stage for audio-visual, projection mapping events.
Photo credit: Kadokawa Culture Museum
Beyond the Bookshelf Theater, the museum has a wide variety of other attractions spread across its five floors. The museum's Grand Gallery is a vast, 1,000 square foot space that hosts rotating exhibitions focused on nature, fashion, the environment—anything that tells a story best expressed through art.
Photo credit: Kadokawa Culture Museum
The museum's Manga & Light Novel Library includes close to 35,000 examples of manga literature and is one of the largest collections of its kind anywhere in the world. In the Rock Museum Shop you can pick up local crafts and foods, while the KadoCafe and SACULA DINER prepares delightful local dishes for you, giving you a chance to relax after taking in the museum's outstanding sights.
Photo credit: Kadokawa Culture Museum
Delve into immersive anime exhibitions in the EJ Anime Museum, get lost in contemporary literature on a trip through Edit Town's Book Street, and discover a mind-boggling collection of exhibits and artifacts inspired by anime and imagination in the ARAMATA Wunderkammer (Museum).
Photo credit: Kadokawa Culture Museum
In the Musashino Gallery, AR and VR combine to give visitors a remarkable perspective of Musashino, the area where the Kadokawa Culture Museum is located. Discover the unique history of this ancient region's land, people and culture.
Outside the museum building, you'll find the serene Genyoshi Garden. This peaceful, landscaped garden is named after Genyoshi Kadokawa, founder of the Kadokawa Corporation and based on the garden from his former home, Aogaki Sanbo. A proud, imposing magnolia is at the center of the garden, alongside delicate flower bushes and cherry trees.
Venturing through other attractions at Tokorozawa Sakura Town
Photo credit: Tokorozawa Sakura town
The excellent Kadokawa Culture Museum is just one of the Tokorozawa Sakura Town attractions. Away from the museum, you'll find a series of other unique, beautiful structures, such as the Musashino Reiwa Shrine, another Kengo Kuma creation. The shrine is sleek and ultra-modern and features a mural created by renowned anime artist Yoshitaka Amano. 
The EJ Anime Hotel is a paradise for anime fans. The 33 rooms are anime-themed, featuring anime artwork, anime-inspired food, soundscapes, and lighting effects.
While for the ultimate manga shopping experience, the Da Vinci Store houses boundless manga titles and related merchandise.
Photo credit: teamLab "Resonating Life in the Acorn Forest", Higashi-Tokorozawa, Saitama © teamLab
A little further afield from the main complex in nearby Musashino Jurin Park, teamLab: Resonating Life in the Acorn Forest, a permanent outdoor exhibition by the art collective teamLab.
More manga mania at the Yokote Masuda Manga Museum
Photo credit: Yokote Masuda Manga Museum
To complete your Japanese pop culture odyssey, expand on your trip to Tokorozawa Sakura Town with a visit to Yokote Masuda Manga Museum, located north in Akita Prefecture. Opened in 1995, the museum boasts Japan's most extensive collection of original manga drawings—an astonishing 400,000 pieces—and is a well-established pilgrimage spot for manga enthusiasts.
The museum closed its doors to the public for two years and underwent extensive renovations. In 2019, it reopened bigger and better than ever. Documenting and preserving the history of manga and making predictions for how this unique art form might evolve, the Yokote Masuda Manga Museum hosts exciting rotating exhibitions, permanent installations, and insightful workshops.
The Manga no Kura houses over 220,000 original drawings.
Photo credit: Yokote Masuda Manga Museum
Among the many Yokote Masuda Manga Museum attractions, the Manga no Kura collection is the most impressive. Located on the museum's first floor, this stunning collection features incredible examples of manga artworks stored behind glass in a climate-controlled setting to preserve their integrity. The name of the exhibition space translates to 'manga warehouse' in English and derives from the traditional kura, storehouses, in the region.
Photo credit: Yokote Masuda Manga Museum
Amongst the museum's permanent and temporary exhibition spaces, you'll find original works from Japan's greatest manga artists. While digitization has taken over much of manga today, original manga was all hand-drawn, and artists like Takao Yaguchi, who donated 42,000 works to the museum and is its honorary director, are considered cultural heroes in Japan.
Discover the creation process, participate in a manga workshop, and learn all about the culture that has grown around this unique literary artform. Afterward, relax in the museum's cafe and enjoy manga-themed dishes.
Photo credit: Yokote Masuda Manga Museum
Business hours
Due to measures to prevent the spread of COVID-19, business hours may be subject to change; please check with the venues before visiting.
Information
Tokorozawa Sakura Town (Japanese only)
Yokote Masuda Manga Museum (Japanese only)