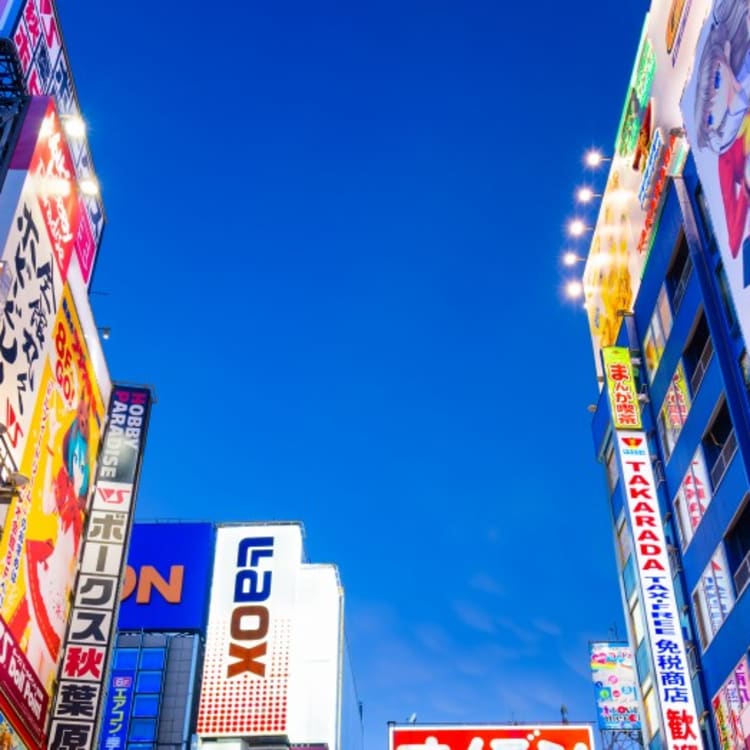 Japan – A Technological Tour
Since at least the 1960s, Japan has been synonymous with technology. In the ensuing decades, the country's international reputation for electronics, the automotive industry and robotics has grown exponentially. Japan has some of the biggest electronics conglomerates in the world, some of the most cutting-edge innovations and has more Nobel laureates in science than any other Asian country.
So if you're a tech-lover saving for a holiday, there's really nowhere like it as a destination. Here's our guide to some of the best Japanese tech territories and experiences to plan a trip around.
Tokyo's renowned technology district feels like Blade Runner at night—but, regardless of the time of day, its reputation for gadgets and sensory overload is well-deserved.
You can go to Yodobashi megastore to buy pretty much any gadget that exists—from phones to cameras to computers to any of their related accessories; you can go to SEGA for level upon level of amazing arcade games, old and new, where you might be compelled to stay for hours; you can duck down any of the alleys with electronic stalls and hawkers filled with obscure, specialised products, some of which you might not find anywhere else.
While its hyper-coloured focus has begun to shift in the last few years from electronics to Otaku (or 'fan culture' – that is, cosplay, anime


 and so on), it still reigns supreme as the Asian capital of the technology-consuming world. It's a must-visit for any tech-head.
Tsukuba
About an hour northeast of Akihabara by train is Tsukuba, known as the Science City. Nearly half of Japan's research and development budget is spent here, and you don't even have to go too far to see the results.
Among the premier attractions of the town is Tsukuba Space Center, where you can see exhibitions and take tours related to recent astronomical research and Japan's role on the International Space Station.
But there's plenty more – for example Tsukuba Expo Center, which focuses on rockets, robotics and submarine vehicles but also has a terrific planetarium and a well-known robot in the foyer who plays an organ. There's also Science Square, where the emphasis is on industrial technology and a truly fascinating glimpse into what the near future might be like, based on the rate of technological innovation at the National Institute of Advanced Industrial Science and Technology (or AIST).
It's thrilling stuff, and makes for a fine day trip from Tokyo. 
Elsewhere in Tokyo
There are many other technological attractions in Japan's lively capital. For example, you can visit Odaiba, an artificial island that contains the Miraikan National Science Museum.
Here you can see and interact with ASIMO, the famous Honda-built humanoid robot whose name stands for 'Advanced Step in Innovative Mobility'. He resembles a small man in a space suit and is about as mobile as one, with skills in running, jumping, object recognition, memory, conversation and now bottle-opening. As well as his entertainment value, ASIMO represents a tremendous (and increasing) leap forward in robotics engineering and even the caring industry.
Elsewhere in the Miraikan, you can see android exhibitions and seize countless opportunities to interact with robots of different sizes and functions – highly recommended, and occasionally surreal.
Of course, no technology tour of Tokyo would be complete without a booking at the Robot Restaurant in Shinjuku, where you can witness colourful and gleefully entertaining robotic carnage in what is essentially a super-energetic interactive robot floor show; the price tag may seem hefty, but you're unlikely to think so after you witness it!
But if you're after a truly thought-provoking experience you should head to Ruriden columbarium, a digital cemetery operated by Koukoko-ji Buddhist Temple. It's home to over 2000 digital funereal altars, marked by glass Buddha statues – an intriguing glimpse into yet another possible future.
Henn-na Hotel
Finally, if you're travelling Japan by Shinkansen (itself a technological wonder!) and end up on the western island of Kyushu, it's essential to visit Sasebo in Nagasaki Prefecture. Here, Henn-na Hotel – a pun on 'Strange Hotel' – made international headlines as the world's first guesthouse run by robots.
The robots at reception, which include a velociraptor, are all multilingual and efficient; the storage room is operated by a mechanical arm; and the business has dispensed with room keys, opting instead for facial recognition. All rooms are equipped with an AI-driven concierge unit named Tapia who performs tasks according to spoken commands, and while a few human employees are on-site at all times for emergencies, it's almost completely an all-robot affair.
A second Henn-na Hotel now exists near Tokyo Disneyland, and another one is slated for Nagoya, but it's the one in Sasebo that was recognised by the Guinness Book of World Records. Whichever you choose, make sure you book in advance – it's understandably popular!