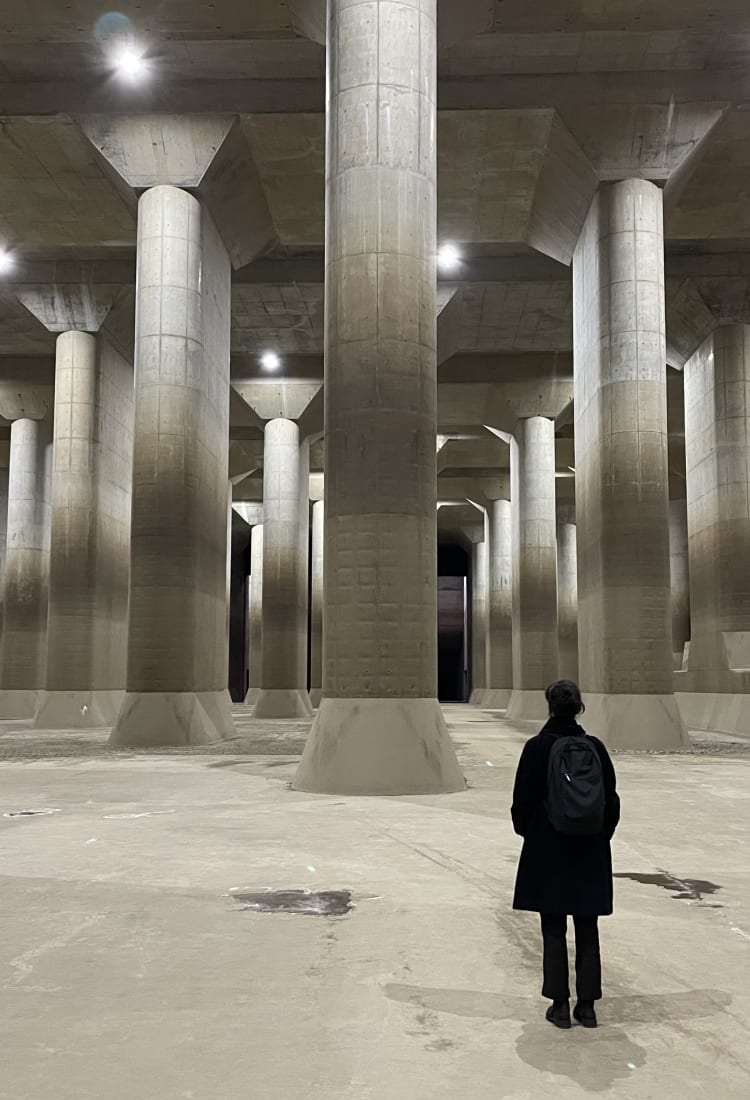 2022.03
Take a Deep Dive into the Wonders of Japanese Architecture and Civil Engineering
Japanese public works: Aesthetic infrastructure with purpose
A country marked by limited arable land and densely populated cities, Japan has a unique knack for aesthetically incorporating important civil engineering into the modern landscape.
The nation's history of creating "reclaimed land" from oceans, seas, riverbeds or lake beds is said to date back to the 16th century in Tokyo, though most reclamation has occurred since World War II, a time after which Japan underwent much change and economic growth.
Japan is not distinct in how it uses reclaimed land, with most such areas being used for walkways, housing estates, shopping areas, research facilities, industrial blocs and in some cases, even airports. Where the country stands out, however, is the increasing ways in which civil engineering is used to prioritize community safety, non-commercial communal spaces and societal convenience.
Awe-inspiring flood control: The Metropolitan Area Outer Underground Discharge Channel
Each of the pillars supporting the ceiling of the pressure-controlled water tank designed to relay floodwater is seven meters deep, two meters wide, 18 meters tall, and weighs approximately 500 tons.
A cavernous complex and stunning example of modern architecture that also saves lives and keeps Tokyo's metropolitan area safe, the Metropolitan Area Outer Underground Discharge Channel in Kasukabe, Saitama Prefecture, is the world's largest underground flood diversion facility. Completed in 2006, the facility is located in a low-lying, flood-prone area of northern Tokyo and is capable of flushing 200 cubic meters of rainwater into the Edogawa River per second. Displaced soil generated from the channel's construction was used to help reinforce the Edogawa River's embankment efforts.
Photo credit: Metropolitan Area Outer Underground Discharge Channel.
The facility comprises five shafts, with the largest able to accommodate its own Statue of Liberty (which stands 93 meters above New York Harbor). The shafts are interconnected by a 6.3-kilometer tunnel built 50 meters beneath the ground. The flood channel has 4 associated pumps and is capable of draining floodwaters at speeds approaching 200 cubic meters per second! Also integral to operations is a pressure-adjusting water tank. The tank both reduces the momentum of water through stable pump operation and regulates the backflow of water that occurs when the pump's emergency brakes are activated. In 2008, during a period of record rainfall, the complex rerouted 11.72 million cubic meters of floodwater. The land above and near the tank is designated for community use as a soccer field and skateboard park.
The facility offers different tours to learn more about how everything works.
The Metropolitan Outer Area Underground Discharge Channel is indeed otherworldly. Should you wish to investigate this marvel of modern engineering up close, why not book a tour to learn how the facility works and see the construction for yourself? Four different tours are available , ranging from a tour of the visually spectacular pressure-controlled water tank area to a tour focusing on machinery and equipment. Guidance is only in Japanese, but there is an English brochure and a downloadable app for overseas visitors. Make sure to download the AR app before your tour for a fascinating simulation of the tunnels being flooded – right before your very eyes!
Japan's legacy of reclaimed land and building anew
Odaiba in Tokyo is one of Japan's most famous land reclamation projects.
It's no surprise that the majority of Japan's reclaimed land projects are based in the Kanto region, in particular the areas surrounding Tokyo Bay. Land reclamation projects here date back to the founding of the Edo period (1603–1867), when shogunate Tokugawa Ieyasu used excavated soil from the Edo Castle moat to fill what was then known as the Hibiya Inlet.
Such projects have always factored in relevant political, economic, and societal trends, with environmental and urban planning impacts prominent in recent times. Tying in with ideas of mottainai and "waste not want not", recycled materials are often used to build new land, parks and other greenways.
A landfill, repurposed: Moerenuma Park in Sapporo
Sculptures by artist Isamu Noguchi feature heavily at Moerenuma Park.
Photo credit: City of Sapporo
Not all reclaimed land is designated for commercial or infrastructural use. A fine example of such land being used instead as a space where people can congregate is Moerenuma Park in Sapporo, Hokkaido. Originally the site of a marshland turned to public landfill, the land has since been transformed into a park including playground equipment, sports fields, mountains, a beach, a fountain, forests and objects designed by Isamu Noguchi, a Japanese-American artist, most famous for creating sculptures, furniture and public art.
Sea Fountain sits within a concrete basin and is enveloped by a circle of trees. From spring through to fall, a 40-minute water show plays three times a day, with an extra show after dark.
Photo credit: City of Sapporo
The park is accessible from central Sapporo by bus and train, and well worth a visit if you're interested in Noguchi and/or visual art.
Geometry plays an important role in the form and function of Moerenuma Park.
Photo credit: City of Sapporo
Central to Noguchi's involvement with this project was his vision that the park itself becomes a sculptural artwork existing in harmony with the local environment. The 400-acre park was his final work, the artist passing away before the site was completed. Natural and manmade elements have been arranged to form geometric patterns, best viewed from above, or at least from the vantage point of Mt. Moere, itself formed out of non-burnable waste and soil leftover from construction efforts.
Noguchi's Hidamari glass pyramid is an homage to I.M. Pei, the architect who designed the glass pyramid at the Louvre in Paris.
Photo credit: City of Sapporo
Other marvels of civil engineering: Umihotaru PA
The Umihotaru PA rest area services users of the underground Aqua-Line Expressway toll road that traverses Tokyo Bay.
Meanwhile, if you find yourself needing to travel between Kanagawa and Chiba prefectures in a hurry, or are interested in seeing another fine example of civil engineering up close, you could do no worse than stopping at Umihotaru PA, the world's only toll-road rest area built on reclaimed land located in Tokyo Bay. Sometimes referred to as the "Apollo project of civil engineering", it is a testament to the ingenuity of the engineers on the project, who had to contend with factors such as wind, tide and earthquakes, as well as the soft seabed, marine traffic and environmental concerns.
Photo credit: NEXCO EAST
Boasting unparalleled, panoramic bay views, Umihotaru PA ("Firefly of the sea") is a five-storey complex on the Tokyo Wan Aqua-Line Expressway that comprises parking areas, restaurants, a foot bath, observation decks and more.
Business hours
Due to measures to prevent the spread of COVID-19, business hours may be subject to change; please check with the venues before visiting.
Information
Metropolitan Area Outer Underground Discharge Channel