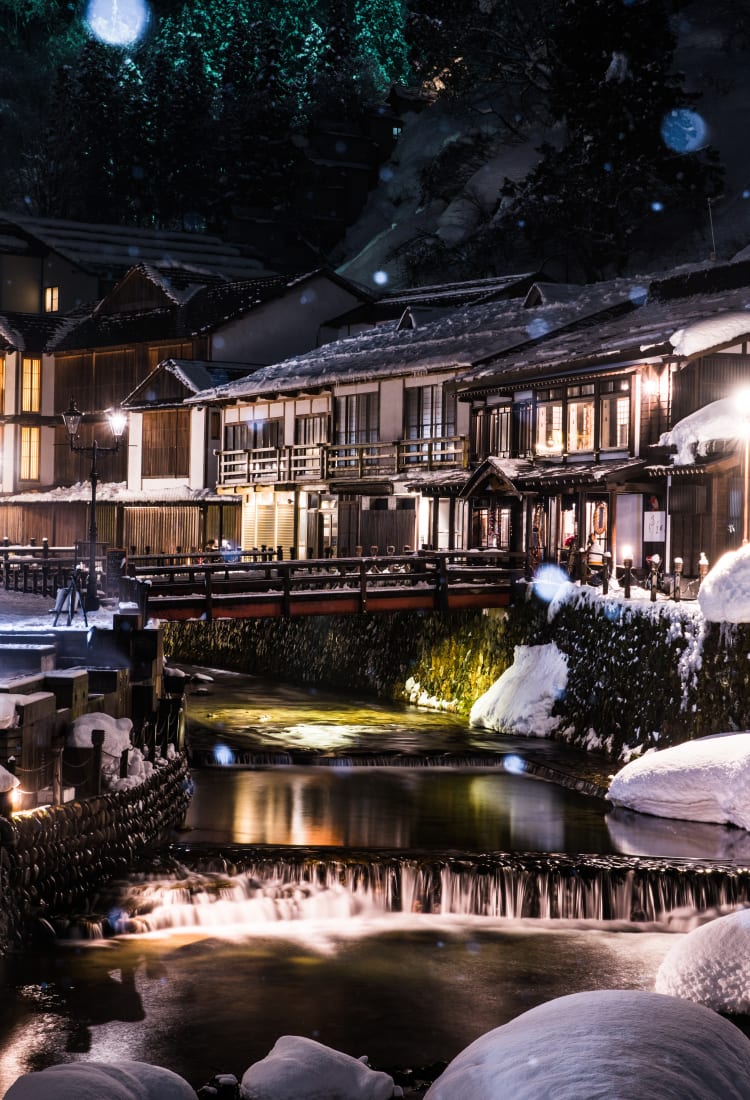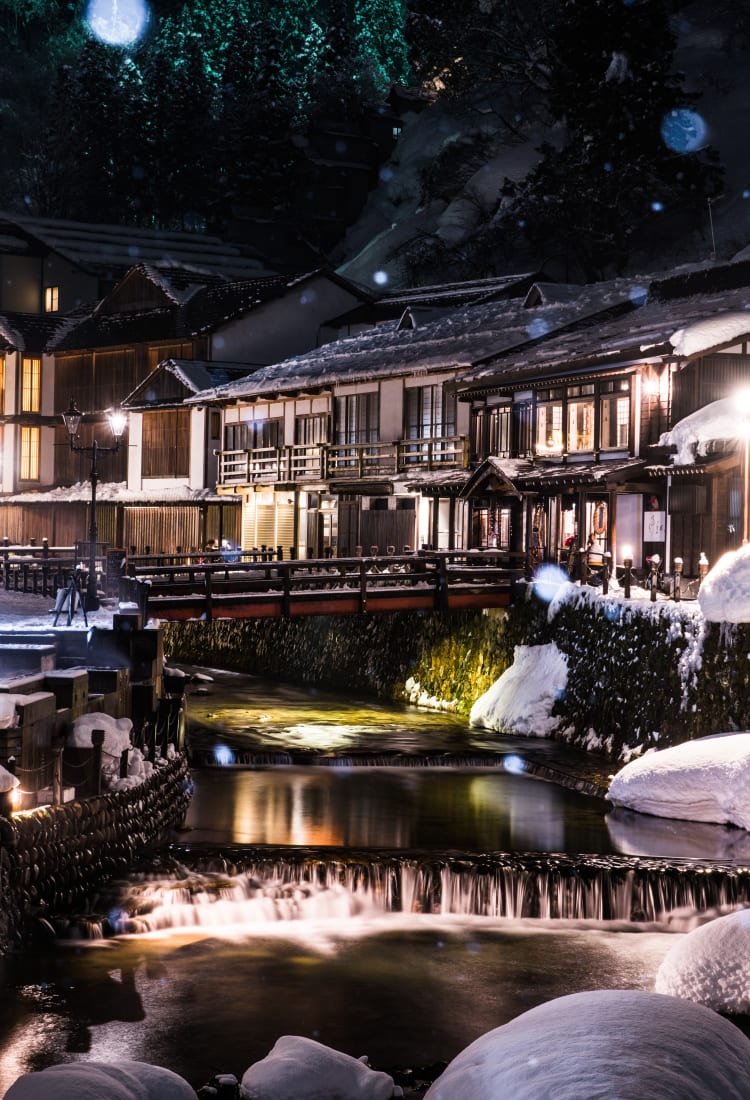 GUIDE
Winter in Japan
Cold weather and warm spirits
Cold weather and warm spirits
As winter approaches, a frigid chill engulfs the whole of Japan, and while it rarely snows in most of the country's metropolitan areas, the surrounding mountains and northern regions are regularly covered by fresh blankets of powder.
Pack plenty of warm clothes, then bundle up and head outside to enjoy snow festivals, skiing, and snowboarding, and relaxing onsen resorts. Tips
While the harshness of winter varies by location, a warm winter jacket is a necessity regardless of where you're traveling
During the New Year's holidays, most restaurants and attractions shut down. Consider planning ahead to avoid any disappointments
Enjoy the seasonal cuisine that winter brings, indulging in extravagant nabe hot pots, delicious ramen broths, and other soothing dishes
Where to ski in Japan
As a densely mountainous country, Japan boasts numerous peaks ideal for winter snow sports. Regardless of where you're traveling within Japan, the winter brings ample powder to the nearby mountains, and with it many ski and snowboard enthusiasts.
Most Tokyo-based travelers head to nearby Nagano


for the great skiing and convenient accessibility. Hakuba


is one popular choice among several other resorts in the area.
For the freshest powder and biggest scale, head to the northern island of Hokkaido


, which offers plenty of open space and rolling mountain terrain. Niseko


and Rusutsu


are common destinations for ski tourists and winter travelers.
Travelers in the Kansai region


(Osaka, Kyoto, Nara, Kobe) can take an easy day trip to Biwako Valley


in the mountains surrounding Lake Biwa


. Visit a temple or shrine on New Years
As December


comes to an end, the Japanese take a well-deserved holiday, returning to their hometowns and reuniting with their extended families to see in the New Year. On the first day of the year, many locals head to a temple or shrine to pray for good fortune and success in the coming year. Known as hatsumode, this ritual practice is a great way to celebrate the holiday, as most other attractions will be closed during this time.
Located in the northeast corner of central Kyoto, the massive Heian-jingu Shrine


welcomes hordes of visitors every New Year's. The official New Year's ceremony is held at 6 a.m. on January 1. Further south at Fushimi Inari Taisha


, people navigate through thousands of orange torii gates and pray for success at the shrine's main hall.
In Tokyo, Meiji-jingu Shrine


easily ranks as the top hatsumode destination. The serene forested walking path fills with visitors calmly making their way to the main hall in the center.
Meanwhile, in Osaka


, over two million people visit Sumiyoshi Taisha Shrine


to welcome the New Year. This beautiful shrine features a famous arched bridge and pristine grounds, making the experience all the more appealing. Winter festivals
Cold weather brings people closer together. Despite the cold air, many traditional festivals and events take place in the winter, transforming the harsh winter days and dark winter nights into a fun and warm celebration.
One of Japan's popular winter events, the Sapporo Snow Festival


welcomes upwards of two million people, showcasing hundreds of sculptures made of ice and snow. The festival is held in the first week of February, with the elaborate pieces displayed in Odori Park


, Susukino


and Tsudome.
High up in Yamagata Prefecture


at Zao Onsen


, the snow-covered trees transform into fascinating shapes. Covered with layers of snow, the trees begin to assume an almost-human shape, dotting the mountain in a strange and haunting pattern. Known as "snow monsters," the one-of-a-kind snow-white landscape makes for a spectacular visit.
For something truly fascinating, head to the Naked Man Festival


in Okayama Prefecture


. Known in Japanese as Hadaka Matsuri, the event consists of thousands of loincloth-clad men competing in ritual games, before rushing off to Saidaiji Kannonin Temple to pray for good fortune. Warm up in an onsen hot spring
Get out of the biting cold and indulge in a relaxing bath, taking a soak in the mineral-rich waters of Japan's many natural hot springs. With fresh, pure water bubbling out from the volcanic earth below, many towns and villages have sourced this soothing water for hundreds of years, developing a rich culture around public bathing and relaxation. Take a day or two to escape the city and relax. Some locations have outdoor baths, and enjoying the hot water with snow all around is magical.
Located in a charming, secluded town in the mountains of Yamagata Prefecture


, Ginzan Onsen


was originally known as a silver mining town, but now features some of the best onsen hot springs in the country. The entire town is limited to pedestrians, and the Taisho-era buildings will make you feel like you've traveled back in time. Enjoy the enchanting ambiance while taking a soothing bath at a traditional ryokan inn.
A few hours northeast of Tokyo in Gunma Prefecture


, you'll find Kusatsu Onsen


, a popular hot springs town home to 19 public baths. Considered one of the three best onsen areas in the country, the hot springs are augmented by the fun atmosphere of the resorts and the spectacular scenic views.
Travelers in Kyushu should consider a visit to Kurokawa Onsen


, a short drive from the famous volcano Mt. Aso. The charming town is full of well-preserved traditional architecture and phenomenal outdoor baths. * The information on this page may be subject to change due to COVID-19.
Did this information help you?
out of found this information helpful.