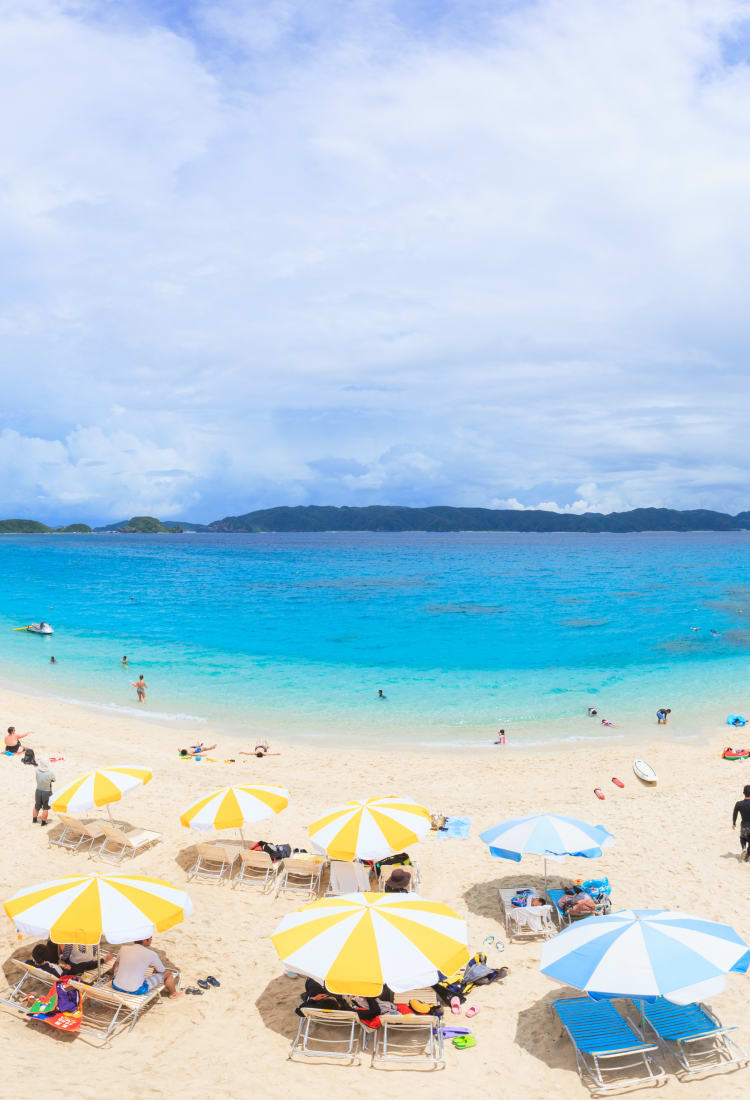 GUIDE
Japan in July
The rain subsides and the heat picks up
By early to late July, the rainy season has either ended or is winding down. Temperatures and humidity rise steadily and summer gets into full swing. Popular pastimes include mountain hikes, beach trips, baseball and beer gardens. Be sure to include a selection of light clothing when you pack and don't spare the sun block.
Know Before You Go
Rainy season is over in most areas by the end of July
There will be good hiking options nearby wherever you are based
Swimming at beaches and waterparks is a good way to stay cool Beaches and bathing
While Okinawa


has incredibly beautiful beaches, the heat and humidity in July can be a deal breaker for some. You'll find popular beaches in Chiba


, Wakayama


, and Fukuoka


, however, and other coastal areas like Kamakura


naturally have them as well. Nearly all beaches open for swimming season by July. Though unknown to most international visitors, Japan's thriving water and spa theme park industry is worth checking out. Nagashima Resort


in Mie


combines swimming pool, onsen, and amusement park areas into one massive complex for a full day of aquatic amusement. Other parks like Spa World in Osaka


and Hakone Kowakien Yunessun


in Hakone


feature swimming pools and themed bathing facilities. Island hopping
An island nation, Japan has endless island-hopping opportunities. Visit art islands in the Seto Inland Sea, splendid coral reefs and uninhabited islands in Okinawa


, and Jurassic Park-esque volcanic islands south of Tokyo. Ferry services to, from and between islands operate at their peak in July and August. Higher ground
Another great way to beat the heat is to head to one of Japan's many mountain ranges. High altitude locations are much cooler than cities and offer popular forms of recreation like hiking, rock climbing, and canyoning. If you consider the mountains a priority, consider a trip to the Japan Alps


. Chubusangaku National Park spans several prefectures and includes popular destinations like Kamikochi


, the Tateyama Kurobe Alpine Route


and Hakuba


. With activities ranging from multi-day hikes, climbing and even parasailing available, the sky's the limit for what you can experience. Just remember to check the weather and prepare appropriate gear.
Lakes and rivers
Adventurous travelers in search of refreshing summer activities will be pleased with the variety of kayaking, canyoning and rafting options around Japan. In the Minakami


region of Gunma


and the Iya Valley


area in Tokushima


, tour operators offer rafting excursions on the local rivers. In Wakayama


, you can ride traditional log rafts down the Kitayama River


or even complete part of a spiritual pilgrimage by small flat-bottomed-boat on the Kumano River. Elsewhere, the famous ski resort areas of Niseko


in Hokkaido


and Hakuba


in Nagano


swap winter recreation for green season activities that include water sports. As in Gunma, melting snow from the mountains causes rivers to surge for vigorous rafting and kayaking in spring and calmer fare in summer. Suds in the sun
As the rainy season subsides, beer gardens open to thirsty patrons across the country. Rooftop locations offer gentle breezes and cityscape views. A quick search online and you should be able to find something nearby. Note that many beer gardens in Japan operate free-flow systems and assign customers a table for a fixed period.
For a slightly more educational beer experience, visit one of the breweries or beer museums around the country to learn more about the brewing process. The Sapporo Beer Museum


in Hokkaido is particularly worth a visit if you find yourself in Sapporo


. * The information on this page may be subject to change due to COVID-19.
Did this information help you?
out of found this information helpful.