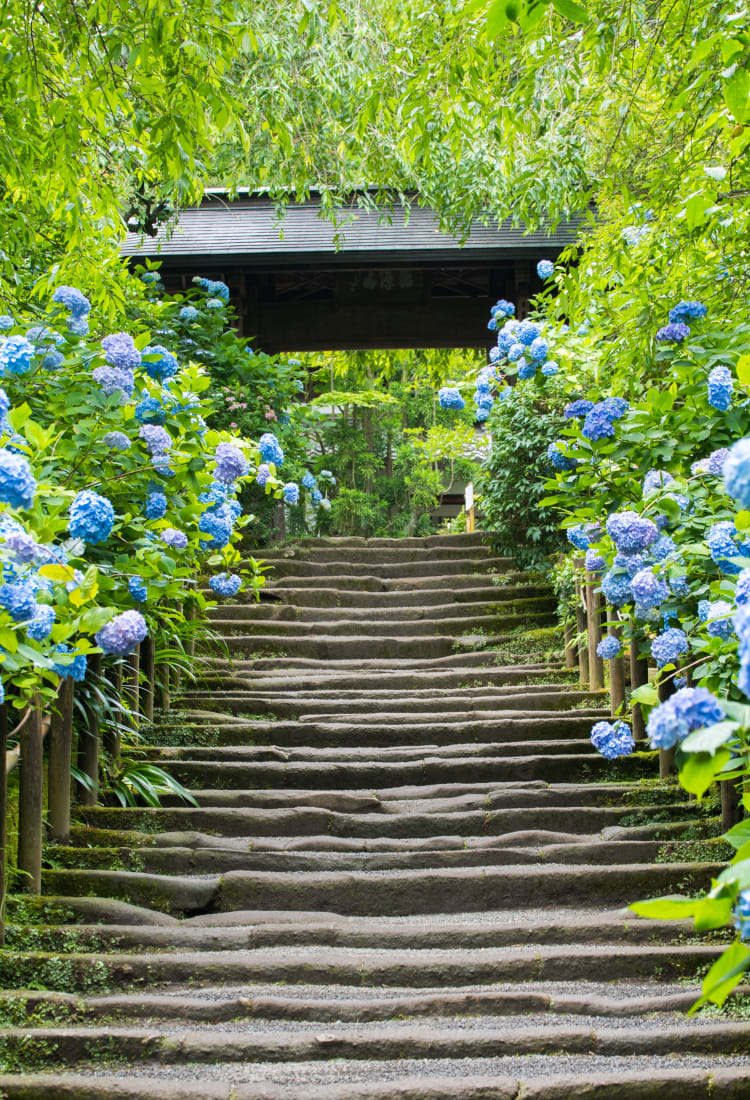 GUIDE
Japan in June
The rainy start of summer
Traditionally called minazuki, "the month of water," June gets more rainfall than other months as the rainy season sets in and sweeps upward through Japan. As with cherry blossom season, rainy season begins and ends earlier in the south and starts later and lasts longer in the north. Hokkaido


, relatively unaffected by the rainy season, is a safe bet if you want to avoid the rain almost entirely.
Know Before You Go
Rainy periods differ through Japan—Okinawa's rain begins in May, while Tohoku usually gets a mid-June start
Don't expect it to rain everyday, just more often than usual
Rainy days are a good time to explore indoor options like Kabuki, cafes, and fine dining
Hokkaido gets significantly less rain than other parts of Japan Fields filled with water and ripening plums
The Japanese word for the rainy season, tsuyu or "plum rain," refers to a period when plums ripen on trees as rice fields around rural Japan are flooded by rain. This time of year determines the rice harvest, and is, in a sense, the lifeline for Japan's populace. Another noticeable benefit of the season can be seen in the luminous hydrangeas which flourish in the damp weather. Not all rainy seasons are created equal though: with low annual rainfall, Hokkaido sees a minimal increase during raining season, while the southern islands of Kyushu


and Shikoku


get extremely wet. Careful planning can help you stay relatively dry in June.
Arts and entertainment indoors
Rainy days make for a perfect opportunity to visit museums, art galleries, theaters and department stores.
For a definitive cultural experience, visit Kabukiza


in Ginza for a kabuki performance. Enthusiasts can opt for a few hours scheduled with multiple dramas performed, while more casual spectators may prefer seeing just one. Afterwards, you can pop your umbrella and peruse the area's massive department stores and ample culinary options. Just north of Ginza, Ueno


offers an impressive number of museums, often hosting major exhibits of art from around the world. From big-name French Impressionists to classical antiquities, Ueno has hosted just about anything you can imagine over the years. Worlds of water
With world class facilities all around the country, Japan claims one of the most highly developed aquarium cultures in the world. The Churaumi Aquarium


in Okinawa


is the biggest and most highly regarded in Japan. But you needn't go all that way for a first rate experience. Tokyo and other major cities naturally have a variety of options. Tokyo's Sunshine Aquarium


in Ikebukuro


is an interesting choice on the top floor of Sunshine City's World Import Mart Building. Iwaki City's Aquamarine Fukushima


facility deserves special mention as one of Japan's largest and most lavish aquariums, having reopened four months after the tsunami in 2011. Osaka


, Nagoya


, Kyoto


, and Hiroshima


all add to this long list. Hokkaido, Japan's northern refuge from the rain
Already a popular destination on its own merits, Hokkaido sees its stock rise in June due to its comparatively low rainfall. Sapporo


hosts two major festivals in rapid succession with the Yosakoi Soran Festival


bringing colorful dancing processions to Odori Park


(early to mid-June) and the three day Hokkaido Shrine Festival starting on June 14. Many of Hokkaido's National Parks are at their best in June, and most high-altitude trails open then for the hiking season. Rishiri and Rebun


islands, off the most northern tip of Hokkaido


are particularly beautiful with rare alpine flowers beginning to bloom. * The information on this page may be subject to change due to COVID-19.
Did this information help you?
out of found this information helpful.