Home to samurai and ninja
Special Deals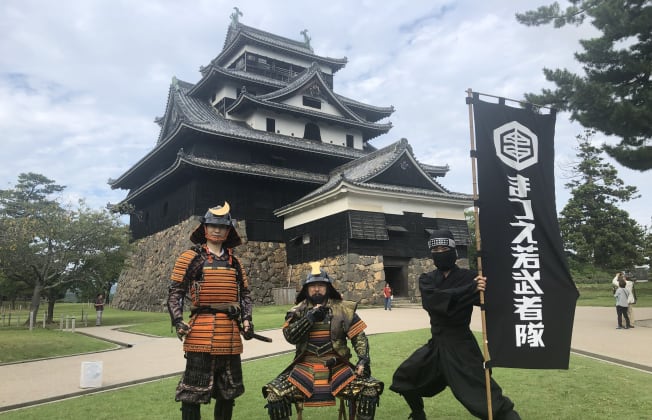 Duration:
From April 1 to December 31, 2020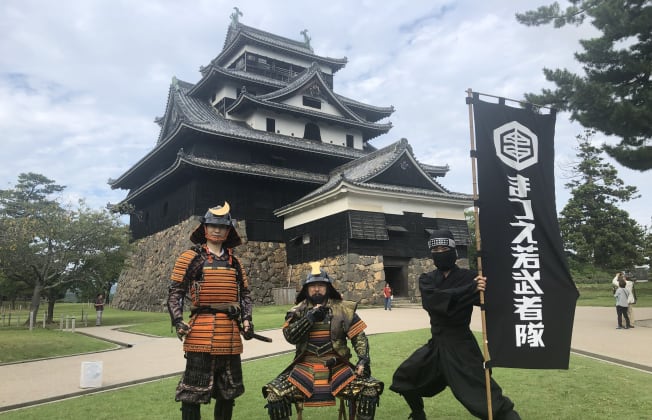 Overview
Matsue Castle is located in Shimane prefecture, on Japan's southwestern seaboard. The striking black and white structure dates to 1611, and unlike many other castles in Japan, the main tower has survived centuries of wars and natural disasters intact. The castle was once home to samurai, and evidence of their existence remains through exhibits of samurai armor and swords. Climb the wooden staircase to the top of the main tower for views over Matsue City, wander the beautiful grounds, and look out for actors in authentic samurai and ninja outfits.

The castle was granted National Treasure status in 2015. There are special seasonal events and limited-time-only discounts for overseas visitors to mark the 5th anniversary of this designation. These include savings on the highway bus from Hiroshima to Matsue—500 yen instead of the regular price of 4,000 yen.
Benefits
Visitors to Matsue Castle in 2020 can enjoy:

Special events to celebrate the fifth anniversary of Matsue Castle 's National Treasure designation, and discounts at stores between Matsue Station and Matsue Castle. Enjoy 20-50% off admission to tourist spots throughout the city.

Visitors can make use of the Attractions Pass via the Visit San'in Tourist Pass App
1 Day pass (24 Hours): 2,000 Yen
3 Day pass (72 Hours): 4,000 Yen
An unlimited pass to major tourist attractions in the San'in area.

This program is currently being postponed.
How to get involved
Discounts for special programs and stores are currently being planned, and will be announced as soon as details are finalized. To receive admission discounts at tourist attractions, visitors will need to present their passport at each ticket window. To receive a discount on the highway bus from Hiroshima to Matsue, passengers will need to present their passport at the ticket window. (We also ask that passengers fill out the survey form provided on the bus.)
Conditions
Limited to overseas visitors (some exceptions made).
Disclaimer
Discounts for the special programs celebrating the five-year anniversary of Matsue Castle designation as a national treasure will be offered for a specified period. In addition, they will not be offered throughout the entire campaign period.
Samurai and ninja will not always be in the Matsue Castle or city area during this campaign.
Information
Venue Name and info
Matsue Area Sightseeing Spots, Highway Bus From Hiroshima to Matsue
Venue Address
Matsue-shi
Inquiries
Matsue City Hall, Tourist Promotion Department, International Tourism Division, International Tourism Desk
E-mail: kokusai@city.matsue.lg.jp
Languages supported: English, Chinese, Korean, French
Site URLs
Credit: Matsue City