Special Deals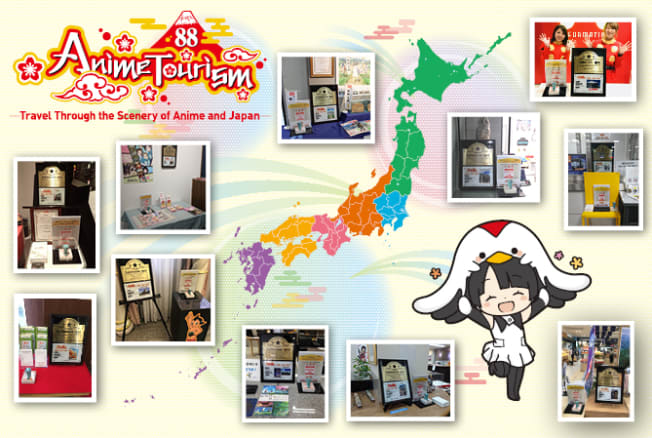 Duration:
On April 16, 2020, the Japanese government expanded the state of emergency declaration to all of Japan to prevent expansion of the novel coronavirus infection.We apologize for the sudden decision, but to maximize the infection prevention effect, we will temporarily suspend "ANIME88GO&POST!! 2020" and restart it after the situation improves.

If the following are included when making achievement reports after the campaign restarts, those reports will be exempted from certification.
① SNS posts made during the suspension period
② Photographs of certification plaques taken during the suspension period

We ask for your active participation after the campaign has been restarted when the situation has improved and everyone can visit anime spots without worry. When the campaign restart date has been determined, notification will be given using the Anime Tourism Association official website and Twitter official account.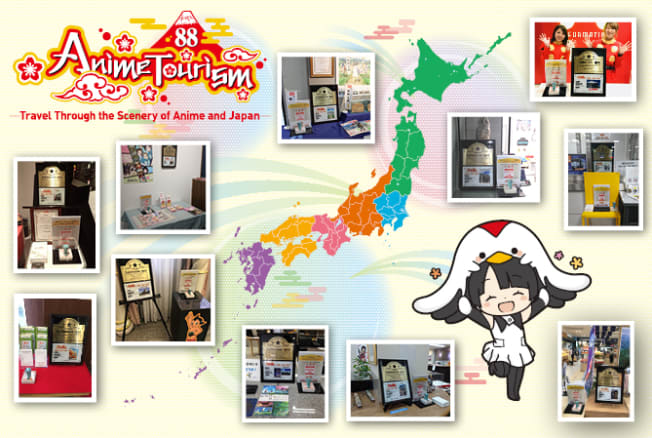 Overview
Japan's annual anime pilgrimage will return in 2020 with new sites chosen by voters from around the world. Travelers can visit 88 iconic locations from classic and contemporary anime. They can also tour museums and facilities dedicated to the art and legacy of anime from the northernmost island of Hokkaido to the southernmost islands of Okinawa.

Visitors can document their travels with a special stamp-book called a "goshuincho." Each of the sacred anime spots will have a dedicated stamp noting the name of the site and when it was visited. A completed stamp-book is said to bring spiritual fulfillment. Participants will receive a commemorative gift for joining the pilgrimage. More information on anime-related museums and events will be shared throughout 2020.
Benefits
A small commemorative gift exclusively for participants from overseas.
How to get involved
Present the page for this campaign on the JNTO website on your smartphone or other mobile devices, or print the page out and bring it with you.

Show your passport at Sacred Site 0 (Narita Airport)/Sacred Site 1 (Tokorozawa Sakura Town: scheduled to open in July) to receive your gift
Eligibility
Those with a passport photo page. Japanese nationals are not eligible for this deal. Souvenir pick-up is within Japan only. They will not be shipped locally.
Conditions
The Company is not liable for any claims, including any loss, debt, damage, expense, troubles between applicants or between an applicant and a third party resulting from applying to this campaign or winning therein. The Company may change or cancel all or part of this campaign without prior notice to applicants. If the Company deems it necessary, this Agreement can be changed without prior notice to applicants, and measures necessary to ensure the proper operation of this campaign can be taken.
Please be aware that we cannot accept responsibility for any damage caused by the failure to access, register, or display this service due to delays or malfunctions due to the concentration of access to this service or status of the communication links, etc., or any subsequent events therefrom. Applicants are responsible for internet connection fees and communication costs for applying in this campaign.
Information
Venue Name and info
Sacred Anime Sites Nationwide.
Museums and galleries related to anime and manga.
Venue Address
Areas nationwide
Site URLs
Credit: ©2018 ATA/HCS