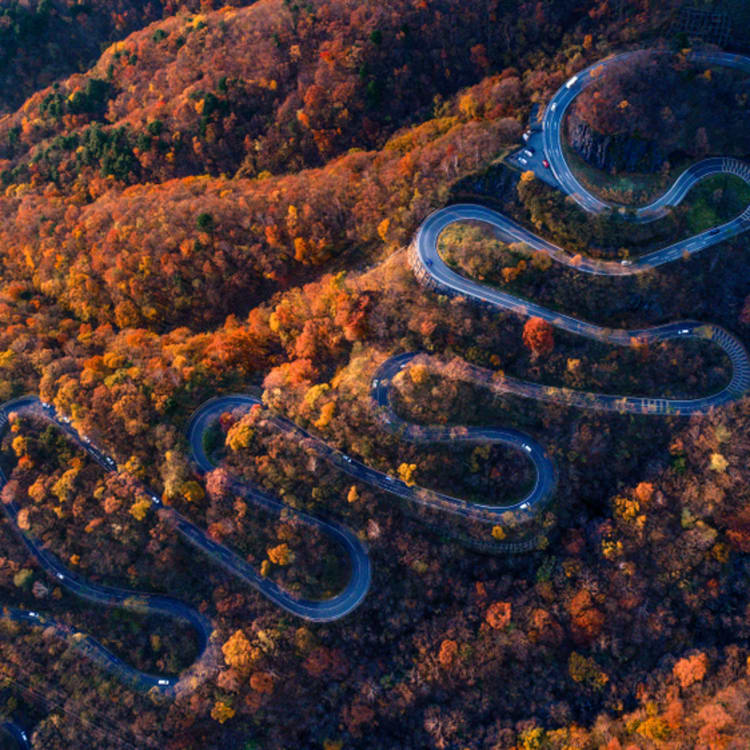 Guide
Alternate ways to explore Japan
There are many ways to explore Japan besides buses and bullet trains. In fact, some of the best ways to see Japan don't require you to stop at a single station or terminal. If you're a fan of getting from A to B in a slightly more unorthodox manner, here are some alternate ways you can experience Japan that are worth considering when planning your next trip.
By car
If you like:
Bonding over long drives with a small group of friends or family
Keeping your distance from large crowds
Having complete control over your trip
Taking the road less travelled (by international travellers)
Hiring a car is the way to go.
Not only does driving through Japan free you from a regimented itinerary, but it allows you to visit the remote and inaccessible corners of Japan that simply can't be reached via bus or train. Only on a road trip can you find those unforgettable encounters with locals, and spontaneously discover treasures along the way that aren't marked on tourist maps. A drive through Japan offers a unique perspective that many, including locals, might not ever experience.
Unless you've driven in Japan before, there are quite a few things you need to study up on before you hit the road. Everything you need to know about driving in Japan can be found in this checklist for road tripping in Japan, however, the key things you need to be mindful of are:
You'll need to arrange an International Driving Permit
Japan also drives on the left
The legal driving age is 18 years old
Road signs and rules mostly follow international standards
Drinking and driving and using your phone while driving is prohibited
Hiring a car with English-capable GPS is a must if you aren't confident with the language (if you're not using Google Maps etc. through data)
After you've figured out what you need to prepare, the next, and most important, question is "Where do you go?"
In short, anywhere and everywhere. However, there are a handful of routes that are particularly special during specific seasons.
Patchwork Road (Biei, Hokkaido Prefecture) in Summer
Biei is one of Hokkaido's most picturesque landscapes, featuring patchwork fields of colour flowers and gently rolling hills that seem never ending. 
There are two iconic driving roads in Biei, Patchwork Road and Panorama Road, with each offering their own unique driving experience through the stunning scenery. While you're in the area, be sure to drop by Shirahige Falls and adjacent famous blue pond. 
Tsunoshima Ohashi Bridge (Shimonoseki, Yamaguchi Prefecture) in Spring
 
If cruisy ocean drives are your thing, then Tsunoshima Ohashi Bridge is a must.
Connecting the main island of Honshu with the tiny island of Tsunoshima, the 1780m long bridge is a favourite among drivers not only because of the scenic drive over the coast's cobalt waters, but because of what lies at the end of the bridge. 
While on in the area be sure to check out the view of the bridge from the zen-like Amagase Park and visit the Tsunoshima Lighthouse and Motonosumi Inari Shine. 
Irohazaka Winding Road (Nikko, Tochigi Prefecture) in Autumn
Irohazaka in autumn? Twice as awesome.
Irohazaka is a pair of famous winding roads located in the mountains of Tochigi Prefecture. Connecting the lower elevations around Nikko to the higher elevations of the mountainous Okunikko region, these two roads are the ultimate in scenic driving in Japan.
Picture it. Twisting and turning your way down a steep mountain side flush with bright autumn colours. Just be sure to keep your eyes on the road.
If you're looking to embark on a two-wheeled trip of a lifetime, Japan's got you covered.
With bike paths and roads connecting cycle-friendly landscapes and destinations all throughout the country, it's no wonder why more and more travellers are opting to explore Japan from the saddle of their bikes.
Similar to driving in Japan, there are few things you'll need to sort out before you push off.

Packing the right gear
If you're bringing over your own bike, make sure it's appropriate to the type of conditions you'll be encountering. Japan is a very mountainous country and hills are far more common than long flat stretches. So even if you're a strong cyclist, choosing a bike with a small climbing gear ratio is highly recommended.
Japan has four distinct seasons which will largely determine what you wear. As a general rule, pack waterproofs, plan your layers and avoid non-wicking fabrics like cotton.
Unless you really want to 'rough it', pocket wi-fi is a good thing to have with you. Free wifi isn't as readily available as you would think in Japan, so having a means to check directions, search for accommodation and repair shops and translate things will prove invaluable. You can easily pick one up at the airport when you arrive. 
Know the rules
Whether you're riding through bustling cities or working your way through rugged mountain sides, Japan has very strict rules for cyclists that you need to be versed in before you start riding. We recommend you read through the Japan Traffic Safety Association traffic safety guidelines to get familiar with the road signs and safety protocols.
Recommended cycling routes
The good thing about cycling is that you can set your own route and go wherever the wind takes you, but there are a few routes that come highly recommended, and for a reason.
Not for the faint hearted and definitely one for the experienced rider, the Zao Echo Line is an uphill course that runs across the Zao mountain range and connects the prefectures of Miyagi and Yamagata. This mountain road cuts through pristine wilderness and puts on a show through every season. (Closed for the winter from early November to the end of April). 
There's one ride that's acknowledged by enthusiasts to be the best bike route in Japan. The Shimanami Kaido is a 70km course that takes you from Hiroshima Prefecture to Ehime Prefecture on the island of Shikoku. It's got everything you could want in a full day's ride from island hopping, to ocean views to iconic landmarks.
The Okawa-Kitakata Cycling Road is a 49km bike path that runs from Aizu-Wakamatsu to Kitakata along the Okawa river in the Aizu region (Fukushima Prefecture). Boasting well-maintained roads and scenery to match, the route connects you to famous historical sites and natural wonders such as the breathtaking Mt. Bandai.
On foot
Going out for a walk was something that we all took for granted up until recently. So what better way to rekindle your love for the oldest mode of transport than in Japan? 
Hiking and walking trails
Ginsendai hiking trail, Daisetsuzan National Park
Ginsendai is one of many trails leading into Hokkaido's largest national park, Daisetsuzan. Famous for its showcase of autumn leaves, this moderately challenging walk leads to the peak of Mount Akadake which offers views that are well worth the ascent.
Michinoku Coastal Trail The Michinoku Coastal Trail is a series of trails that places you between the Pacific Ocean and region of Tohoku, offering you around 700km of unrivalled beauty from rocky coasts and waterfalls to lush grassy knolls. The trail starts in the northern city of Hachinohe in Aomori and ends in Soma, Fukushima.
• Kumano Kodo
Once a sacred pilgrimage for emperors, the Kumano Kodo is a spiritual experience open to all those who seek to take life in the slow lane, if only for a while, and explore the remote beauty of the mountainous Kii Peninsula.
Also known as the 88 Temple Pilgrimage, the Shikoku Henro route lets you explore the sacred sites of Shikoku at a leisurely pace. One of the few circular-shaped pilgrimages in the world, the entire route is about 1400km and can take around 60 days to complete the entire route (though some choose to complete a smaller section of the route based on their available time) — plenty of time to soak up the island's charm, history and abundance of beauty.