A Japan First—Stay in the
restored wooden keep of Ozu Castle
Special Deals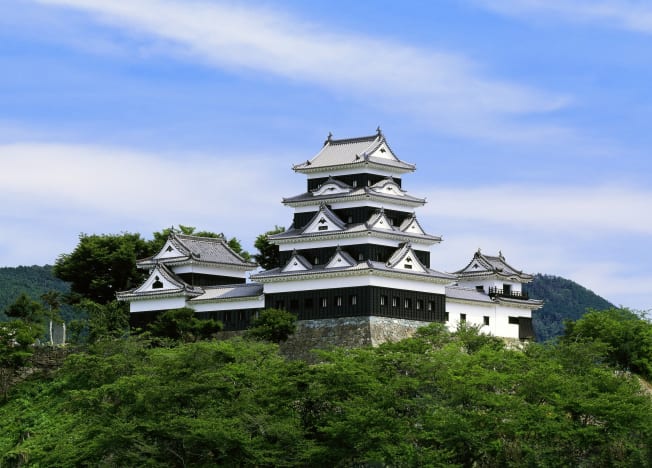 Duration:
The Castle Stay is limited to 30 groups per year.
The applicable period of stay is scheduled for Spring and Fall. Details are currently in the planning stages.
The Castle Town Hotel will be open all year starting July 2020.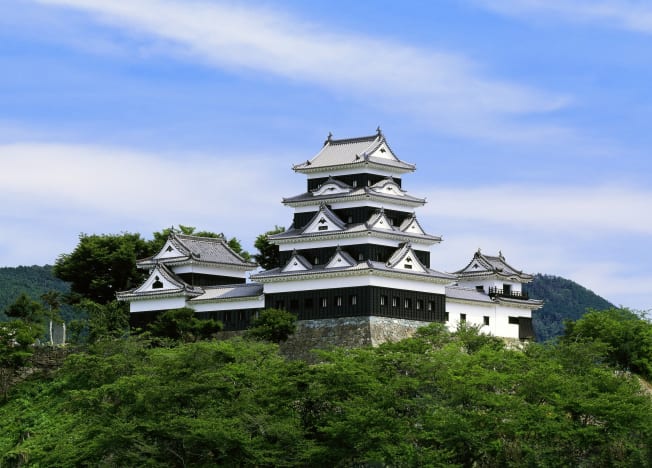 Overview
Ozu is a castle town in Ehime, Shikoku, an island located to the southwest of central Japan. The area is a cultural and historical hub, and home to smaller islands dedicated to art experiences.

In July of 2020, Ozu Castle will be the first location in Japan to accept overnight stays in its fully restored wooden keep. Ozu Castle Stay offers a chance to experience the life of an Edo-period lord, staying in a Japanese castle. You can also watch a reenactment of a lord entering the castle.

The Castle Town Hotel turns the entire castle town into a fully immersive experience.
Benefits
Stay in Ozu Castle's fully restored wooden keep, a first in Japan. Watch history as it unfolds before you through a reenactment of Sadoyasu Kato (lord of Ozu Castle in 1617) entering the castle. Indulge in a set meal for lords and ladies at Garyu Sanso Mountain Villa, a nationally designated important cultural property.

Castle Stay Program (Tentative)
Castle Entry: Watch a reenactment of Sadoyasu Kato, castle lord in 1617, entering the castle.
(Following a conch shell and taiko drum performance, there will be a horse procession welcomed with flag waving and an artillery salute)
Castle Tour: A guided tour of the history of the town of Ozu and Ozu Castle.
Enjoy kagura, a traditional Ozu performing art accompanied by traditional court music.
Evening Banquet: Enjoy cuisine prepared with carefully selected ingredients from Ozu and its surrounding areas.
Castle Bath: Bathe as you take in the view of Ozu Castle illuminated by night.
Moon-Gazing: Experience moon-gazing from the Koran Yagura Turret.
Evening Accommodation: Spend the night on the first floor of the wooden castle keep.
Breakfast: Dine at Garyu Sanso Mountain Villa, a national important cultural property.

How to get involved
Please inquire for details regarding the Ozu Castle Stay campaign.
Eligibility
The Castle Stay is for 2 to 6 guests per night.
The Castle Town Hotel is for 2 to 4 guests per night (tentative).
Conditions
The Castle Stay is an experience in which guests stay at Ozu Castle, a location open to the general public. After viewing by the general public ends, private use for guests will be available from 17:00 to 9:00 the following morning.

A one-night stay will cost over ¥1,000,000.
Starts July 2020—scheduled for about 30 days in Spring and Fall.
Limited to one group per day.
Castle Town Hotel, which will open at the same time, will be available year-round starting July 2020.

Disclaimer
Regarding accommodation and activity plans posted on the website:
Though the details will be planned in fine detail, we may be forced to change the particulars of the Castle Stay depending on timing and circumstance. For the latest information, please inquire at the ticket window. Please be aware that the details listed on the website may change or be canceled without notice.

The management company is not responsible in the unlikely event that those using this campaign or plan suffer any inconveniences or damages. A stay at the castle involves doing hands-on activities in facilities designated as cultural properties. We ask that guests comply with rules specified during these activities (e.g. No smoking or open flames in designated areas). The company is not liable for compensation in the event that a guest suffers damages due to the following reasons. Damages suffered by the guest due to the guest or a third party's bad faith or negligence. Changes to the itinerary, damages, theft, fraud, acts of violence, illness, or disability caused by force majeure such as natural disasters, weather conditions, fire, disasters, government or public agency orders, political regime changes, strikes, war, riots, epidemics, and quarantines and customs regulations for infectious diseases, or any change or cancellation of the itinerary arising from these.
Schedule changes or delays by transportation agencies such as airlines and ships, accidents during transportation or accommodation, fires, or any itinerary changes or cancellations arising from these.
Accidents, food poisoning, theft or loss of personal belongings during unscheduled free time.
Delays, strikes, or suspension of transportation services, or changes to the itinerary or shortening of your stay/time at the destination arising from these. Inability to participate due to the guest's lateness to the meeting or departure location.
Information
Venue Name and info
Ozu Castle and Sightseeing Around the Ozu Area
Venue Address
Ozu-shi
Inquiries
Value Management Co., Ltd.
Email: inbound@vmc.co.jp
Languages supported: English, Spanish, French, Chinese, Korean
Site URLs
Credit: VMG HOTELS & UNIQUE VENUES