Experience Tohoku's festivals
throughout the four seasons
Special Deals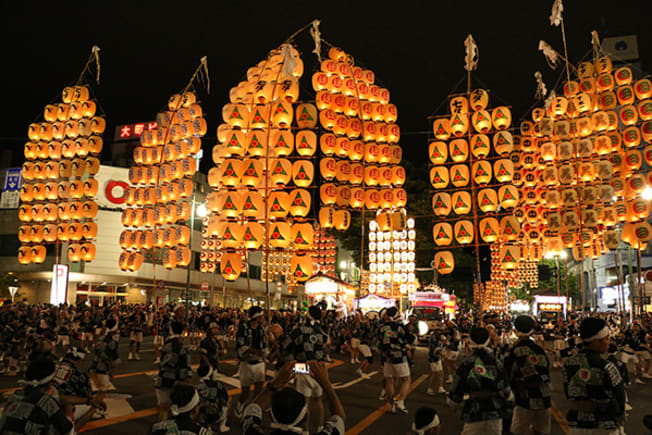 Duration:
This program has been canceled.
Festival one: August 3-6 (4 days)
Festival two: August 8 (1 day)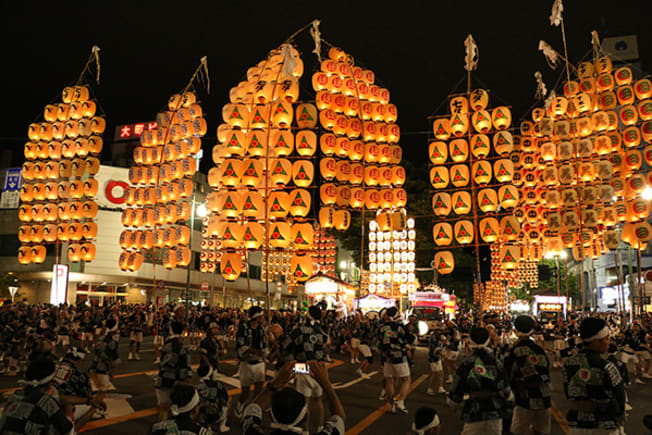 Overview
Tohoku is full of fascinating festivals throughout all four seasons. In addition to watching these centuries-old celebrations, visitors are also welcome to participate in them which makes for a great opportunity to get to know the locals. We will showcase some of these special festivals here:

Festival one: Akita Kanto festival (summer) includes local cuisine and accommodations alongside box seats to the festival and the opportunity to participate in one-of-kind festival activities.

Festival two: Iwaki Tanabata festival (summer), visitors will have the opportunity to join in the festival's legendary Iwaki Odori dance.
Benefits
Festival one: Limited to 2020, this plan includes festival viewing, local cuisine, and other special experiences. It also covers accomodation, so there is no need to worry about hotels filling up during the busy season. The package is full of one-of-a-kind sights and activities you won't be able to experience anywhere else.

Festival two: The Iwaki Odori dance is performed on the last day of the Iwaki Tanabata Festival, an ancient event where participants write down wishes onto a strip of paper, then decoratively hang them along bamboo fences. The Iwaki Tanabata Festival stands out among other such festivals as it is the only one that also includes dancing.
How to get involved
Festival one: Reservations are first come first serve. Send an e-mail to the corresponding address in advance.

Festival two: Applications must be made by phone before July 31. Call the corresponding number and mention the JNTO campaign.


Eligibility
Festival one: Up to 30 people per day (max. of 120 for all four days).
Festival two: 100 people.
Conditions
Festival one:
Valid one time per customer during the campaign period.
Show the photo page of your passport. It must have the same name as your visa. Japanese citizens are ineligible to participate.
Souvenirs are provided on site. We do not ship overseas.
Limited to those who are staying in Japan during the campaign period. Reservations cannot be made for dates outside of the campaign period (even if the reservation itself is made during the campaign period).

Festival two:
Limited to those who are staying in Japan during the campaign period. Reservations must be made in advance.
Apply by telephone by July 31, 2020.
Disclaimer
Festival one and two:

We are not responsible for any loss, debt, damage, or expenses experienced as a result of applying to or participating in the campaign, nor are we responsible for any troubles or allegations that arise between the applicant and a third party. We may alter or suspend the campaign (in part or in whole) without providing advance notice to applicants. If deemed necessary, we may change the terms of this campaign without providing notice to applicants and may take necessary actions to ensure appropriate execution of the campaign. Please note in advance that we are not responsible for any damages or any other problems caused by an inability to access, register or display this service due to delays or malfunctions caused by internet connection issues. Any Internet connection costs or telecommunications charges incurred while applying to this campaign are at the expense of the applicant.
Information
Venue Name and info
Akita City Sightseeing Spots, Iwaki Ekimae Odori Street
Venue Address
Akita-shi, Akita Prefecture; Iwaki-shi, Fukushima Prefecture
Inquiries
Travel Design Co.LTD
Tel: 018-874-9299
E-mail: info@travel-dsn.com
Languages supported: English

Iwaki Tourism and City Planning Bureau
Tel: 0246-44-6545
FAX: 0246-44-6546
Languages supported: English (limited)
Site URLs