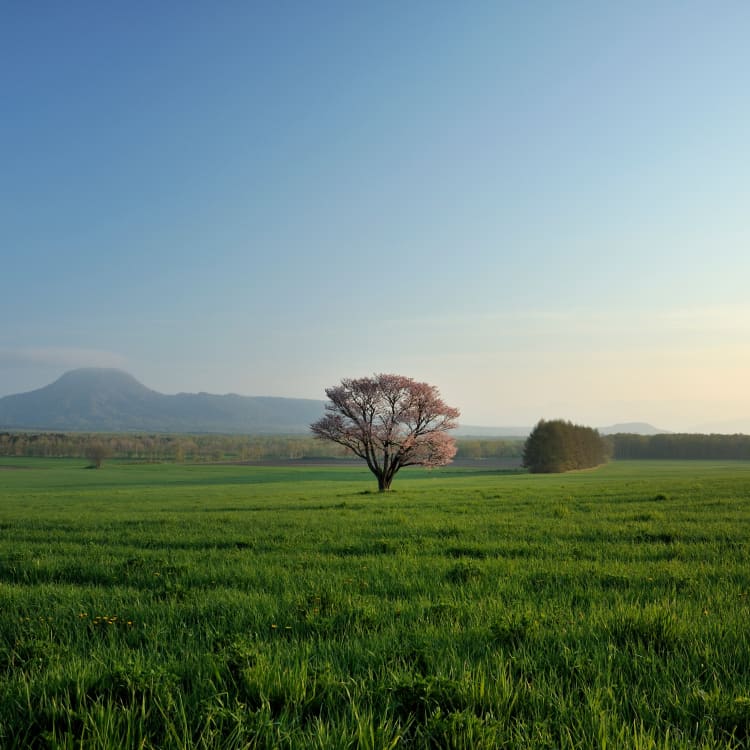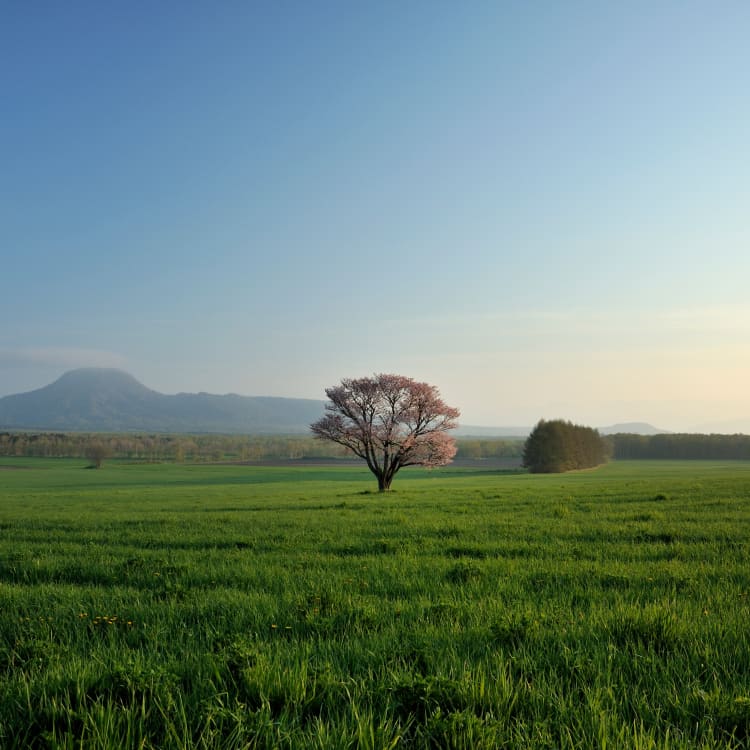 Guide
Find seclusion in every season
No one can be sure when international travel restrictions will be lifted. But when they are, you'll most likely want to trade your extended isolation at home for peaceful seclusion on holiday, right? The good news for you is that you can find your very own slice of seclusion in Japan, regardless of the season in which you visit.
Here are a handful of authentic, far-from-the-crowd experiences that can be enjoyed during each of Japan's four distinct seasons. 
Winter
Wakasagi ice fishing, Lake Hibara
(Fukushima Prefecture)

The Tohoku region is a veritable winter wonderland, home to some of the most popular ski resorts in the world and its very own snow monsters. But if you're after something a little more slow-paced and away from the adrenaline-filled slopes, ice fishing on Lake Hibara (Fukushima Prefecture) is perfect for you and your friends and family.
All you have to do is rent a private tent or book a seat on a warm dome boat, and drop a line through the frozen lake to catch your own wakasagi (Japanese Smelt). If you book a tent, all you'll need is a fishing rod, reel, bait and a basic tackle kit which can all be hired around most fishing spots.
How to get there
Lake Hibara can be reached by car from the Inawashiro Bandaikogen I.C. exit off the Ban-etsu Expressway (approx. 25 minutes). Alternatively, catch a train to Inawashiro Station (JR Ban-etsu West Line), then catch the Bandai Toto Bus to Onogawa-ko Iriguchi Bus Stop (approx. 35 minutes).
Dog sledding in Takasu Town, Asahikawa (Hokkaido)

As one of the most remote and untouched parts of Japan, Hokkaido offers experiences that you just can't get anywhere else in the country. In the small town of Takasu, Asahikawa, dog sledding is a lesser known way to explore Japan's great white north.
There is more than one operator in Takasu town, with most of them offering single-person sleds pulled by a team of well-trained (and loveable) dogs. If you love seclusion and speed equally, the well-groomed courses will lead you through fresh snow and beautiful scenery at a pace that few can say they've felt. 
How to get there
Asahikawa Airport can be accessed via plane from most major hubs and JR Asahikawa Station by train. From Asahikawa, Takasu Town can be accessed via car and bus and takes approx. 30 minutes. 
Nanoyado Hotel Iya Onsen, Miyoshi
(Tokushima Prefecture)

Nanoyada Hotel Iya Onsen is the only hotel in Iya Valley, one of the most secluded regions of Japan. If you're looking for something more secluded, you might be looking for a while. 
Nestled deep in the mountains of Tokushima Prefecture surrounding the beautiful valley, guests can soak in hot, rejuvenating baths as they soak up exclusive views over Iya River. To make the experience even more special, the hotel only has 20 rooms, with some offering open-air baths and panoramic views of the valley.
How to get there
The hotel can be accessed by car from the Kansai area or Kochi via highway 32. By train, the closest station is JR Dosan-Line Oboke Station which can be accessed from JR Takamatsu station, JR Okayama station and JR Kochi station. From Oboke Station, taxi and bus services run, however the hotel does offer shuttle bus service. 
Spring

Road trip through Akan Mashu National Park
(Hokkaido)

Akan-Mashu National Park is the little brother of Daisetsuzan National Park. Although the park is not as expansive as Daisetsuzan, it is further away from any large city making it far more secluded — and the perfect road trip destination. Winding through the pristine mountains and valleys with the sun up and the windows down? It doesn't get better.
WIth limited and irregular public transport, Akan-Mashu is made for springtime road trips. Located in eastern Hokkaido, the drive will take you through untouched forests, volcanoes, caldera lakes and hot springs. The park is also home to a wide variety of wildlife including birds, deer and even bears. 
How to get there
Direct flights from Tokyo and Sapporo fly to the closest airports; Kushiro, Memanbetsu, and Nakashibetsu. Public transport in and around the park is limited so hiring a car is recommended. 
Hotaruika firefly squid (Toyama Prefecture)

You've probably heard of fireflies, but what about firefly squid?
'Hotaruika' is a small bioluminescent squid no bigger than your finger. However, when thousands of them move en masse through the Toyama Bay, the waters become illuminated in a bright, electric blue. The only time you can catch this squid spectacular is from March to May when they come up to the surface to lay eggs.
What makes the experience quite a tranquil one is that you can only witness the firefly squid in the early hours of the morning. You must reserve a spot on an early morning boat tour that meets around 2:30am. That might be early (or late) for some, but how often do you get the chance to witness one of nature's best shows? 
How to get there
Toyama can be accessed via bullet train from Kanazawa, Nagano, Tokyo and other stations on the Hokuriku Shinkansen line. Toyama can also be reached via express bus from Matsumoto City and other neighbouring transport hubs. 
Glamping on the foothills of a volcano
(Kumamoto Prefecture)

Fancy the outdoors as much as you do the finer things in life?
Hotel Greenpia and luxury campsite is situated right on Mt. Aso, offering unmatched panoramic views during the day, and clear skies full of stars at night. Along with a luxurious tent filled with all the must-have modern day niceties, you can soak up the scenery with your own private wooden deck and delight in locally sourced dishes and ingredients around the nightly bushfire.
How to get there
The hotel and camping site is 50 minutes by car from Kumamoto IC, and 30 minutes by car from Aso Kumamoto Airport.
Summer
Chirihama Beach (Ishikawa Prefecture)
Located along the Sea of Japan on Noto Peninsula, Chirihama Beach is the only place in Japan where you can drive right onto the beach. With the sea on one side and lush beach greenery on the other, this 8km Sandy driveway is a must for off-road adventurers and beach bums alike.
After you've finished up on the beach, head to the culturally-rich city of Kanazawa to take a step back in time to the Edo Period.
How to get there
Chirihama Beach is located right beside the Noto Satoyama Kaido expressway. For those not driving their own car, the beach is a 10 minute taxi ride from Hakui, a stop on the JR Nanao Line connecting Kanazawa to Wakura Onsen.
Shakotan Town (Hokkaido)

The small coastal town of Shakotan represents everything you love about the sea — snorkelling, seclusion and seafood.
During the summer, the clear blue waters and unique rock formations make it ideal for exploring on a kayak or below the surface scuba diving or snorkelling. In addition to the wide variety of sea activities and the cape's abundance of marine life, Shakotan is a haven for seafood lovers. The town is most famous for its sea urchin, however you can delight in just about every delicacy the sea has to offer in Shakotan.
How to Get There
Shakotan can be accessed via car or bus from Sapporo Station. If you choose to drive, it is a two-hour drive from Sapporo on National Road 229.
Nishihama campground (Yamagata Prefecture)

Nishihama campground is a secluded site out of the way in Yamagata Prefecture, Tohoku region.
Best enjoyed in the summer due to its beach-adjacent location, Nishihama offers you a camping retreat amongst the pine wood forests. During the day you can set up your own BBQ or take a ten-minute stroll down to the sandy beach. If tent camping isn't your thing, the site also offers cabins for groups of 4-6 with all the comfort amenities including refrigerator, TV, cooking appliances and AC.
How to get there 
The campsite is a 3 minute-drive or 10-minute walk from JR Fukura Station on the Uetsu Main Line. There are 100 spots available in the car park. 
Autumn

Tour through wine country (Yamanashi Prefecture)

For those who like to sip their seclusion, some of the best wine in the country can be sampled on the slopes of Yamanashi Prefecture just north of iconic Mt. Fuji.
Home to some of the most unique blends in the country, there are multiple vineyards in the region that specialise in international varieties as well as home grown produce such as the world-famous 'Koshu Wine'.
Some of the most treasured, globally-touted wineries include Château Mercian Katsunuma Winery, Kurambon Winery and Suntory Tominooka Winery (to name a few). 
How to get there
Yamanashi Prefecture is best accessed by limited express trains from Tokyo, or highway buses from neighbouring areas. Due to the mountainous terrain and spread of the area, it is highly recommended to  explore by car. 
Hazu Gassyo (Aichi Prefecture)

There's no better way to heal the mind, body and spirit than a visit to an onsen. And there's no better time to do so than in Autumn.

Hazu Gassyo is an exclusive Japanese-style ryokan situated in peaceful, picturesque Aichi Prefecture. The traditional-style inn provides the perfect lookout to take in autumn's fiery reds and oranges. But what makes it especially exclusive? There are only five rooms. 
Encapsulating true Japanese hospitality, Hazu Gassyo overlooks a tranquil forest valley and river, which can all be enjoyed from a rejuvenating rotenburo (outdoor hot spring bath).
How to get there
Hazu Gassyo is a 5 minute drive from JR Yuyaonsen Train Station. JR Yuyaonsen Train is on the Iida Line, which connects to the Tokaido Shinkansen at JR Toyohashi Station.